Bantul Regency in Yogyakarta Special Regency Province
---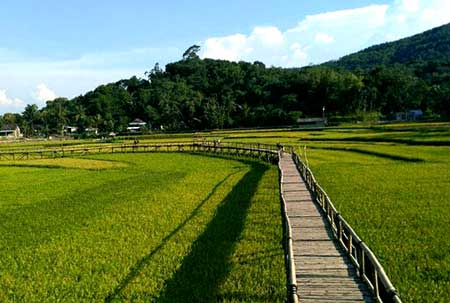 Yogyakarta Special Region consists of several regencies and all of them are worth to visit, especially related to tourism. One of them is Bantul Regency and it resides in the south part of the region. The region is known for several beautiful south beaches and highlands. Not to mention tourists can find some unique vacation spots that relate to religions and culture. Plus, some distinct snacks and traditional foods are available for tourists to enjoy during the visit. Tourists can also find more information related to the tragic natural disaster in the past. They only need to talk to the locals about it later.
The Nuance
The region's motto is both professionalism and productivity. No wonder, people who live in that area are hard workers and some of them work as a craftsman. When it comes to nuance, Bantul Regency consists of several majestic rivers and beautiful forest landscapes. Despite the fact, it also offers some sophisticated vacation spots to tourists. The west is sloping while the north and south part is hilly. This explains why Bantul is suitable for an exploration and adventure.
Exploring Bantul Regency
The first thing that tourists can do in Bantul Regency is to meet the locals. People who live in that area are indeed friendly. For the information, some of those people work as a farmer while others work in industries and commercials. Tourists can also easily find a guide service there, so don't worry. The good thing is villagers are always ready to help visitors regarding both direction and other crucial tourism information. It is likely tourists are able to learn local culture easily during the visit, too.
What is more? Bantul Regency is also known for culinary. Thus, tourists must explore the region and find all traditional snacks and foods! Some recommended choices are Sate Klathak, Geplak, Oseng Emprit, Tupai Soup, Karangan, and Tolpit. Each of them has a distinct flavor and unique texture. As for the price, it is negotiable. That means tourists can get a cheaper price by bargaining. For foreigners or outsiders, they can take advantage of a guide's service when it comes to bargaining later.
The next recommended thing to do is to watch or join local events. The most famous ones are Bantul Expo and Kirab Budaya Dlingo. One thing, tourists must find the right schedule and location before watching those events. What about natural tourism? Well, Bantul has the famous Parangtritis Beach and other stunning beaches. Everyone should not miss these! Even a sacred site is available to visit, which is Imogiri Cemetery.
Nearby Attractions

Kalibuntung Village
Genteng Bendo Monument
Puton Village
Ranukumbahan
How to Get There
The distance between Yogyakarta City (downtown) and Bantul Regency is considered near. Thus, it is easy to get there. However, outsiders should take advantage of an airplane to reach the Yogyakarta Special Region first. A flight from Soekarno – Hatta International Airport to Adisucipto Airport may take around 1 hour and 10 minutes, actually. Once tourists arrive at the airport, they can simply take Imogiri Timur Street and reach Bantul Regency immediately. This trip may take about 27 minutes, as the distance is 20.8 km.
Where to Stay

Opak Village Inn
Subardi Homestay

Latest News
The Special Region of Yogyakarta is one of the provinces of Indonesia that has a lot of beauties, there are always new tourist attractions there. Not surprisingly, Yogyakarta has become one of the favorite tourist destinations for travelers, both local and foreign tourists. Especially at this time, tourism in Yogyakarta continues to develop to present tourist destinations that are worth visiting. In addition to the Kalibiru National Park, there are new tourist destinations in Yogyakarta that should on your to-do-list when traveling to Yogyakarta. Kalibiru National ParkKalibiru National Park is…
---
A towering tree inside Rancang Kencana cave in Bleberan Village, Playen District, Gunungkidul Regency, Yogyakarta Special Region. The tree is hundreds of years old. In 2003, a team of archaeologists from Gajah Mada University (UGM) conducted research on this tree. The results of his research, the tree is estimated to be about 300 years old. The big tree in the cave is called Klempit or Tlumpi. The Klempit tree bears fruit every rainy season. According to the local resident, the fruit of the tree can be eaten. The shape of…
---
Every waterfall always keeps a story. Including the Sri Gethuk waterfall in Bleberan Village, Playen District, Gunungkidul Regency, Yogyakarta Special Region. Many people call Sri Gethuk a beautiful waterfall. The water comes from a limestone embankment river that cuts rock cliffs to form a waterfall. The Sri Gethuk waterfall flows into the Oyo river. Often the rocks under waterfalls are also used for meditation. Usually meditating in the morning before many visitors come. The beauty of Sri Gethuk waterfall is already famous. Even the Sri Gethuk waterfall was once used…
---
When exploring Yogyakarta City, tourists should not forget to drop by in Prambanan Sub-District of Sleman Regency. Aside from offering beautiful temples, that area is also known for its Tebing Breksi or the Breccia Cliff. The exact location is in Sambirejo Village and it resides near to several famous temples like Prambanan, Ratu Boko, Candi Ijo, and Kalasan Temple. This majestic cliff is popular among tourists due to the excellent nuance and amazing landscapes, actually. No wonder, all visitors are likely to enjoy sightseeing and photography there. Some tourists also…
---