XT-Square in Umbulharjo Sub-District, Yogyakarta Special Region
---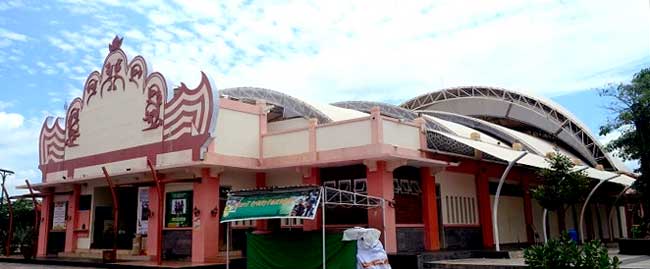 Yogyakarta City has many famous places for hanging out including Alun-Alun Utara, Alun-Alun Kidul, and Titik Nol Kilometer. As another reference, there is XT-Square. The location is in Pandeyan Village and it belongs to Umbulharjo Sub-District. To be exact, it resides in Veteran Street and located on the roadside. That means everyone can easily find the spot while exploring that area. So, what makes it special? The site offers complete entertainment to visitors. Tourists can enjoy some exhibitions and performances at specific times. They can also simply hang out and enjoy the nuance. That place is suitable for photography, too, in fact.
The Nuance
The nuance is indeed merry especially during special events and in the evening. No wonder, it becomes a great place to find fun and entertainment. As for the architecture, it applies a simple concept. In terms of size, though, it offers a vast and comfortable environment. The local government built XT-Square as the shopping center and accommodates small vendors. They manage it in a professional and modern way, though. Once tourists arrive at the location, they may find several zones! These include craft zones, Nusantara zone, culinary zone, and fashion zone. As additions, there are also 3D Museum offering two famous places called De Mata and De Arca. These ones are suitable for photography!
Exploring XT-Square
For the information, the original name is PSKY or Pasar Seni dan Kerajinan Yogyakarta. Foreigners call it Yogyakarta's Arts and Crafts Market. In order to make it simple, people call it XT-Square instead. So, what can tourists do there? The most common activity is photography. Local youngsters visit De Arca and De Mata to collect unique photos, for sure. It is because those places offer many interesting backgrounds for photography.
The next common reason for visiting XT-Square is related to culinary. Tourists may find lots of snack and food vendors in the culinary zone. Thus, it is recommended to carry enough cash for buying good foods. Here is the tip. It is recommended to visit XT-Lane, which is a new culinary vendor. The location is between De Mata and Craft Zone. This site has a total area of 1500 meters per square and features a semi-outdoor concept. Thus, tourists can eat good foods while enjoying the soothing city nuance. They can even order western foods like steak there!
Another reason to come to XT-Square is none other than shopping. Tourists only need to browse some good products like handicrafts and clothes in that area. Even though bargaining is rare, it remains possible. That means everyone has the chance to get a cheaper price as long as they know how to bargain.
Nearby Attractions

Pandeyan Tourism Village
D'Walik
How to Get There
It is a known fact that an airplane service becomes the best choice when heading to Yogyakarta Special Region, especially for those coming from outside the region. For instance, a flight from Jakarta City (Soekarno – Hatta International Airport) would take around 1 hour and 10 minutes. After tourists arrive at Adisucipto International Airport, they can simply take Raya Solo – Yogyakarta and Majapahit Street in order to reach Xt-Square. This trip may take only about 14 minutes, as the distance is 9.1 km.
Where to Stay

Binasari Hotel
Satya Graha Hotel
Dahlia Guesthouse

Latest News
LABUHAN KERATON NGAYOGYAKARTA Labuhan Keraton or the Royal Offerings of Yogyakarta is usually performed on the 30th of Rajab, so it will probably be hold on Thursday, 27 April 2017, at 07.00 am at the "Pendhapa" (Javanese Mansion) of Kretek Subdistrict Office. The Ngayogyakarta Royal servants transfer the vessels of the offering-implement to the Bantul Government. Then the offering-implement is delivered to the "Pendhapa" of Parangkusumo, and given to the caretaker to be arranged in "ancak" (the vessel made of bamboo). After the prayer fort it in "cepuri" (a supporting…
---
https://www.youtube.com/watch?v=218GWVk1pL4 Ratu Boko Palace is located in Jl. Raya Piyungan, 3 km south of Prambanan Temple at Dawung and Sambirejo villages, Piyungan, or 19 km east of Jogjakarta. It opens daily 6 am – 5.30 pm and it entrance fee charged. Ratu Boko Palace is a huge complex built on 16 hectares as the residence of King Boko of the first Mataram dynasty. Local legend says that Ratu Boko liked to eat human flesh. Primarily in ruins, visitors must use their imaginations to fill in historical and structural gaps. Gold…
---
Ratu Boko Temple Settled on a hillside plateau, overlooking Prambanan temple complex and with a view to Mount Merapi behind Prambanan Temple complex, lie the remains of a once grand palace. The palace (kraton) is named Ratu Boko after a King Boko of local folklore, but the real owner of the palace is more likely to have been a king of a local dynasty. Ratu Boko temple is located on a plateau, about three kilometres south of Lara Jonggrang Prambanan temple complex in Yogyakarta Central Java, Indonesia. Grand stone gates,…
---
To support the need of recreational things in Yogyakarta, the accommodation is also increase. In fact, there are numbers of star hotels and non-star hotels that ready to serve their specialties to comfort your stay. Hence, this Hotels In Yogyakarta is made. This application is kind of reference to provide the information and news for tourists that want to stay in Yogyakarta. There are numbers of Hotels and its description, and it can be accessed from iPad, iPhone and Android.  
---