Ngobaran Beach
---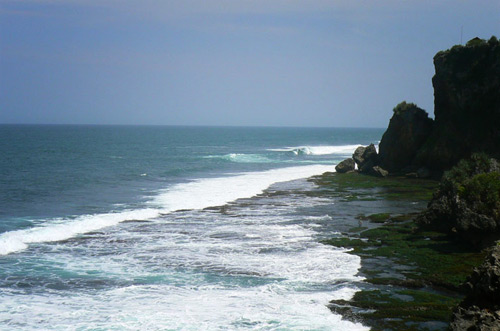 Ngobaran Beach is located at Gunung Kidul region, 50km from Yogyakarta. This is a pure beach with a number of marine attractions to explore. When the tide is low around 3 in the morning, the visitors can join the local fishermen to collect seaweeds or go fishing for stranded fish between the reefs at the beach. The overall panorama creates some unexplainable yet peaceful feelings. Some believe that somewhere in the beach lie the remains of King Brawijaya fort and his men "Sabdo Palon Ngoyogenggong". Other uniqueness of this beach includes a cave, which leads its explorers to a striking underground stream.
Going to Ngrenehan Beach and enjoying the grilled fish will be complete if we drop by Ngobaran Beach that is located adjacent to it. Browse Costco Offers on Offers This Week. The location of the beach with high cliff is around two kilometers from Ngrenehan Beach. The local people of Ngrenehan Beach even talk and visit Ngobaran Beach.
Ngobaran is such an exotic beach. When the seawater had falls, we can see the spread of both green and brown seaweed. When it looked from the top, the spread of the algae growing in coral reef looks like spread of rice field in a densely populated area. Tens of sea animal species also present in between the coral reef, ranging from sea urchin, starfish, to various types of cockleshells.

Latest News
The Special Region of Yogyakarta is one of the provinces of Indonesia that has a lot of beauties, there are always new tourist attractions there. Not surprisingly, Yogyakarta has become one of the favorite tourist destinations for travelers, both local and foreign tourists. Especially at this time, tourism in Yogyakarta continues to develop to present tourist destinations that are worth visiting. In addition to the Kalibiru National Park, there are new tourist destinations in Yogyakarta that should on your to-do-list when traveling to Yogyakarta. Kalibiru National ParkKalibiru National Park is…
---
A towering tree inside Rancang Kencana cave in Bleberan Village, Playen District, Gunungkidul Regency, Yogyakarta Special Region. The tree is hundreds of years old. In 2003, a team of archaeologists from Gajah Mada University (UGM) conducted research on this tree. The results of his research, the tree is estimated to be about 300 years old. The big tree in the cave is called Klempit or Tlumpi. The Klempit tree bears fruit every rainy season. According to the local resident, the fruit of the tree can be eaten. The shape of…
---
Every waterfall always keeps a story. Including the Sri Gethuk waterfall in Bleberan Village, Playen District, Gunungkidul Regency, Yogyakarta Special Region. Many people call Sri Gethuk a beautiful waterfall. The water comes from a limestone embankment river that cuts rock cliffs to form a waterfall. The Sri Gethuk waterfall flows into the Oyo river. Often the rocks under waterfalls are also used for meditation. Usually meditating in the morning before many visitors come. The beauty of Sri Gethuk waterfall is already famous. Even the Sri Gethuk waterfall was once used…
---
When exploring Yogyakarta City, tourists should not forget to drop by in Prambanan Sub-District of Sleman Regency. Aside from offering beautiful temples, that area is also known for its Tebing Breksi or the Breccia Cliff. The exact location is in Sambirejo Village and it resides near to several famous temples like Prambanan, Ratu Boko, Candi Ijo, and Kalasan Temple. This majestic cliff is popular among tourists due to the excellent nuance and amazing landscapes, actually. No wonder, all visitors are likely to enjoy sightseeing and photography there. Some tourists also…
---