Parangtritis Beach
---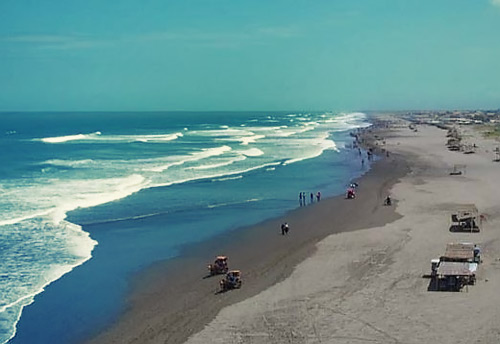 One of the attractive beaches near Yogyakarta is Parangtritis. It is located about 27 km. from Yogyakarta, Parangtritis may be reached in two ways, through Kretek Village or the longer one but more well - established road through Imogiri and Siluk Village. Parangtritis Beach is a lovely beach with many impressing phenomena, naturally and supra naturally. The waves regularly bring in new wood and bamboo, washing ashore from another nearby beach probably. Some wood is picked and taken away by locals to be used for their own house. Parangtritis is an enchanting sloping beach combined with rocky hills, dunes, and a white sandy beach. Besides being famous as a recreational spot. Parangtritis is also a sacred place. Many people come to the beach to do meditation. Up to now, this area is remaining functioned as the place to perform the traditional ceremony called labuhan. Many hotels and restaurants are available for sunbathe lovers.
It is said that the name of Parangtritis is expresses a natural phenomenon. From the wall of one of the hills drops off water containing calcium continuously dripped down and finally formed a pool with very clear water in it. Sri Sultan Hamengku Buwono Vll found and took care of it. The pool is now used as the bathing pool of Parangtritis swimming pool. Meanwhile, the sunset at any point of Parangtritis beach brings a touch of wonderful and amazing as well. The magical atmosphere of the rough waves appears to as all hearts into disposing of all bustles and lead into deep musing.

Latest News
LABUHAN KERATON NGAYOGYAKARTA Labuhan Keraton or the Royal Offerings of Yogyakarta is usually performed on the 30th of Rajab, so it will probably be hold on Thursday, 27 April 2017, at 07.00 am at the "Pendhapa" (Javanese Mansion) of Kretek Subdistrict Office. The Ngayogyakarta Royal servants transfer the vessels of the offering-implement to the Bantul Government. Then the offering-implement is delivered to the "Pendhapa" of Parangkusumo, and given to the caretaker to be arranged in "ancak" (the vessel made of bamboo). After the prayer fort it in "cepuri" (a supporting…
---
https://www.youtube.com/watch?v=218GWVk1pL4 Ratu Boko Palace is located in Jl. Raya Piyungan, 3 km south of Prambanan Temple at Dawung and Sambirejo villages, Piyungan, or 19 km east of Jogjakarta. It opens daily 6 am – 5.30 pm and it entrance fee charged. Ratu Boko Palace is a huge complex built on 16 hectares as the residence of King Boko of the first Mataram dynasty. Local legend says that Ratu Boko liked to eat human flesh. Primarily in ruins, visitors must use their imaginations to fill in historical and structural gaps. Gold…
---
Ratu Boko Temple Settled on a hillside plateau, overlooking Prambanan temple complex and with a view to Mount Merapi behind Prambanan Temple complex, lie the remains of a once grand palace. The palace (kraton) is named Ratu Boko after a King Boko of local folklore, but the real owner of the palace is more likely to have been a king of a local dynasty. Ratu Boko temple is located on a plateau, about three kilometres south of Lara Jonggrang Prambanan temple complex in Yogyakarta Central Java, Indonesia. Grand stone gates,…
---
To support the need of recreational things in Yogyakarta, the accommodation is also increase. In fact, there are numbers of star hotels and non-star hotels that ready to serve their specialties to comfort your stay. Hence, this Hotels In Yogyakarta is made. This application is kind of reference to provide the information and news for tourists that want to stay in Yogyakarta. There are numbers of Hotels and its description, and it can be accessed from iPad, iPhone and Android.  
---