Nglambor Beach in Gunung Kidul Regency, Yogyakarta Special Region Province
---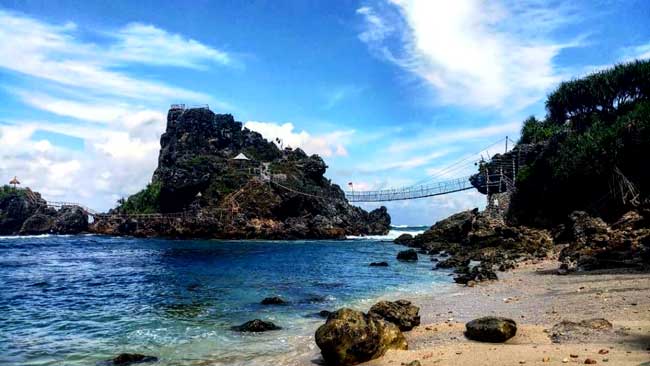 For the next holidays, tourists must consider visiting Yogyakarta Special Region. For nature lovers, in this case, the prime destination would be Gunung Kidul Regency where Nglambor Beach resides. This beautiful and well-managed beach is located in Purwodadi Village and belongs to Tepus Sub-District. The location is strategic and it resides between two famous beaches called Siung and Jogan. No wonder, the number of visitors is high and it keeps attracting new tourists over time. As for tourist activities, people usually enjoy snorkeling and diving there. Also, others would simply enjoy a family recreation and beach walking!
The Nuance
Well, there are many things to describe related to Nglambor Beach's nuance. First, it is the shoreline. Tourists would be impressed by the light-brown soft-textured sandy landscape there! In terms of size, the shoreline is moderate. It also features several beach chairs with umbrellas. Thus, everyone can relax while watching the sea scenery ahead comfortably. The next noticeable feature is the presence of a parking area, which is located quite near to the shoreline. Several facilities like toilets and eateries are also available! Plus, that area is surrounded by trees. The beach is located between two hills, as well. No wonder the waves are considered small and the ambiance is similar to a cape. What is more? Several coral reefs are seen on the sea, which becomes the best objects for photography.
Exploring Nglambor Beach
Now, it is the time to talk about the activities. The most common one is definitely sightseeing. That means tourists only need to sit and relax while gazing at the horizon. The sea panorama astonishes everyone, for sure. Next, it is beach walking. The soft-textured shoreline won't hurt anyone's feet, after all. This can be done regardless of the time as well. Even the sand won't feel hot at noon! It feels warm instead.
Aside from beach walking, Nglambor Beach is suitable for water sports due to the calm waves and crystal clear seawater. That means the sea offers the best conditions for either snorkeling or diving. Tourists are able to see colorful fishes and corals underwater clearly. One thing, some parts of the sea are safe to enjoy the activities, but others feature big waves. In order to avoid problems, therefore, everyone should find information regarding the best spots to enjoy snorkeling.
While snorkeling, tourists have the chance to collect underwater photos as well. For those who don't carry snorkeling gear, they can simply rent these from available service. As an alternative, tourists don't have to get in the water. Instead, they can enjoy trekking at the available route. It is because Nglambor Beach also features several hills and cliffs. The views are even better once tourists arrive at the top of those places!
Nearby Attractions

Jagan Beach
Wedi Ombo Beach
Siung Beach
How to Get There
From Jakarta City, tourists can simply take an airplane at Soekarno – Hatta International Airport and head to Yogyakarta City right away. A flight from Jakarta to Adisucipto International Airport would take around 1 hour and 10 minutes, actually. After arriving at the destination, tourists should take Nasional III Street and head to Nglambor Beach right away. The distance is 70.2 km, so this trip would take about 1 hour and 56 minutes.
Where to Stay


Latest News
LABUHAN KERATON NGAYOGYAKARTA Labuhan Keraton or the Royal Offerings of Yogyakarta is usually performed on the 30th of Rajab, so it will probably be hold on Thursday, 27 April 2017, at 07.00 am at the "Pendhapa" (Javanese Mansion) of Kretek Subdistrict Office. The Ngayogyakarta Royal servants transfer the vessels of the offering-implement to the Bantul Government. Then the offering-implement is delivered to the "Pendhapa" of Parangkusumo, and given to the caretaker to be arranged in "ancak" (the vessel made of bamboo). After the prayer fort it in "cepuri" (a supporting…
---
https://www.youtube.com/watch?v=218GWVk1pL4 Ratu Boko Palace is located in Jl. Raya Piyungan, 3 km south of Prambanan Temple at Dawung and Sambirejo villages, Piyungan, or 19 km east of Jogjakarta. It opens daily 6 am – 5.30 pm and it entrance fee charged. Ratu Boko Palace is a huge complex built on 16 hectares as the residence of King Boko of the first Mataram dynasty. Local legend says that Ratu Boko liked to eat human flesh. Primarily in ruins, visitors must use their imaginations to fill in historical and structural gaps. Gold…
---
Ratu Boko Temple Settled on a hillside plateau, overlooking Prambanan temple complex and with a view to Mount Merapi behind Prambanan Temple complex, lie the remains of a once grand palace. The palace (kraton) is named Ratu Boko after a King Boko of local folklore, but the real owner of the palace is more likely to have been a king of a local dynasty. Ratu Boko temple is located on a plateau, about three kilometres south of Lara Jonggrang Prambanan temple complex in Yogyakarta Central Java, Indonesia. Grand stone gates,…
---
To support the need of recreational things in Yogyakarta, the accommodation is also increase. In fact, there are numbers of star hotels and non-star hotels that ready to serve their specialties to comfort your stay. Hence, this Hotels In Yogyakarta is made. This application is kind of reference to provide the information and news for tourists that want to stay in Yogyakarta. There are numbers of Hotels and its description, and it can be accessed from iPad, iPhone and Android.  
---