Nglambor Beach in Gunung Kidul Regency, Yogyakarta Special Region Province
---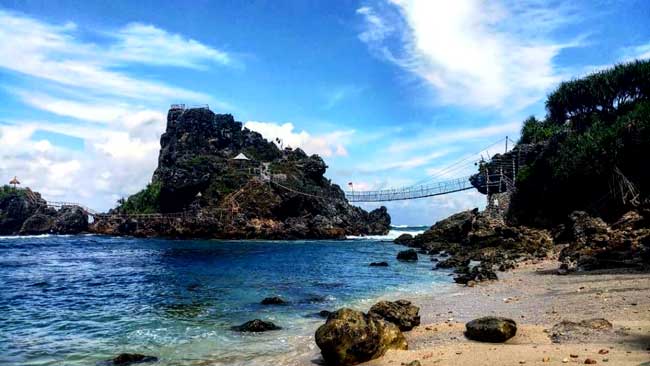 For the next holidays, tourists must consider visiting Yogyakarta Special Region. For nature lovers, in this case, the prime destination would be Gunung Kidul Regency where Nglambor Beach resides. This beautiful and well-managed beach is located in Purwodadi Village and belongs to Tepus Sub-District. The location is strategic and it resides between two famous beaches called Siung and Jogan. No wonder, the number of visitors is high and it keeps attracting new tourists over time. As for tourist activities, people usually enjoy snorkeling and diving there. Also, others would simply enjoy a family recreation and beach walking!
The Nuance
Well, there are many things to describe related to Nglambor Beach's nuance. First, it is the shoreline. Tourists would be impressed by the light-brown soft-textured sandy landscape there! In terms of size, the shoreline is moderate. It also features several beach chairs with umbrellas. Thus, everyone can relax while watching the sea scenery ahead comfortably. The next noticeable feature is the presence of a parking area, which is located quite near to the shoreline. Several facilities like toilets and eateries are also available! Plus, that area is surrounded by trees. The beach is located between two hills, as well. No wonder the waves are considered small and the ambiance is similar to a cape. What is more? Several coral reefs are seen on the sea, which becomes the best objects for photography.
Exploring Nglambor Beach
Now, it is the time to talk about the activities. The most common one is definitely sightseeing. That means tourists only need to sit and relax while gazing at the horizon. The sea panorama astonishes everyone, for sure. Next, it is beach walking. The soft-textured shoreline won't hurt anyone's feet, after all. This can be done regardless of the time as well. Even the sand won't feel hot at noon! It feels warm instead.
Aside from beach walking, Nglambor Beach is suitable for water sports due to the calm waves and crystal clear seawater. That means the sea offers the best conditions for either snorkeling or diving. Tourists are able to see colorful fishes and corals underwater clearly. One thing, some parts of the sea are safe to enjoy the activities, but others feature big waves. In order to avoid problems, therefore, everyone should find information regarding the best spots to enjoy snorkeling.
While snorkeling, tourists have the chance to collect underwater photos as well. For those who don't carry snorkeling gear, they can simply rent these from available service. As an alternative, tourists don't have to get in the water. Instead, they can enjoy trekking at the available route. It is because Nglambor Beach also features several hills and cliffs. The views are even better once tourists arrive at the top of those places!
Nearby Attractions

Jagan Beach
Wedi Ombo Beach
Siung Beach
How to Get There
From Jakarta City, tourists can simply take an airplane at Soekarno – Hatta International Airport and head to Yogyakarta City right away. A flight from Jakarta to Adisucipto International Airport would take around 1 hour and 10 minutes, actually. After arriving at the destination, tourists should take Nasional III Street and head to Nglambor Beach right away. The distance is 70.2 km, so this trip would take about 1 hour and 56 minutes.
Where to Stay


Latest News
The Special Region of Yogyakarta is one of the provinces of Indonesia that has a lot of beauties, there are always new tourist attractions there. Not surprisingly, Yogyakarta has become one of the favorite tourist destinations for travelers, both local and foreign tourists. Especially at this time, tourism in Yogyakarta continues to develop to present tourist destinations that are worth visiting. In addition to the Kalibiru National Park, there are new tourist destinations in Yogyakarta that should on your to-do-list when traveling to Yogyakarta. Kalibiru National ParkKalibiru National Park is…
---
A towering tree inside Rancang Kencana cave in Bleberan Village, Playen District, Gunungkidul Regency, Yogyakarta Special Region. The tree is hundreds of years old. In 2003, a team of archaeologists from Gajah Mada University (UGM) conducted research on this tree. The results of his research, the tree is estimated to be about 300 years old. The big tree in the cave is called Klempit or Tlumpi. The Klempit tree bears fruit every rainy season. According to the local resident, the fruit of the tree can be eaten. The shape of…
---
Every waterfall always keeps a story. Including the Sri Gethuk waterfall in Bleberan Village, Playen District, Gunungkidul Regency, Yogyakarta Special Region. Many people call Sri Gethuk a beautiful waterfall. The water comes from a limestone embankment river that cuts rock cliffs to form a waterfall. The Sri Gethuk waterfall flows into the Oyo river. Often the rocks under waterfalls are also used for meditation. Usually meditating in the morning before many visitors come. The beauty of Sri Gethuk waterfall is already famous. Even the Sri Gethuk waterfall was once used…
---
When exploring Yogyakarta City, tourists should not forget to drop by in Prambanan Sub-District of Sleman Regency. Aside from offering beautiful temples, that area is also known for its Tebing Breksi or the Breccia Cliff. The exact location is in Sambirejo Village and it resides near to several famous temples like Prambanan, Ratu Boko, Candi Ijo, and Kalasan Temple. This majestic cliff is popular among tourists due to the excellent nuance and amazing landscapes, actually. No wonder, all visitors are likely to enjoy sightseeing and photography there. Some tourists also…
---