Vredeburg Fort in Gondomanan Sub-District, Yogyakarta Special Region
---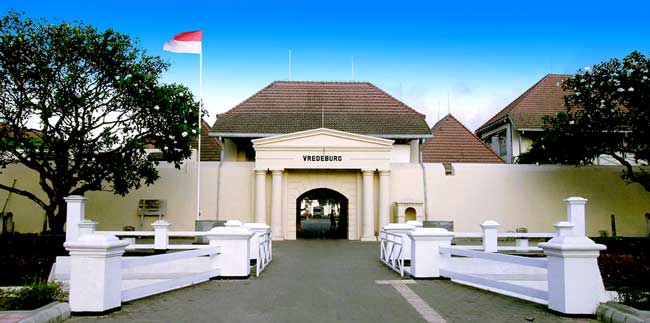 Vredeburg Fort Museum has become one of Yogyakarta City's best vacation destinations. This historical fort is located in Ngupasan Village at Gondomanan Sub-District. The most interesting allure is definitely the historical value. The majestic architecture also lures those who love photography! Also, visitors are able to see numerous types of old items that relate to wars or fights before the independence of Indonesia. The fort was built in 1765 by the Dutch, actually. The purpose was to repel any attacks from Kraton Palace. These days, it has become a famous tourist site in Malioboro Area. Thus, everyone must drop by when visiting Yogyakarta later.
The Nuance
The fort has a rectangular shape and features a ditch in all its sides. Not to mention a watchtower resides in all the corners. When tourists reach the south part of the fort, they may find old cannon too. As for the gate, it looks majestic with a name sign on it. According to the locals, the fort has the total size of about 2100 meters per square! As mentioned before, it was built by the Dutch. No wonder, the architecture represents their culture. The design is original and it hasn't changed at all!
Exploring Vredeburg Fort Museum
Once arriving at Vredeburg Fort Museum, they would see the majestic building right away. Not to mention numerous types of facilities and rooms reside in that area. These include an exhibition room, library, meeting room, guest room, a small mosque, audio-visual room, free internet access, etc. Thus, it is recommended to explore all parts of the fort for the best experience. Not to mention tourists should carry a camera to capture some photos during the exploration.
Aside from exploration and photography, people keep coming to Vredeburg Fort Museum to witness all collections for sure. Once entering the fort, tourists may see some miniatures, replicas, photos, and paintings. Not to mention several diorama rooms are available in that area. Each of them stores different historical items. Here is the tip. Tourists should also take photos using their camera when exploring those rooms. As long as they don't litter, they are good to go.
Most people are interested to hang out outside Vredeburg Fort Museum, instead. They simply explore all parts of the fort including the ditch, bridge, walls, gate, and Serangan Umum Monument. Tourists usually take selfies in front of these objects! In front of the fort, several street vendors gather and offer their products to tourists, as well. These include foods and souvenirs!
Nearby Attractions

Bringharjo Market
Omah Cilik
How to Get There
It is easy to get to Vredeburg Fort Museum, as the location is on the roadside. For outsiders, though, they should reach Yogyakarta City by airplane first. For the information, a flight from Soekarno – Hatta International Airport (Jakarta City) to Adisucipto Airport usually takes around 1 hour and 10 minutes. After arriving at the destination, they should take Raya Solo – Yogyakarta Street and head to Vredeburg Fort Museum at Malioboro Street. The distance is 10.7 km, so the trip would take about 29 minutes.
Where to Stay

Limaran Hotel
Mitra Hotel
D'senopati Hotel

Latest News
LABUHAN KERATON NGAYOGYAKARTA Labuhan Keraton or the Royal Offerings of Yogyakarta is usually performed on the 30th of Rajab, so it will probably be hold on Thursday, 27 April 2017, at 07.00 am at the "Pendhapa" (Javanese Mansion) of Kretek Subdistrict Office. The Ngayogyakarta Royal servants transfer the vessels of the offering-implement to the Bantul Government. Then the offering-implement is delivered to the "Pendhapa" of Parangkusumo, and given to the caretaker to be arranged in "ancak" (the vessel made of bamboo). After the prayer fort it in "cepuri" (a supporting…
---
https://www.youtube.com/watch?v=218GWVk1pL4 Ratu Boko Palace is located in Jl. Raya Piyungan, 3 km south of Prambanan Temple at Dawung and Sambirejo villages, Piyungan, or 19 km east of Jogjakarta. It opens daily 6 am – 5.30 pm and it entrance fee charged. Ratu Boko Palace is a huge complex built on 16 hectares as the residence of King Boko of the first Mataram dynasty. Local legend says that Ratu Boko liked to eat human flesh. Primarily in ruins, visitors must use their imaginations to fill in historical and structural gaps. Gold…
---
Ratu Boko Temple Settled on a hillside plateau, overlooking Prambanan temple complex and with a view to Mount Merapi behind Prambanan Temple complex, lie the remains of a once grand palace. The palace (kraton) is named Ratu Boko after a King Boko of local folklore, but the real owner of the palace is more likely to have been a king of a local dynasty. Ratu Boko temple is located on a plateau, about three kilometres south of Lara Jonggrang Prambanan temple complex in Yogyakarta Central Java, Indonesia. Grand stone gates,…
---
To support the need of recreational things in Yogyakarta, the accommodation is also increase. In fact, there are numbers of star hotels and non-star hotels that ready to serve their specialties to comfort your stay. Hence, this Hotels In Yogyakarta is made. This application is kind of reference to provide the information and news for tourists that want to stay in Yogyakarta. There are numbers of Hotels and its description, and it can be accessed from iPad, iPhone and Android.  
---