Vredeburg Fort in Gondomanan Sub-District, Yogyakarta Special Region
---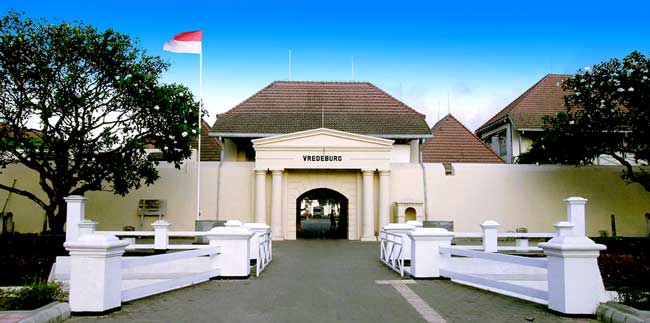 Vredeburg Fort Museum has become one of Yogyakarta City's best vacation destinations. This historical fort is located in Ngupasan Village at Gondomanan Sub-District. The most interesting allure is definitely the historical value. The majestic architecture also lures those who love photography! Also, visitors are able to see numerous types of old items that relate to wars or fights before the independence of Indonesia. The fort was built in 1765 by the Dutch, actually. The purpose was to repel any attacks from Kraton Palace. These days, it has become a famous tourist site in Malioboro Area. Thus, everyone must drop by when visiting Yogyakarta later.
The Nuance
The fort has a rectangular shape and features a ditch in all its sides. Not to mention a watchtower resides in all the corners. When tourists reach the south part of the fort, they may find old cannon too. As for the gate, it looks majestic with a name sign on it. According to the locals, the fort has the total size of about 2100 meters per square! As mentioned before, it was built by the Dutch. No wonder, the architecture represents their culture. The design is original and it hasn't changed at all!
Exploring Vredeburg Fort Museum
Once arriving at Vredeburg Fort Museum, they would see the majestic building right away. Not to mention numerous types of facilities and rooms reside in that area. These include an exhibition room, library, meeting room, guest room, a small mosque, audio-visual room, free internet access, etc. Thus, it is recommended to explore all parts of the fort for the best experience. Not to mention tourists should carry a camera to capture some photos during the exploration.
Aside from exploration and photography, people keep coming to Vredeburg Fort Museum to witness all collections for sure. Once entering the fort, tourists may see some miniatures, replicas, photos, and paintings. Not to mention several diorama rooms are available in that area. Each of them stores different historical items. Here is the tip. Tourists should also take photos using their camera when exploring those rooms. As long as they don't litter, they are good to go.
Most people are interested to hang out outside Vredeburg Fort Museum, instead. They simply explore all parts of the fort including the ditch, bridge, walls, gate, and Serangan Umum Monument. Tourists usually take selfies in front of these objects! In front of the fort, several street vendors gather and offer their products to tourists, as well. These include foods and souvenirs!
Nearby Attractions

Bringharjo Market
Omah Cilik
How to Get There
It is easy to get to Vredeburg Fort Museum, as the location is on the roadside. For outsiders, though, they should reach Yogyakarta City by airplane first. For the information, a flight from Soekarno – Hatta International Airport (Jakarta City) to Adisucipto Airport usually takes around 1 hour and 10 minutes. After arriving at the destination, they should take Raya Solo – Yogyakarta Street and head to Vredeburg Fort Museum at Malioboro Street. The distance is 10.7 km, so the trip would take about 29 minutes.
Where to Stay

Limaran Hotel
Mitra Hotel
D'senopati Hotel

Latest News
The Special Region of Yogyakarta is one of the provinces of Indonesia that has a lot of beauties, there are always new tourist attractions there. Not surprisingly, Yogyakarta has become one of the favorite tourist destinations for travelers, both local and foreign tourists. Especially at this time, tourism in Yogyakarta continues to develop to present tourist destinations that are worth visiting. In addition to the Kalibiru National Park, there are new tourist destinations in Yogyakarta that should on your to-do-list when traveling to Yogyakarta. Kalibiru National ParkKalibiru National Park is…
---
A towering tree inside Rancang Kencana cave in Bleberan Village, Playen District, Gunungkidul Regency, Yogyakarta Special Region. The tree is hundreds of years old. In 2003, a team of archaeologists from Gajah Mada University (UGM) conducted research on this tree. The results of his research, the tree is estimated to be about 300 years old. The big tree in the cave is called Klempit or Tlumpi. The Klempit tree bears fruit every rainy season. According to the local resident, the fruit of the tree can be eaten. The shape of…
---
Every waterfall always keeps a story. Including the Sri Gethuk waterfall in Bleberan Village, Playen District, Gunungkidul Regency, Yogyakarta Special Region. Many people call Sri Gethuk a beautiful waterfall. The water comes from a limestone embankment river that cuts rock cliffs to form a waterfall. The Sri Gethuk waterfall flows into the Oyo river. Often the rocks under waterfalls are also used for meditation. Usually meditating in the morning before many visitors come. The beauty of Sri Gethuk waterfall is already famous. Even the Sri Gethuk waterfall was once used…
---
When exploring Yogyakarta City, tourists should not forget to drop by in Prambanan Sub-District of Sleman Regency. Aside from offering beautiful temples, that area is also known for its Tebing Breksi or the Breccia Cliff. The exact location is in Sambirejo Village and it resides near to several famous temples like Prambanan, Ratu Boko, Candi Ijo, and Kalasan Temple. This majestic cliff is popular among tourists due to the excellent nuance and amazing landscapes, actually. No wonder, all visitors are likely to enjoy sightseeing and photography there. Some tourists also…
---