Sate Klathak Pleret of Yogyakarta Special Region
---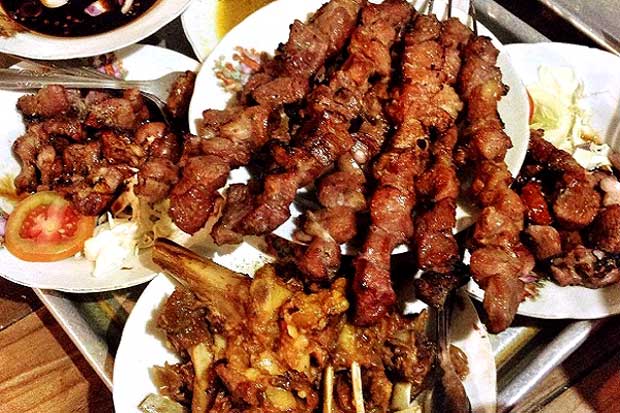 Consisting of many historical sites and interesting vacation spots, Yogyakarta Special Region is always popular. Actually, one of the allures is the presence of several unique traditional foods like Sate Klathak Pleret. This skewer is different than others due to a unique way to serve the foods. Instead of using bamboo or wooden sticks, the cook use iron bars instead! When eating, the customers' mouth makes a certain sound "klatak". This is the history of the name. As for Pleret, it derives from the location where this food is originated, which is Pleret Sub-District at Bantul Regency.
Where to Get It
So, where can tourists get the food? Even though some sellers have been operating in almost all parts of the Yogyakarta Special Region, it is recommended to visit Pleret Sub-District to try the original one. Both the taste and nuance is different, for sure. The problem is first-timers or outsiders don't have the information. Have no worries. Some recommended places to visit are Wonokromo, Jejeran, Gondowulung, Ringroad Crossroad, and Imogiri Timur Street. For a more efficient way, tourists should consider hiring a local guide later.
More about Sate Klathak Pleret
Aside from the iron bars, Sate Klathak has other differences as compared to the regular ones. For example, it is related to the seasoning. Instead of using lots of soybean sauce and peanut dressing, this one only includes a small amount of pepper and salt. The main ingredient is lamb meat and the texture is soft, due to the young age of the lamb. A portion consists of about 2 or 4 skewers and it features a curry broth as well. Not to mention tourists can eat it along with rice!
The question is why the locals use iron bars instead of bamboo or wooden ones. According to them, the purpose is to help to reach the complete doneness of the meat. The heat of the iron bar helps to cook the inner part of the lamb meat, after all. Due to the presence of curry broth, the taste is both savory and spicy. The meat tastes wonderful despite the minimum seasoning, in fact. What about the price? Well, it depends on where and when tourists get the food. During big holidays, the price would go up for sure.
Aside from enjoying Sate Klathak Pleret, tourists can order other menus in those local eateries. These include lamb fried rice, tengkleng, tongseng, and curry. All of them taste great, indeed. Here is the tip. Everyone should come early in order to avoid the queue. After all, the sellers would run out of stocks already in the afternoon due to the high number of customers!
Nearby Attractions

Kaliurang
Prambanan Temple
Parangtritis Beach
Malioboro
Beringharjo Market
How to Get There
The simplest and fastest way to reach Yogyakarta City is indeed by airplane. Those who come from Jakarta City only need to get an airplane service at Soekarno – Hatta International Airport and head to the destination right away. This flight may take about 1 hour and 10 minutes, actually. After arriving at Adisucipto International Airport, tourists can simply find a local guide who can show the best eateries to get Sate Klathak. Somehow, they must visit Bantul Regency where this food is originated.
Where to Stay

Ambarukmo Hotel
Jayakarta Hotel
Greenhouse Boutique Hotel
Garuda Hotel

Latest News
LABUHAN KERATON NGAYOGYAKARTA Labuhan Keraton or the Royal Offerings of Yogyakarta is usually performed on the 30th of Rajab, so it will probably be hold on Thursday, 27 April 2017, at 07.00 am at the "Pendhapa" (Javanese Mansion) of Kretek Subdistrict Office. The Ngayogyakarta Royal servants transfer the vessels of the offering-implement to the Bantul Government. Then the offering-implement is delivered to the "Pendhapa" of Parangkusumo, and given to the caretaker to be arranged in "ancak" (the vessel made of bamboo). After the prayer fort it in "cepuri" (a supporting…
---
https://www.youtube.com/watch?v=218GWVk1pL4 Ratu Boko Palace is located in Jl. Raya Piyungan, 3 km south of Prambanan Temple at Dawung and Sambirejo villages, Piyungan, or 19 km east of Jogjakarta. It opens daily 6 am – 5.30 pm and it entrance fee charged. Ratu Boko Palace is a huge complex built on 16 hectares as the residence of King Boko of the first Mataram dynasty. Local legend says that Ratu Boko liked to eat human flesh. Primarily in ruins, visitors must use their imaginations to fill in historical and structural gaps. Gold…
---
Ratu Boko Temple Settled on a hillside plateau, overlooking Prambanan temple complex and with a view to Mount Merapi behind Prambanan Temple complex, lie the remains of a once grand palace. The palace (kraton) is named Ratu Boko after a King Boko of local folklore, but the real owner of the palace is more likely to have been a king of a local dynasty. Ratu Boko temple is located on a plateau, about three kilometres south of Lara Jonggrang Prambanan temple complex in Yogyakarta Central Java, Indonesia. Grand stone gates,…
---
To support the need of recreational things in Yogyakarta, the accommodation is also increase. In fact, there are numbers of star hotels and non-star hotels that ready to serve their specialties to comfort your stay. Hence, this Hotels In Yogyakarta is made. This application is kind of reference to provide the information and news for tourists that want to stay in Yogyakarta. There are numbers of Hotels and its description, and it can be accessed from iPad, iPhone and Android.  
---