Hotels In Yogyakarta
---
The Phoenix Hotel Yogyakarta - MGallery by Sofitel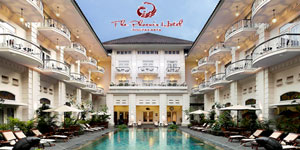 Boutique hotels with personality for a remarkable travel experience The Phoenix Hotel Yogyakarta welcomes you with the luxury of another era. You will be immersed in a unique heritage boutique hotel and experience "Memorable Moments" from your very first step in the hotel. The best choice to discover the charm of Yogya. Thomas EVRARD, Hotel Manager Elegantly set in the heart of Yogyakarta, close to Malioboro street, the majestic building of The Phoenix Hotel Yogyakarta, dating back to 1918, revisits in style the classical bygone era with a fusion of Asian and European decor.
Jl. Jenderal Sudirman 9 Yogyakarta, Yogyakarta 55233
Indonesia
Phone: +62 274 566617
Web: sofitel.com
Hotel Tentrem Yogyakarta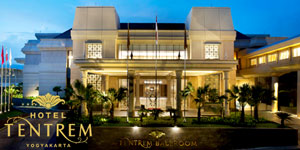 Taken from Javanese culture, the word "tentrem" refers to a feeling of peacefulness and tranquility–a broader meaning of "tentrem" embraces the concept of harmony between the universe and mankind, concocting a most perfect serenity. Taking a different path than most, Hotel Tentrem Yogyakarta is proud to be an independent hotel and we are focus on who we will become. Our culture guides our action toward our service. We believe that every individual is unique, thus we value every expression and aspiration as a contribution to better serve you. Whether you are on business or leisure, our luxurious suites, inspired interior, state of the art facilities, and thoughtful amenities will create an unforgettable experience of living in harmony.
Jl. A.M. Sangaji 72A Yogyakarta, Yogyakarta 55233
Indonesia
Phone: +62 274 641 5555
Web: hoteltentrem.com
Hyatt Regency Yogyakarta Hotel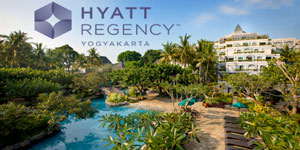 Set in 22 hectares of landscaped tropical gardens, Hyatt Regency Yogyakarta boasts a range of facilities including a golf course, multi-level swimming pool, as well as spa and wellness centre. A free downtown shuttle service is provided. The property also offers free WiFi access. Sun-filled afternoons can be spent by the large lagoon pool, which boasts a waterfall, 70-metre slide and a whirlpool. Yogyakarta Hyatt Regency is a 10-minute drive from the city centre. It is a 15-minute drive from Yogyakarta Airport and Jogja Convention Centre.
Jl. Palagan Tentara Pelajar Sleman, Yogyakarta 55581
Phone: +62 274 86 9123
Web: yogyakarta.regency.hyatt.com
Eastparc Hotel Yogyakarta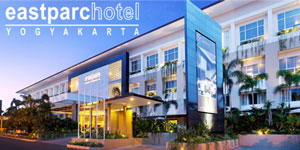 Immerse yourself in the warm hospitality of Indonesia with a stay at Eastparc Hotel Yogyakarta. The 5 star hotel in Yogyakarta is located in the heart of the city, on Jalan Laksda Adisucipto, the garden-themed hotel is centrally located and serves as the perfect base to explore Yogyakarta's colorful cultural and arts scene. Each of the well-appointed guestrooms at Eastparc comes with its own balcony. The rooms including 10 suites promise comfort for the discerning traveler.
Jl. Laksda Adisucipto Km. 6,5 Seturan Sleman, Yogyakarta 55281
Indonesia
Phone: +62 274 493 2000
Web: eastparchotel.com

Latest News
The Special Region of Yogyakarta is one of the provinces of Indonesia that has a lot of beauties, there are always new tourist attractions there. Not surprisingly, Yogyakarta has become one of the favorite tourist destinations for travelers, both local and foreign tourists. Especially at this time, tourism in Yogyakarta continues to develop to present tourist destinations that are worth visiting. In addition to the Kalibiru National Park, there are new tourist destinations in Yogyakarta that should on your to-do-list when traveling to Yogyakarta. Kalibiru National ParkKalibiru National Park is…
---
A towering tree inside Rancang Kencana cave in Bleberan Village, Playen District, Gunungkidul Regency, Yogyakarta Special Region. The tree is hundreds of years old. In 2003, a team of archaeologists from Gajah Mada University (UGM) conducted research on this tree. The results of his research, the tree is estimated to be about 300 years old. The big tree in the cave is called Klempit or Tlumpi. The Klempit tree bears fruit every rainy season. According to the local resident, the fruit of the tree can be eaten. The shape of…
---
Every waterfall always keeps a story. Including the Sri Gethuk waterfall in Bleberan Village, Playen District, Gunungkidul Regency, Yogyakarta Special Region. Many people call Sri Gethuk a beautiful waterfall. The water comes from a limestone embankment river that cuts rock cliffs to form a waterfall. The Sri Gethuk waterfall flows into the Oyo river. Often the rocks under waterfalls are also used for meditation. Usually meditating in the morning before many visitors come. The beauty of Sri Gethuk waterfall is already famous. Even the Sri Gethuk waterfall was once used…
---
When exploring Yogyakarta City, tourists should not forget to drop by in Prambanan Sub-District of Sleman Regency. Aside from offering beautiful temples, that area is also known for its Tebing Breksi or the Breccia Cliff. The exact location is in Sambirejo Village and it resides near to several famous temples like Prambanan, Ratu Boko, Candi Ijo, and Kalasan Temple. This majestic cliff is popular among tourists due to the excellent nuance and amazing landscapes, actually. No wonder, all visitors are likely to enjoy sightseeing and photography there. Some tourists also…
---