Hotels In Yogyakarta
---
The Phoenix Hotel Yogyakarta - MGallery by Sofitel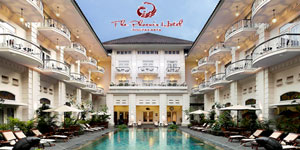 Boutique hotels with personality for a remarkable travel experience The Phoenix Hotel Yogyakarta welcomes you with the luxury of another era. You will be immersed in a unique heritage boutique hotel and experience "Memorable Moments" from your very first step in the hotel. The best choice to discover the charm of Yogya. Thomas EVRARD, Hotel Manager Elegantly set in the heart of Yogyakarta, close to Malioboro street, the majestic building of The Phoenix Hotel Yogyakarta, dating back to 1918, revisits in style the classical bygone era with a fusion of Asian and European decor.
Jl. Jenderal Sudirman 9 Yogyakarta, Yogyakarta 55233
Indonesia
Phone: +62 274 566617
Web: sofitel.com
Hotel Tentrem Yogyakarta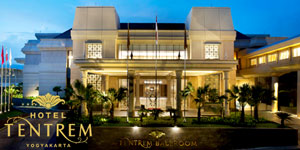 Taken from Javanese culture, the word "tentrem" refers to a feeling of peacefulness and tranquility–a broader meaning of "tentrem" embraces the concept of harmony between the universe and mankind, concocting a most perfect serenity. Taking a different path than most, Hotel Tentrem Yogyakarta is proud to be an independent hotel and we are focus on who we will become. Our culture guides our action toward our service. We believe that every individual is unique, thus we value every expression and aspiration as a contribution to better serve you. Whether you are on business or leisure, our luxurious suites, inspired interior, state of the art facilities, and thoughtful amenities will create an unforgettable experience of living in harmony.
Jl. A.M. Sangaji 72A Yogyakarta, Yogyakarta 55233
Indonesia
Phone: +62 274 641 5555
Web: hoteltentrem.com
Hyatt Regency Yogyakarta Hotel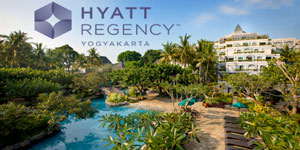 Set in 22 hectares of landscaped tropical gardens, Hyatt Regency Yogyakarta boasts a range of facilities including a golf course, multi-level swimming pool, as well as spa and wellness centre. A free downtown shuttle service is provided. The property also offers free WiFi access. Sun-filled afternoons can be spent by the large lagoon pool, which boasts a waterfall, 70-metre slide and a whirlpool. Yogyakarta Hyatt Regency is a 10-minute drive from the city centre. It is a 15-minute drive from Yogyakarta Airport and Jogja Convention Centre.
Jl. Palagan Tentara Pelajar Sleman, Yogyakarta 55581
Phone: +62 274 86 9123
Web: yogyakarta.regency.hyatt.com
Eastparc Hotel Yogyakarta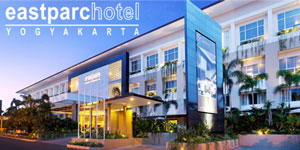 Immerse yourself in the warm hospitality of Indonesia with a stay at Eastparc Hotel Yogyakarta. The 5 star hotel in Yogyakarta is located in the heart of the city, on Jalan Laksda Adisucipto, the garden-themed hotel is centrally located and serves as the perfect base to explore Yogyakarta's colorful cultural and arts scene. Each of the well-appointed guestrooms at Eastparc comes with its own balcony. The rooms including 10 suites promise comfort for the discerning traveler.
Jl. Laksda Adisucipto Km. 6,5 Seturan Sleman, Yogyakarta 55281
Indonesia
Phone: +62 274 493 2000
Web: eastparchotel.com

Latest News
LABUHAN KERATON NGAYOGYAKARTA Labuhan Keraton or the Royal Offerings of Yogyakarta is usually performed on the 30th of Rajab, so it will probably be hold on Thursday, 27 April 2017, at 07.00 am at the "Pendhapa" (Javanese Mansion) of Kretek Subdistrict Office. The Ngayogyakarta Royal servants transfer the vessels of the offering-implement to the Bantul Government. Then the offering-implement is delivered to the "Pendhapa" of Parangkusumo, and given to the caretaker to be arranged in "ancak" (the vessel made of bamboo). After the prayer fort it in "cepuri" (a supporting…
---
https://www.youtube.com/watch?v=218GWVk1pL4 Ratu Boko Palace is located in Jl. Raya Piyungan, 3 km south of Prambanan Temple at Dawung and Sambirejo villages, Piyungan, or 19 km east of Jogjakarta. It opens daily 6 am – 5.30 pm and it entrance fee charged. Ratu Boko Palace is a huge complex built on 16 hectares as the residence of King Boko of the first Mataram dynasty. Local legend says that Ratu Boko liked to eat human flesh. Primarily in ruins, visitors must use their imaginations to fill in historical and structural gaps. Gold…
---
Ratu Boko Temple Settled on a hillside plateau, overlooking Prambanan temple complex and with a view to Mount Merapi behind Prambanan Temple complex, lie the remains of a once grand palace. The palace (kraton) is named Ratu Boko after a King Boko of local folklore, but the real owner of the palace is more likely to have been a king of a local dynasty. Ratu Boko temple is located on a plateau, about three kilometres south of Lara Jonggrang Prambanan temple complex in Yogyakarta Central Java, Indonesia. Grand stone gates,…
---
To support the need of recreational things in Yogyakarta, the accommodation is also increase. In fact, there are numbers of star hotels and non-star hotels that ready to serve their specialties to comfort your stay. Hence, this Hotels In Yogyakarta is made. This application is kind of reference to provide the information and news for tourists that want to stay in Yogyakarta. There are numbers of Hotels and its description, and it can be accessed from iPad, iPhone and Android.  
---