Gudangan Traditional Food of Yogyakarta Special Region
---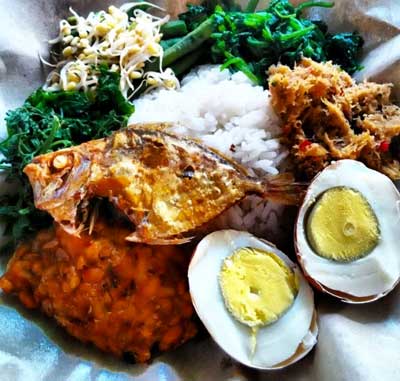 People have a different preference when it comes to foods or culinary. However, their option would be similar if they conduct a vacation in a certain place like Yogyakarta Special Region. One of the best local foods is called Gudangan. This boiled dish consists of numerous types of vegetables and comes with savory delicious grated coconut sauce. According to the locals, this food has become part of important local events like Selamatan, Salapanan, and Syukuran. As for the tourists, this excellent food would accompany them while exploring the region. Here is further discussion about it.
Where to Get It
Gudangan is considered a traditional food, so tourists must find it at the right place. That means they are not likely to find it in restaurants or hotels. Thus, it takes some efforts to get the food. The best time to get it is definitely during local events. At those times, many villagers cook the food and tourists have the chance to try it. As an alternative, they must find some local eateries or Warung that sell Gudangan. Usually, this food is sold along with other famous dishes like Gudeg and Lotek! As for the simplest method, tourists can hire a local guide who can show the exact location to buy it.
More about Gudangan Traditional Food
As mentioned before, Gudangan consists of various vegetables. No wonder, it is considered a healthy food! The locals usually eat it along with rice and they call it Sego Gudangan. As for the vegetables, these include long beans, spinach, beansprout, cassava, and much more! As for the dressing, it is none other than the spicy grated coconut, which is called Urap. The vegetables are half boiled, so they taste both crunchy and fresh. Not to mention it includes boiled eggs and other side dishes including Rempeyek or peanut brittles.
Gudangan is a versatile food, so people can it eat regardless of the time. However, the best time to eat it is in the morning as a breakfast. The price is cheap and it can come either with or without rice. Instead of using a plate, the sellers usually serve the food on a Pincuk or a folded banana leave. No wonder, tourists would feel the traditional nuance when eating Gudangan! This uniqueness attracts more people to eat the food, in fact.
Aside from eating Gudangan, tourists have the chance to learn how to make the food. They only need to meet the locals who are friendly enough to teach them. The most important procedure is boiling, indeed. It takes the right time to get a crunchy and fresh texture, after all. Also, it takes the right recipe to make the best dressing. Have no worries. The locals would teach everyone freely!
Nearby Attractions

Parangtritis Beach
Malioboro
Beringharjo Market
Kaliurang
Prambanan Temple
How to Get There
For those coming from outside Yogyakarta Special Region, they need to use the best transportation especially an airplane. The purpose is to get there fast, without a doubt. For example, a flight from Soekarno – Hatta International Airport to Yogyakarta City may take approximately 1 hour and 10 minutes. Later, after arriving at Adisucipto International Airport, tourists can simply reach recommended places to buy Gudangan. It is better to ask a local guide first, though.
Where to Stay

Greenhouse Boutique Hotel
Ambarukmo Hotel
Garuda Hotel
Jayakarta Hotel

Latest News
The Special Region of Yogyakarta is one of the provinces of Indonesia that has a lot of beauties, there are always new tourist attractions there. Not surprisingly, Yogyakarta has become one of the favorite tourist destinations for travelers, both local and foreign tourists. Especially at this time, tourism in Yogyakarta continues to develop to present tourist destinations that are worth visiting. In addition to the Kalibiru National Park, there are new tourist destinations in Yogyakarta that should on your to-do-list when traveling to Yogyakarta. Kalibiru National ParkKalibiru National Park is…
---
A towering tree inside Rancang Kencana cave in Bleberan Village, Playen District, Gunungkidul Regency, Yogyakarta Special Region. The tree is hundreds of years old. In 2003, a team of archaeologists from Gajah Mada University (UGM) conducted research on this tree. The results of his research, the tree is estimated to be about 300 years old. The big tree in the cave is called Klempit or Tlumpi. The Klempit tree bears fruit every rainy season. According to the local resident, the fruit of the tree can be eaten. The shape of…
---
Every waterfall always keeps a story. Including the Sri Gethuk waterfall in Bleberan Village, Playen District, Gunungkidul Regency, Yogyakarta Special Region. Many people call Sri Gethuk a beautiful waterfall. The water comes from a limestone embankment river that cuts rock cliffs to form a waterfall. The Sri Gethuk waterfall flows into the Oyo river. Often the rocks under waterfalls are also used for meditation. Usually meditating in the morning before many visitors come. The beauty of Sri Gethuk waterfall is already famous. Even the Sri Gethuk waterfall was once used…
---
When exploring Yogyakarta City, tourists should not forget to drop by in Prambanan Sub-District of Sleman Regency. Aside from offering beautiful temples, that area is also known for its Tebing Breksi or the Breccia Cliff. The exact location is in Sambirejo Village and it resides near to several famous temples like Prambanan, Ratu Boko, Candi Ijo, and Kalasan Temple. This majestic cliff is popular among tourists due to the excellent nuance and amazing landscapes, actually. No wonder, all visitors are likely to enjoy sightseeing and photography there. Some tourists also…
---