Titik Nol Kilometer in Yogyakarta City, Yogyakarta Special Region
---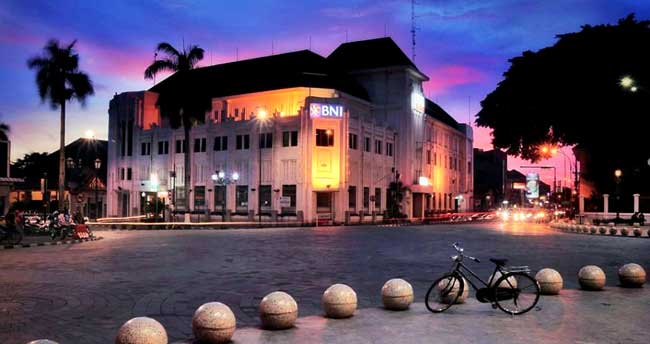 Yogyakarta won't run out of good places for tourists. It can be as simple as Titik Nol Kilometer! This spot defines the zero km point of the city and the location is exactly in the Margo Mulyo Crossroad in Gondomanan Sub-District. Tourists only need to reach Ngupasan Village to find it. That area also features several famous landmarks like Serangan Umum Satu Maret Monument and Senisono Building. No wonder, everyone would notice it right away during the visit. In terms of tourism, people often visit it to enjoy a merry nuance and learn some history. Lots of locals often gather in that area, especially in the evening, after all.
The Nuance
When it comes to the nuance, Titik Nol Kilometer is definitely merry and crowded. It is located on a crossroad, after all. That means visitors would see lots of vehicles passing by in that area. Not to mention people gather in nearby parks and sit on the available benches, especially in the afternoon and evening. The next important features are the presence of old buildings and big trees that reside in that location.
Exploring Titik Nol Kilometer
So, what can tourists do in Titik Nol Kilometer? The first common purpose to visit the site is none other to relax and enjoy the romantic nuance either in the afternoon or at night. Visitors can advantage of the available benches for hanging out with their friends or families. Not to mention many snack vendors operate in that area. The most popular ones are Satay and coffee. Moreover, tourists can get a cheaper price by bargaining. Another recommended food to try is definitely the local's special called Gudeg! Don't forget to try them later!
The next common thing that tourists can do in Titik Nol Kilometer is to visit several historical buildings. These include the old post office, Supersemar Monument, Vredeburg Fort, and much more! By walking to the south part of the site, tourists can even find the famous Alun-Alun Utara Square and Kraton Palace. In order to get further information related to those buildings, though, tourists should take advantage of the help of a tour guide who knows well about the history.
What is more? Titik Nol Kilometer is chosen as a gathering spot for various communities. These include skateboarding, bicycles community, and much more! The site is also suitable to enjoy photography. Thanks to the presence of local artists. They often gather in that area, wearing various types of costumes. The local government even has built artistic statues and landmarks there!
Nearby Attractions

Hamzah Batik
Vredeburg Fort
Bringharjo Market
How to Get There
Without a doubt, the best way to reach Yogyakarta Special Region is by airplane, especially for those coming from outside the region. From Soekarno – Hatta International Airport Jakarta City, in this case, tourists would spend around 1 hour and 10 minutes to get there. After arriving at Adisucipto International Airport, they can head to Titik Nol Kilometer right away. The distance is 9.9 km and the best route to take is Raya Solo – Yogyakarta and Laksda Adisucipto Street. This trip takes approximately 18 minutes only!
Where to Stay

Pesona Hotel
Violet Hotel
Cordela Hotel

Latest News
LABUHAN KERATON NGAYOGYAKARTA Labuhan Keraton or the Royal Offerings of Yogyakarta is usually performed on the 30th of Rajab, so it will probably be hold on Thursday, 27 April 2017, at 07.00 am at the "Pendhapa" (Javanese Mansion) of Kretek Subdistrict Office. The Ngayogyakarta Royal servants transfer the vessels of the offering-implement to the Bantul Government. Then the offering-implement is delivered to the "Pendhapa" of Parangkusumo, and given to the caretaker to be arranged in "ancak" (the vessel made of bamboo). After the prayer fort it in "cepuri" (a supporting…
---
https://www.youtube.com/watch?v=218GWVk1pL4 Ratu Boko Palace is located in Jl. Raya Piyungan, 3 km south of Prambanan Temple at Dawung and Sambirejo villages, Piyungan, or 19 km east of Jogjakarta. It opens daily 6 am – 5.30 pm and it entrance fee charged. Ratu Boko Palace is a huge complex built on 16 hectares as the residence of King Boko of the first Mataram dynasty. Local legend says that Ratu Boko liked to eat human flesh. Primarily in ruins, visitors must use their imaginations to fill in historical and structural gaps. Gold…
---
Ratu Boko Temple Settled on a hillside plateau, overlooking Prambanan temple complex and with a view to Mount Merapi behind Prambanan Temple complex, lie the remains of a once grand palace. The palace (kraton) is named Ratu Boko after a King Boko of local folklore, but the real owner of the palace is more likely to have been a king of a local dynasty. Ratu Boko temple is located on a plateau, about three kilometres south of Lara Jonggrang Prambanan temple complex in Yogyakarta Central Java, Indonesia. Grand stone gates,…
---
To support the need of recreational things in Yogyakarta, the accommodation is also increase. In fact, there are numbers of star hotels and non-star hotels that ready to serve their specialties to comfort your stay. Hence, this Hotels In Yogyakarta is made. This application is kind of reference to provide the information and news for tourists that want to stay in Yogyakarta. There are numbers of Hotels and its description, and it can be accessed from iPad, iPhone and Android.  
---