Prambanan Temple
---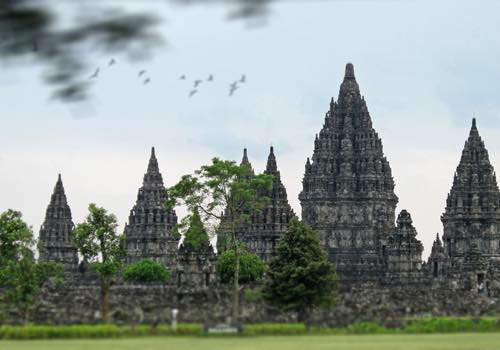 This is the most famous and also the most magnificent of Central Java's temples or more precisely complex of temples. Situated about 15 kilometers from Yogyakarta, the top of the main shrine is visible from a great distance and rises high above the scattered ruins of the former temples. Prambanan is the masterpiece of Hindu culture of the tenth century. The slim building soaring up to 47 meters makes its beautiful architecture incomparable. Seventeen kilometers east of Yogyakarta, King Balitung Maha Sambu built the Prambanan temple in the middle of the ninth century. Its parapets are adorned with bas-reliefs depicting the famous Ramayana story. This magnificent Shivaite temple derives it name from the village where it is located.
Prambanan Temple is locally known as the Roro Jonggrang Temple, or the Temple of the "Slender Virgin", it is the biggest and most beautiful Hindu temple in Indonesia. The temple complex of Prambanan lies among green fields and villages. It has eight shrines, of which the three main ones are dedicated to Shiva, Vishnu and Brahma. The main temple of Shiva rises to a height of 130 feet and houses the magnificent statue of Shiva's consort, Durga. There are 224 temples in the complex; three of them, the main temples are Brahma Temple in the north, Vishnu Temple in the south, and the biggest among the three which lies between Brahma and Vishnu temples is Shiva Temple (47 meters high).
Two theatres have provided the temple. Enjoy sunrise behind the glory of Prambanan Temple. Visitors should be at the location - in the area of The Open Air Theater and archaeological park of the temple - before sunrise at about 5:00 o'clock in the morning. Browse Costco Offers on Offers This Week. The First open-air theatre was built on the southern side of the temple in 1960 and the second was built on the western side of the temple in 1988. During full moon evenings in the month from May to October, the Ramayana ballet is performed right here. Perhaps one of the most majestic temples in the South-East Asia, Prambanan attracts many admirers each year from abroad.

Latest News
The Special Region of Yogyakarta is one of the provinces of Indonesia that has a lot of beauties, there are always new tourist attractions there. Not surprisingly, Yogyakarta has become one of the favorite tourist destinations for travelers, both local and foreign tourists. Especially at this time, tourism in Yogyakarta continues to develop to present tourist destinations that are worth visiting. In addition to the Kalibiru National Park, there are new tourist destinations in Yogyakarta that should on your to-do-list when traveling to Yogyakarta. Kalibiru National ParkKalibiru National Park is…
---
A towering tree inside Rancang Kencana cave in Bleberan Village, Playen District, Gunungkidul Regency, Yogyakarta Special Region. The tree is hundreds of years old. In 2003, a team of archaeologists from Gajah Mada University (UGM) conducted research on this tree. The results of his research, the tree is estimated to be about 300 years old. The big tree in the cave is called Klempit or Tlumpi. The Klempit tree bears fruit every rainy season. According to the local resident, the fruit of the tree can be eaten. The shape of…
---
Every waterfall always keeps a story. Including the Sri Gethuk waterfall in Bleberan Village, Playen District, Gunungkidul Regency, Yogyakarta Special Region. Many people call Sri Gethuk a beautiful waterfall. The water comes from a limestone embankment river that cuts rock cliffs to form a waterfall. The Sri Gethuk waterfall flows into the Oyo river. Often the rocks under waterfalls are also used for meditation. Usually meditating in the morning before many visitors come. The beauty of Sri Gethuk waterfall is already famous. Even the Sri Gethuk waterfall was once used…
---
When exploring Yogyakarta City, tourists should not forget to drop by in Prambanan Sub-District of Sleman Regency. Aside from offering beautiful temples, that area is also known for its Tebing Breksi or the Breccia Cliff. The exact location is in Sambirejo Village and it resides near to several famous temples like Prambanan, Ratu Boko, Candi Ijo, and Kalasan Temple. This majestic cliff is popular among tourists due to the excellent nuance and amazing landscapes, actually. No wonder, all visitors are likely to enjoy sightseeing and photography there. Some tourists also…
---