Kukup Beach in Gunung Kidul Regency, Yogyakarta Special Region
---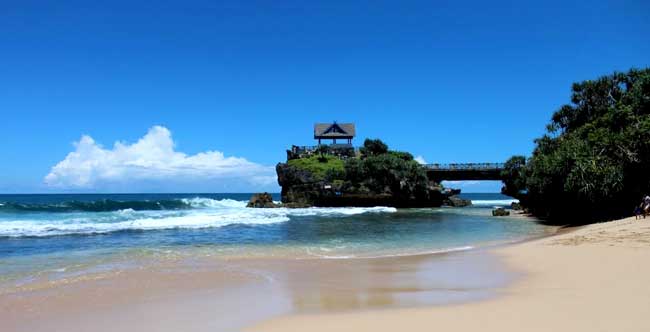 Located in Central Java, Yogyakarta Special Region offers various types of tourist allures to everyone. These include unique traditions, culinary, natural attractions, and much more! As for those who look for a nice recreational spot, there is Kukup Beach in Gunung Kidul Regency. The exact location is in Kemadang Village at Tanjungsari Sub-District. In terms of location, it resides near to other beautiful beaches. That means tourists can visit multiple beaches in one day without spending too much time later. This can be done either after or before visiting Kukup.
The Nuance
Once arriving at Kukup Beach, tourists may see stunning sea scenery right away. The shoreline is long and vast, so visitors can enjoy beach walking to their heart's content. The sand is white and soft-textured. Not to mention it is surrounded by beautiful hills! The most distinct feature is the presence of coral floor located in the south part of the shoreline. During the low tide, therefore, tourists may see lots of small sea creatures and exotic corals clearly. Another noticeable feature is the presence of a coral island located in the east part of the shoreline. The good thing is everyone is able to get to that island easily! Thanks to the available bridge for crossing the sea!
Exploring Kukup Beach
Here is the real question. What tourists can do in Kukup Beach? Beach walking is the most common one. They don't even need to wear footwear when exploring the shoreline. The texture is soft enough and won't hurt their feet. However, those who want to explore the coral floor during the low tide must wear footwear. The rough surface of corals is harmful to the feet, after all. In fact, some of them are quite sharp!
As mentioned before, Kukup Beach is also known for its coral island. Tourists only need to approach the east part of the shoreline to find it. Have no worries. Everyone is able to get to the island without hassles. The local government has built a bridge there, after all. Usually, tourists would take selfies and enjoy photography on that bridge. They can even see more beautiful panoramas after arriving at the island.
For the information, there is a viewing post located in Kukup Beach's coral island. That becomes the best spot for sightseeing and watching an exotic sunset in the afternoon! On the horizon, the view of hills and Baron Beach's lighthouse can be seen clearly too! Thus, it is recommended to come at the right time and carry a camera when heading to Kukup Beach later.
Nearby Attractions

Porok Beach
Jumpino Island
Bukit Baron Peak
How to Get There
First things come first. Before heading to Kukup Beach, tourists should reach Yogyakarta City and they can get there by any type of transportation services especially an airplane. For those coming from Jakarta City, they must get an airplane from Soekarno – Hatta International Airport and head to Adisucipto Airport. This flight may take about 1 hour and 10 minutes, but it can be longer depending on the weather. After arriving at the destination, tourists should take Nasional III Street and reach the beach directly. The distance is 58.7 km, so this trip would take about 1 hour and 31 minutes.
Where to Stay

Inessya Resort
Nature Beach
Green House
Baru Beach

Latest News
The Special Region of Yogyakarta is one of the provinces of Indonesia that has a lot of beauties, there are always new tourist attractions there. Not surprisingly, Yogyakarta has become one of the favorite tourist destinations for travelers, both local and foreign tourists. Especially at this time, tourism in Yogyakarta continues to develop to present tourist destinations that are worth visiting. In addition to the Kalibiru National Park, there are new tourist destinations in Yogyakarta that should on your to-do-list when traveling to Yogyakarta. Kalibiru National ParkKalibiru National Park is…
---
A towering tree inside Rancang Kencana cave in Bleberan Village, Playen District, Gunungkidul Regency, Yogyakarta Special Region. The tree is hundreds of years old. In 2003, a team of archaeologists from Gajah Mada University (UGM) conducted research on this tree. The results of his research, the tree is estimated to be about 300 years old. The big tree in the cave is called Klempit or Tlumpi. The Klempit tree bears fruit every rainy season. According to the local resident, the fruit of the tree can be eaten. The shape of…
---
Every waterfall always keeps a story. Including the Sri Gethuk waterfall in Bleberan Village, Playen District, Gunungkidul Regency, Yogyakarta Special Region. Many people call Sri Gethuk a beautiful waterfall. The water comes from a limestone embankment river that cuts rock cliffs to form a waterfall. The Sri Gethuk waterfall flows into the Oyo river. Often the rocks under waterfalls are also used for meditation. Usually meditating in the morning before many visitors come. The beauty of Sri Gethuk waterfall is already famous. Even the Sri Gethuk waterfall was once used…
---
When exploring Yogyakarta City, tourists should not forget to drop by in Prambanan Sub-District of Sleman Regency. Aside from offering beautiful temples, that area is also known for its Tebing Breksi or the Breccia Cliff. The exact location is in Sambirejo Village and it resides near to several famous temples like Prambanan, Ratu Boko, Candi Ijo, and Kalasan Temple. This majestic cliff is popular among tourists due to the excellent nuance and amazing landscapes, actually. No wonder, all visitors are likely to enjoy sightseeing and photography there. Some tourists also…
---