Wediombo Beach in Gunung Kidul Regency, Yogyakarta Special Region Province
---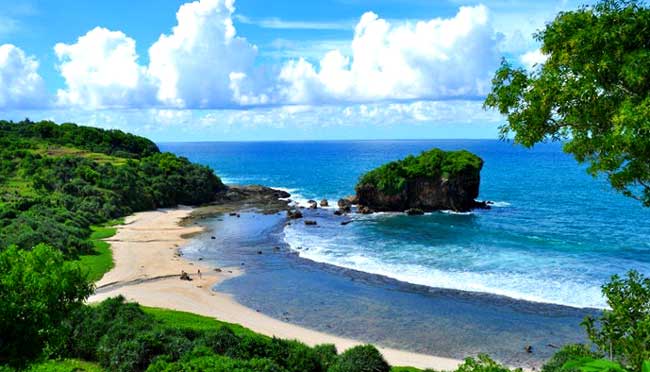 Most tourists have been aware of Yogyakarta's tourism potential. It is because the region offers many types of tourist allures including traditional foods, cultural performances, history, natural attractions, and much more. For nature lovers, in this case, they must not miss all the beautiful beaches located in Gunung Kidul Regency. The most recommended one perhaps is Wediombo Beach! The location is in Jepitu Village at Girisubo Sub-District. In terms of name, "Wedi" means sand while "Ombo" means vast. As the name suggests, the beach is known for its vastness. Aside from that, the beauty is undoubted.
The Nuance
As compared to others, Wediombo Beach has the longest and widest shoreline. Not to mention it is located at the very end of Gunung Kidul Regency. Plus, it features various types of landscapes including a sandy shoreline and coral rocks. The next impressive feature is the crystal clear sweater. Some big rocks also reside on the shore, preventing big waves from getting near the shoreline. No wonder, tourists can swim safely there. What is more? On the horizon, tourists may see green hills as well. Moreover, the atmosphere is warm and the nuance is peaceful.
Exploring Wediombo Beach
So, what should tourists do once arriving Wediombo Beach? Most of them would get in the water right away, for sure. That means swimming becomes the best thing to do there. Have no worries. Even kids can enjoy the activity safely. The chunks or coral rocks protect some parts of the sea from big waves, after all. No wonder, it creates a natural pond where tourists can take a bath and swim comfortably. Not to mention the water is clear and warm!
After swimming and playing water, tourists must explore the shoreline and collect some good photos either using their camera or smartphone. Moreover, many good objects are worth a photo shot! These include the coral reefs, which are located either on the shoreline or sea. Another wonderful object to capture would be the sunset! However, tourists must come at the right time, which is during dusk or in the afternoon. For those who don't carry a camera, they can simply conduct beach walking. Thanks to the vastness of the shoreline.
Another thing that tourists must do in Wediombo Beach is camping. As long as visitors carry their tent and other required equipment, they can spend the night in that area comfortably. The coastal nuance is quite relaxing! At night, moreover, it is possible to conduct a BBQ party with either friends or families! Here is the good news. Some villagers sell seafood in that location, so tourists can buy some and grill them later at night.
Nearby Attractions

Wediombo Lagoon
Dander Fishing Zone
Greweng Beach
How to Get There
From Jakarta City, tourists should take an airplane at Soekarno – Hatta International Airport and head to Adisucipto International Airport right away. For the information, this flight would take around 1 hour and 10 minutes. After arriving at Yogyakarta City, tourists should find a reliable transportation service and take Nasional III Street. The destination is indeed Jepitu Village at Gunung Kidul Regency, where the beach is located. This trip may take around 1 hour and 42 minutes, as the distance is 69.4 km.
Where to Stay

Griya Salaman Wediombo
Sunset Villa

Latest News
The Special Region of Yogyakarta is one of the provinces of Indonesia that has a lot of beauties, there are always new tourist attractions there. Not surprisingly, Yogyakarta has become one of the favorite tourist destinations for travelers, both local and foreign tourists. Especially at this time, tourism in Yogyakarta continues to develop to present tourist destinations that are worth visiting. In addition to the Kalibiru National Park, there are new tourist destinations in Yogyakarta that should on your to-do-list when traveling to Yogyakarta. Kalibiru National ParkKalibiru National Park is…
---
A towering tree inside Rancang Kencana cave in Bleberan Village, Playen District, Gunungkidul Regency, Yogyakarta Special Region. The tree is hundreds of years old. In 2003, a team of archaeologists from Gajah Mada University (UGM) conducted research on this tree. The results of his research, the tree is estimated to be about 300 years old. The big tree in the cave is called Klempit or Tlumpi. The Klempit tree bears fruit every rainy season. According to the local resident, the fruit of the tree can be eaten. The shape of…
---
Every waterfall always keeps a story. Including the Sri Gethuk waterfall in Bleberan Village, Playen District, Gunungkidul Regency, Yogyakarta Special Region. Many people call Sri Gethuk a beautiful waterfall. The water comes from a limestone embankment river that cuts rock cliffs to form a waterfall. The Sri Gethuk waterfall flows into the Oyo river. Often the rocks under waterfalls are also used for meditation. Usually meditating in the morning before many visitors come. The beauty of Sri Gethuk waterfall is already famous. Even the Sri Gethuk waterfall was once used…
---
When exploring Yogyakarta City, tourists should not forget to drop by in Prambanan Sub-District of Sleman Regency. Aside from offering beautiful temples, that area is also known for its Tebing Breksi or the Breccia Cliff. The exact location is in Sambirejo Village and it resides near to several famous temples like Prambanan, Ratu Boko, Candi Ijo, and Kalasan Temple. This majestic cliff is popular among tourists due to the excellent nuance and amazing landscapes, actually. No wonder, all visitors are likely to enjoy sightseeing and photography there. Some tourists also…
---