Gunungkidul Regency in Yogyakarta Special Region Province
---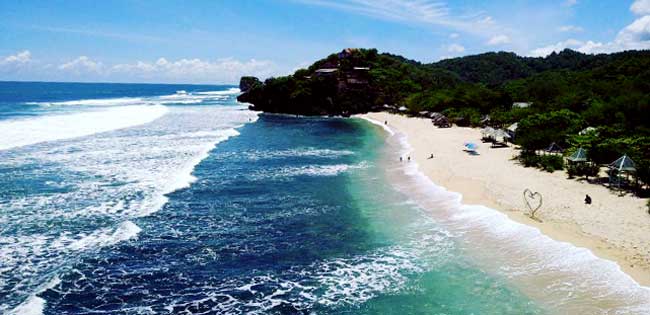 When spending a vacation in Yogyakarta Special Region Province, tourists must not forget exploring Gunungkidul Regency. As compared to other regencies, this one is considered more peaceful due to a lower number of citizens. This region is also considered taller, dominated by highlands and hills. No wonder, most visitors are those who love trekking and photography. They simply explore some sites for the best panoramas. Despite the fact, the region is also popular for its culinary and culture. Thus, all visitors won't get bored when exploring Gunungkidul Regency regardless the time of the visit.
The Nuance
In terms of nuance, Gunungkidul Regency consists of mostly mountains of limestone and hills. The region is the part of the Sewu Mountains, after all. The thing is tourists should not expect lush and shady atmosphere there. The reason is the landscape is considered dry and barren. According to the locals, their place often suffers from drought. Despite the fact, the region has many allures. These relate to tourism, culinary, history, and culture. No wonder, tourists won't regret visiting it during the holidays. Most visitors want to meet the locals for its culture and explore some highlands for its beauty, actually.
Exploring Gunungkidul Regency
The first reason why tourists visit Gunungkidul Regency is related to culture. They want to meet villagers and watch some unique tradition there. For the information, the locals retain their inherited traditions for generations. Some of them, though, have adapted to the modern culture. Still, tourists would find many local artists who are friendly enough to perform privately for them. Visitors also have the chance to taste some local foods including Walang, Gatot, Nasi Tiwul, Sego Abang, and many others.
For those who are into culture, they have some good places to visit in Gunungkidul Regency. These include Petilasan Gunung Kembar, Pertapaan Kembang Lampir, and Pesanggrahan Gembirowati. Do not forget to watch a unique tradition called Rasulan or Bersih Desa too later! Is that all? Well, the region offers some interesting sites like Megalitik Sokoliman and Situs Bleberan! These become a perfect location for photography and exploration, indeed. Some people take advantage of those sites to learn history.
Gunungkidul Regency is also known for its temples. They are Plembutan and Risan Temple. As for natural attractions, tourists must visit some recommended destinations like Nglanggeran Mountain, Sri Gethuk Waterfall, Telaga Kemuning, Wanagama Forest, and much more! What they need is only a local guide service who can show the direction to all those places.
Nearby Attractions

Jomblang Cave
Kalisuci Cavetubing
Becici Peak
Batu Giring
Song Dangkal Cave
How to Get There
From Jakarta City, tourists can simply take an airplane at Soekarno – Hatta International Airport and head to Yogyakarta City right away. For the information, this flight takes approximately 1 hour and 10 minutes. Once they arrive at Adisucipto International Airport, they must find a reliable transportation service and head to Gunungkidul Regency. The best route to take is Nasional III Street and the distance is 46 km. That means this trip may take around 1 hour and 10 minutes.
Where to Stay

Orchid Inn Hotel
Tiyuk Homestay
Pak Ibnu Homestay

Latest News
The Special Region of Yogyakarta is one of the provinces of Indonesia that has a lot of beauties, there are always new tourist attractions there. Not surprisingly, Yogyakarta has become one of the favorite tourist destinations for travelers, both local and foreign tourists. Especially at this time, tourism in Yogyakarta continues to develop to present tourist destinations that are worth visiting. In addition to the Kalibiru National Park, there are new tourist destinations in Yogyakarta that should on your to-do-list when traveling to Yogyakarta. Kalibiru National ParkKalibiru National Park is…
---
A towering tree inside Rancang Kencana cave in Bleberan Village, Playen District, Gunungkidul Regency, Yogyakarta Special Region. The tree is hundreds of years old. In 2003, a team of archaeologists from Gajah Mada University (UGM) conducted research on this tree. The results of his research, the tree is estimated to be about 300 years old. The big tree in the cave is called Klempit or Tlumpi. The Klempit tree bears fruit every rainy season. According to the local resident, the fruit of the tree can be eaten. The shape of…
---
Every waterfall always keeps a story. Including the Sri Gethuk waterfall in Bleberan Village, Playen District, Gunungkidul Regency, Yogyakarta Special Region. Many people call Sri Gethuk a beautiful waterfall. The water comes from a limestone embankment river that cuts rock cliffs to form a waterfall. The Sri Gethuk waterfall flows into the Oyo river. Often the rocks under waterfalls are also used for meditation. Usually meditating in the morning before many visitors come. The beauty of Sri Gethuk waterfall is already famous. Even the Sri Gethuk waterfall was once used…
---
When exploring Yogyakarta City, tourists should not forget to drop by in Prambanan Sub-District of Sleman Regency. Aside from offering beautiful temples, that area is also known for its Tebing Breksi or the Breccia Cliff. The exact location is in Sambirejo Village and it resides near to several famous temples like Prambanan, Ratu Boko, Candi Ijo, and Kalasan Temple. This majestic cliff is popular among tourists due to the excellent nuance and amazing landscapes, actually. No wonder, all visitors are likely to enjoy sightseeing and photography there. Some tourists also…
---