Yogyakarta - Jogjakarta
---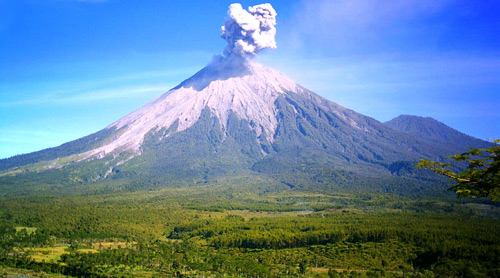 Geographically
Yogyakarta Special Region is geographically located almost equidistant from Indonesia's two most important international gateways, about 600 km from Jakarta and 1000 km from Bali. Yogyakarta also has excellent transport connections by bus, train or plane to the rest of Java, Sumatra, Bali and Lombok. Yogyakarta's Adisucipto Airport is in the process of changing its status in order to receive not only domestics' flights from Bali and Jakarta, but also direct charter and scheduled flights from other countries.
Geographically, Yogyakarta Special Province is situated in the Southern part of Central Java and lies between 7 degree 33' and 8 degree 12', South altitude between 110 degree and 50' East longitude. Some regencies of central Java Province surround the administrative boundaries of this region:
Southern East: Wonogiri Regency
Eastern: Klaten Regency
Northwestern: Magelang Regency
Western: Purworejo Regency
The Indonesian Ocean borders the Southern part of Yogyakarta. The borderline of the seashore stretches from West to East of which the length is around 100 km, started from Congot Beach in Kulon Progo Regency and ended at Sadeng Beach in Gunung Kidul Regency.
Because of its location, Yogyakarta is strategically positioned for the economic activity network in Java as well as for the tourist destination area. The special region of Yogyakarta lies midway on the axis of several main tourist destination areas, Jakarta and West Java westward, Central Java northward, East Java and Bali eastward. It is linked by regular rail, road and air services to other parts of Indonesian archipelago.
Climate and Weather in Yogyakarta
The average daily temperature range between 26 degree and 28 degree Celsius with its minimum 18 degree C and maximum 35 degree C respectively. Average humidity is 74% with its minimum of 65% and maximum 84% respectively. The Yogyakarta Special Region lays approximately 7 South of the equator line and is bathed in tropical; sunshine along the year. This region has a tropic climate the daily atmosphere feels a little bit hot and humid. These are only two seasons along the year, the wet or rainy seasons and dry monsoon. Usually the wet seasons begin at September and lasts about August. Generally there is no rainfalls from may to August and there fore the atmosphere feels hot and humid on the day and cool in the night and early morning. The monthly rain falling Yogyakarta varies between 3mm and 496mm in which those above 300mm take place during the month of January up to April. The heaviest rainfall usually occurs in February while the lowest commonly happens between May and October Average annually rainfall is about 1,900mm.

Latest News
The Special Region of Yogyakarta is one of the provinces of Indonesia that has a lot of beauties, there are always new tourist attractions there. Not surprisingly, Yogyakarta has become one of the favorite tourist destinations for travelers, both local and foreign tourists. Especially at this time, tourism in Yogyakarta continues to develop to present tourist destinations that are worth visiting. In addition to the Kalibiru National Park, there are new tourist destinations in Yogyakarta that should on your to-do-list when traveling to Yogyakarta. Kalibiru National ParkKalibiru National Park is…
---
A towering tree inside Rancang Kencana cave in Bleberan Village, Playen District, Gunungkidul Regency, Yogyakarta Special Region. The tree is hundreds of years old. In 2003, a team of archaeologists from Gajah Mada University (UGM) conducted research on this tree. The results of his research, the tree is estimated to be about 300 years old. The big tree in the cave is called Klempit or Tlumpi. The Klempit tree bears fruit every rainy season. According to the local resident, the fruit of the tree can be eaten. The shape of…
---
Every waterfall always keeps a story. Including the Sri Gethuk waterfall in Bleberan Village, Playen District, Gunungkidul Regency, Yogyakarta Special Region. Many people call Sri Gethuk a beautiful waterfall. The water comes from a limestone embankment river that cuts rock cliffs to form a waterfall. The Sri Gethuk waterfall flows into the Oyo river. Often the rocks under waterfalls are also used for meditation. Usually meditating in the morning before many visitors come. The beauty of Sri Gethuk waterfall is already famous. Even the Sri Gethuk waterfall was once used…
---
When exploring Yogyakarta City, tourists should not forget to drop by in Prambanan Sub-District of Sleman Regency. Aside from offering beautiful temples, that area is also known for its Tebing Breksi or the Breccia Cliff. The exact location is in Sambirejo Village and it resides near to several famous temples like Prambanan, Ratu Boko, Candi Ijo, and Kalasan Temple. This majestic cliff is popular among tourists due to the excellent nuance and amazing landscapes, actually. No wonder, all visitors are likely to enjoy sightseeing and photography there. Some tourists also…
---