Yogyakarta - Jogjakarta
---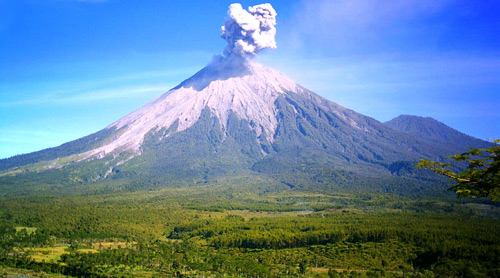 Geographically
Yogyakarta Special Region is geographically located almost equidistant from Indonesia's two most important international gateways, about 600 km from Jakarta and 1000 km from Bali. Yogyakarta also has excellent transport connections by bus, train or plane to the rest of Java, Sumatra, Bali and Lombok. Yogyakarta's Adisucipto Airport is in the process of changing its status in order to receive not only domestics' flights from Bali and Jakarta, but also direct charter and scheduled flights from other countries.
Geographically, Yogyakarta Special Province is situated in the Southern part of Central Java and lies between 7 degree 33' and 8 degree 12', South altitude between 110 degree and 50' East longitude. Some regencies of central Java Province surround the administrative boundaries of this region:
Southern East: Wonogiri Regency
Eastern: Klaten Regency
Northwestern: Magelang Regency
Western: Purworejo Regency
The Indonesian Ocean borders the Southern part of Yogyakarta. The borderline of the seashore stretches from West to East of which the length is around 100 km, started from Congot Beach in Kulon Progo Regency and ended at Sadeng Beach in Gunung Kidul Regency.
Because of its location, Yogyakarta is strategically positioned for the economic activity network in Java as well as for the tourist destination area. The special region of Yogyakarta lies midway on the axis of several main tourist destination areas, Jakarta and West Java westward, Central Java northward, East Java and Bali eastward. It is linked by regular rail, road and air services to other parts of Indonesian archipelago.
Climate and Weather in Yogyakarta
The average daily temperature range between 26 degree and 28 degree Celsius with its minimum 18 degree C and maximum 35 degree C respectively. Average humidity is 74% with its minimum of 65% and maximum 84% respectively. The Yogyakarta Special Region lays approximately 7 South of the equator line and is bathed in tropical; sunshine along the year. This region has a tropic climate the daily atmosphere feels a little bit hot and humid. These are only two seasons along the year, the wet or rainy seasons and dry monsoon. Usually the wet seasons begin at September and lasts about August. Generally there is no rainfalls from may to August and there fore the atmosphere feels hot and humid on the day and cool in the night and early morning. The monthly rain falling Yogyakarta varies between 3mm and 496mm in which those above 300mm take place during the month of January up to April. The heaviest rainfall usually occurs in February while the lowest commonly happens between May and October Average annually rainfall is about 1,900mm.

Latest News
LABUHAN KERATON NGAYOGYAKARTA Labuhan Keraton or the Royal Offerings of Yogyakarta is usually performed on the 30th of Rajab, so it will probably be hold on Thursday, 27 April 2017, at 07.00 am at the "Pendhapa" (Javanese Mansion) of Kretek Subdistrict Office. The Ngayogyakarta Royal servants transfer the vessels of the offering-implement to the Bantul Government. Then the offering-implement is delivered to the "Pendhapa" of Parangkusumo, and given to the caretaker to be arranged in "ancak" (the vessel made of bamboo). After the prayer fort it in "cepuri" (a supporting…
---
https://www.youtube.com/watch?v=218GWVk1pL4 Ratu Boko Palace is located in Jl. Raya Piyungan, 3 km south of Prambanan Temple at Dawung and Sambirejo villages, Piyungan, or 19 km east of Jogjakarta. It opens daily 6 am – 5.30 pm and it entrance fee charged. Ratu Boko Palace is a huge complex built on 16 hectares as the residence of King Boko of the first Mataram dynasty. Local legend says that Ratu Boko liked to eat human flesh. Primarily in ruins, visitors must use their imaginations to fill in historical and structural gaps. Gold…
---
Ratu Boko Temple Settled on a hillside plateau, overlooking Prambanan temple complex and with a view to Mount Merapi behind Prambanan Temple complex, lie the remains of a once grand palace. The palace (kraton) is named Ratu Boko after a King Boko of local folklore, but the real owner of the palace is more likely to have been a king of a local dynasty. Ratu Boko temple is located on a plateau, about three kilometres south of Lara Jonggrang Prambanan temple complex in Yogyakarta Central Java, Indonesia. Grand stone gates,…
---
To support the need of recreational things in Yogyakarta, the accommodation is also increase. In fact, there are numbers of star hotels and non-star hotels that ready to serve their specialties to comfort your stay. Hence, this Hotels In Yogyakarta is made. This application is kind of reference to provide the information and news for tourists that want to stay in Yogyakarta. There are numbers of Hotels and its description, and it can be accessed from iPad, iPhone and Android.  
---