Wasaka Museum
---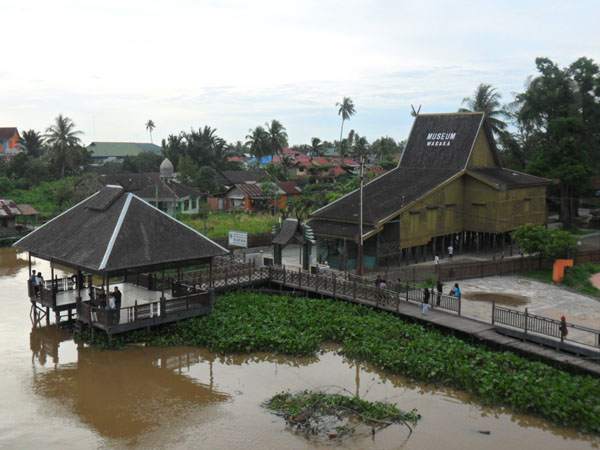 Interested to know and learn the history of the struggle people of South Kalimantan? Come to the Museum Wasaka in H. Andir street, Kampung Kenanga, Ulu Sungai Jingah Village, Banjarmasin Utara Distruct of Banjarmasin. The museum is located on the banks of Martapura River, adjoining the bridge 17 Mei (Banua Anyar Bridge) that large, long and sturdy.
Wasaka itself derived from Waja Sampai Ka Putting that means incessant struggle to the death. That sentence is the slogan of the struggle people of South Kalimantan. Wasaka Museum was inaugurated on November 10, 1991, in the house of Banjar Bubungan Tinggi then converted from a residential into a museum. This is done as one of the traditional buildings conservation efforts.
There are approximately 400 artifacts on display in the museum, especially those related to the history of struggle people and the youth of South Kalimantan. Among others; a list of organizations that had fought against invaders like Lasykar Hasbullah headquartered in Martapura and Barisan Pemuda of the Republic Indonesia Kalimantan based in Banjarmasin.
There are also historical relics such as old-fashioned typewriter, camera, mirror, spear, sword, guns, mortars, and four chairs that supposedly was once used as a fighter of South Kalimantan deliberation. While the walls that surround the seats contain of pictures the first governor until now. Do not miss an ancient bicycle that said during the colonial era used to mail the letters to hide sheets in the bike that is not known by the colonial Dutch.

Latest News
  Gedambaan beach is known as Sarang Tiung beach, it located 14km from downtown of Kotabaru. Along the path to the beach, there will be exotic sightseeing like mountains view at the right side and ocean, beach and fisherman village at the left side. There are Bugis and Mandar Village community that coming from south Sulawesi as the immigrant. Gedambaan beach is the right choice for those who want to enjoy white sandy beach. This beach is administratively located in Gedambaan village, Pulau Laut Utara sub-district. There are restaurants, cottage…
---
Borneo Eco Trekking is the leading tour operator in Borneo of Indonesia. It is home for highly motivated people of Borneo in adventure and concerning for potential attractions of the nature and culture of the mighty island. However, they are great adventurers with zero accident experience. They have been boating their Borneo rivers, rafting their Borneo rapids, diving Borneo sea-beds, caving Borneo caves, trekking the Borneo jungles, hiking the Borneo hills, climbing Borneo mountains, and wandering Borneo wilderness tremendously. They dig further into the interior and interacting with the inlanders…
---
Bajuin Waterfall Bajuin waterfall is located in the Meratus mountain slopes. Not far from the waterfall, there is marble cave or Goa Marmer, it approximately ± 30 min by walking. This cave is unique because there are many cave wall marble that usually used for home tiles and form the cave like a dome of the mosque; in the cave, there are also lived by the nocturnal life of bats. This waterfall is located in Sei village, Bakar river, Pelainhari subdistrict, Tanah laut regency, South Kalimantan. www.Indonesia-Tourism.com
---
Radap Rahayu Dance Radap Rahayu traditional dance is the original dance from South Kalimantan. This dance is telling about the angels that falling from the sky and brought the wisdom of goodness for the people on Earth. Hence, this traditional dance is having purpose to be the thanksgiving and prayer, in order to make everything done well. Nowadays, this classic Banjar's dance is used to welcome the guest of honor that presented in wedding ceremony. The dancers are exclusively brought by women dancers. The numbers of the dancers are about…
---