Kuala Barito – Kembang Island
---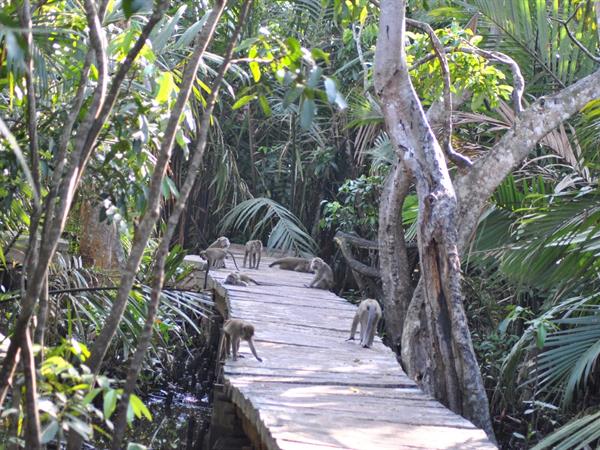 Kuala Barito is one of regencies in South Kalimantan. In this area there are several islands located in the middle of Barito river which divides Kuala Barito regency. The island was originally in the form of delta which was then called by the surrounding community as an island. One of the islands or deltas are very well known in that area is Kembang Island.
Kembang Island is a delta that is located in the middle of the Barito river included in the administrative area of Alalak district, Kuala Barito regency, South Kalimantan, Indonesia, Kembang Island has an area of 60 hectares located in the middle of the Barito river and the habitat of long-tailed macaques (monkeys) and several species of birds. In 1976, the island is designated as a forest tour. According to the story, the island comes from the British ship Fireworks destroyed by people Biaju in 1750s on the orders of the Sultan of Banjar. Ex-vessel debris is gradually overgrown with trees and turned into an island which was then inhabited by a group of monkeys.
People residing in villages around the island recently thought that apes are the embodiment of fine people who wear gloves apes. Ape group was led by a huge ape named the Anggur.
The emergence of beliefs, it makes this emerging island used as a place vowed. Surrounding communities come to this island with offerings such as bananas, egg, sticky rice, Mayang-nut, and some types of flowers. Therefore often used to place hunger and sowing of flowers, a new island is better known as the Kembang Island.
Inside the forest tourism have altars dedicated as a place to put the offering to "guard" Kembang island who symbolized by statues of two white ape intangible (Hanuman). The presence of the altar indicates that the visitors who come not only to make a tour to see monkeys, but also come for the purpose of prayer, especially the Chinese people.
Monkeys in this place that number in the hundreds or even thousands, are very familiar (although there is also a malignant) with the visitors. Usually when the tourists come to visit, apes are many who waited on the pier, waiting for the tourists to give them food such as bananas, beans and so forth. But because not all monkeys in this place friendly to our visitors, so it's good the visitors Prepare food snacks such as peanut skins, bananas, etc. to be given to the apes, Put luggage like a bag in a safe place and hidden. Luggage or bags are sometimes seized by a group of apes and brought blurry, Cautionary also store luggage (bags or similar) in the klotok boat, because these monkeys can climb up to klotok and ransacked the belongings of visitors.
Kembang Island is occupied by hundreds or even thousands of monkeys and several species of birds. When the center was lucky, visitors can meet with one species of monkey that became mascot fauna of South Kalimantan , the proboscis monkey (Nasalis larvatus). This monkey has a shy nature, reddish brown hair and long noses. In this place, visitors can also see that apes can not swim. In addition, visitors can interact by giving foods such as nuts and feel the incredible sensation when surrounded by apes are very many such.
In addition to being a place thousands of apes, where there was also a temple which is usually used by visitors to place offerings or carry out his desire. The island is often associated with mystical events. Many of the visitors who claimed to have mystical things like watching a bridge linking the island with the mainland Fireworks; see the white-clad figure of a prince riding a horse crossed the bridge, and others. In this place a lot of seller's hawkers who sell foods and soft drinks.
The island area of 60 hectares is located approximately 1.5 km city of Banjarmasin and can be reached by motorboat or klotok. The time needed to get to the location about 10 minutes from the city of Banjarmasin.

Latest News
  Gedambaan beach is known as Sarang Tiung beach, it located 14km from downtown of Kotabaru. Along the path to the beach, there will be exotic sightseeing like mountains view at the right side and ocean, beach and fisherman village at the left side. There are Bugis and Mandar Village community that coming from south Sulawesi as the immigrant. Gedambaan beach is the right choice for those who want to enjoy white sandy beach. This beach is administratively located in Gedambaan village, Pulau Laut Utara sub-district. There are restaurants, cottage…
---
Borneo Eco Trekking is the leading tour operator in Borneo of Indonesia. It is home for highly motivated people of Borneo in adventure and concerning for potential attractions of the nature and culture of the mighty island. However, they are great adventurers with zero accident experience. They have been boating their Borneo rivers, rafting their Borneo rapids, diving Borneo sea-beds, caving Borneo caves, trekking the Borneo jungles, hiking the Borneo hills, climbing Borneo mountains, and wandering Borneo wilderness tremendously. They dig further into the interior and interacting with the inlanders…
---
Bajuin Waterfall Bajuin waterfall is located in the Meratus mountain slopes. Not far from the waterfall, there is marble cave or Goa Marmer, it approximately ± 30 min by walking. This cave is unique because there are many cave wall marble that usually used for home tiles and form the cave like a dome of the mosque; in the cave, there are also lived by the nocturnal life of bats. This waterfall is located in Sei village, Bakar river, Pelainhari subdistrict, Tanah laut regency, South Kalimantan. www.Indonesia-Tourism.com
---
Radap Rahayu Dance Radap Rahayu traditional dance is the original dance from South Kalimantan. This dance is telling about the angels that falling from the sky and brought the wisdom of goodness for the people on Earth. Hence, this traditional dance is having purpose to be the thanksgiving and prayer, in order to make everything done well. Nowadays, this classic Banjar's dance is used to welcome the guest of honor that presented in wedding ceremony. The dancers are exclusively brought by women dancers. The numbers of the dancers are about…
---