Kotabaru - Gedambaan Beach
---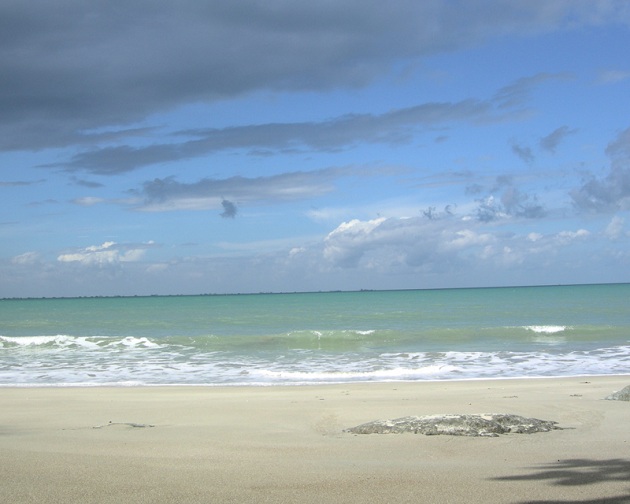 Gedambaan Beach is beautiful beach located in Gedambaan village, Pulau Laut Utara district, Kotabaru regency or 14 miles from Kotabaru downtown. Gedambaan Beach offers the beauty that can provide the inner satisfaction of its visitors. In addition to the white sand beaches sparkling sunlight, the landscape will also hypnotize the visitors so that linger at home on this beach. From this beach, the visitors can watch the sunrise and sunset with a panoramic view of the sparkling sea water. With such beauty, Gedambaan Beach is a dream and anyone who will ever visit.
On the day or on Sunday and the holiday season, thousands of visitors both from South Kalimantan, Borneo itself or from outside it will be crowded tourist sites. On days off hundreds or even thousands of vehicles both public transport and private vehicles will be crowded this beach area.
To maintain the cleanliness of these places, every week the local government employees deployed in turns to perform clean-up action. In addition, the supporting facilities such as rest areas, a large aquarium, fruit and flower garden, a mirror a thousand shadows, mini circuits, space physics spacecraft, a mini recording studio and the camping ground will soon be held. Gaming stations will also be built which will be filled bowling place and several other sports facilities.
Gedambaan Beach is a bit of beach in Indonesia still has a mangrove forest. This mangrove forest is the habitat of several species of fauna, such as: birds, fireflies and bees.
Another specialty of Gedambaan Beach is located at the foot of the mountains of North Island are still green and is also adjacent to several other tourist attractions, such as swimming pools and hot water Sigam. In other words, if visitors have been enjoying the beauty of Gedambaan Beach, it can easily visit other tourist attractions.
In addition to means of transport is quite good, Gedambaan Beach also has a cottage (accommodation), prayer house, fishing pond, food stalls, and gazebo along the beach. In this coastal area is also provided large parking area making it easier for visitors to park the vehicle safely. For visitors who want to stay around the beach, can be rented cottage. To reach Gedambaan Beach, visitors can use public transport such as buses and minibuses. If visitors plan to visit some other attractions, it's good to be more comfortable using a private vehicle.

Latest News
  Gedambaan beach is known as Sarang Tiung beach, it located 14km from downtown of Kotabaru. Along the path to the beach, there will be exotic sightseeing like mountains view at the right side and ocean, beach and fisherman village at the left side. There are Bugis and Mandar Village community that coming from south Sulawesi as the immigrant. Gedambaan beach is the right choice for those who want to enjoy white sandy beach. This beach is administratively located in Gedambaan village, Pulau Laut Utara sub-district. There are restaurants, cottage…
---
Borneo Eco Trekking is the leading tour operator in Borneo of Indonesia. It is home for highly motivated people of Borneo in adventure and concerning for potential attractions of the nature and culture of the mighty island. However, they are great adventurers with zero accident experience. They have been boating their Borneo rivers, rafting their Borneo rapids, diving Borneo sea-beds, caving Borneo caves, trekking the Borneo jungles, hiking the Borneo hills, climbing Borneo mountains, and wandering Borneo wilderness tremendously. They dig further into the interior and interacting with the inlanders…
---
Bajuin Waterfall Bajuin waterfall is located in the Meratus mountain slopes. Not far from the waterfall, there is marble cave or Goa Marmer, it approximately ± 30 min by walking. This cave is unique because there are many cave wall marble that usually used for home tiles and form the cave like a dome of the mosque; in the cave, there are also lived by the nocturnal life of bats. This waterfall is located in Sei village, Bakar river, Pelainhari subdistrict, Tanah laut regency, South Kalimantan. www.Indonesia-Tourism.com
---
Radap Rahayu Dance Radap Rahayu traditional dance is the original dance from South Kalimantan. This dance is telling about the angels that falling from the sky and brought the wisdom of goodness for the people on Earth. Hence, this traditional dance is having purpose to be the thanksgiving and prayer, in order to make everything done well. Nowadays, this classic Banjar's dance is used to welcome the guest of honor that presented in wedding ceremony. The dancers are exclusively brought by women dancers. The numbers of the dancers are about…
---