Tanah Bumbu - Pagatan Beach
---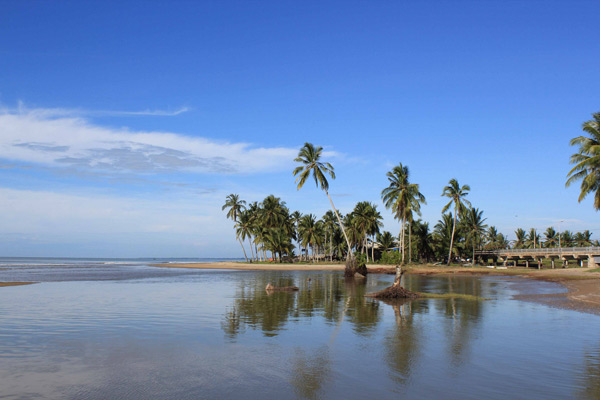 Pagatan Beach is one of beaches in South Kalimantan, exactly in Pagatan, Tanah Bumbu regency. The beach is known to the public primarily because party beach festival (Festival Pesta Pantai) or feast sea (Pesta Laut), known as Mappanresati typically this ritual is also enlivened by the attractions of music and traditional dances from the local area. The ritual held in this place every year in April.
Pagatan Beach has a panoramic sea with blue sky too blue background, a relatively small waves, palm trees waving, and the sea breeze blowing breeze. Picnic with family or colleagues here would be much more exciting again. White sand beach that extends from west to east about 1.5 miles, and breadth of up to 1.5 hectares, giving enough space to tourists to do various activities. Making sculptures from sand, sun, down the coast, and do some watersports such as; beach soccer, beach volleyball, are among the activities that can be done by tourists on this beach.
Meanwhile, waves of the sea is relatively small and is supported by the crystal clear waters and clean, very supportive of tourists who want to swim or just playing chase with the waves on the beach. Fishing is the other interesting activities that tourists can do here, because the area around Pagatan Beach renowned as one of the marine fish production centers for Tanah Bumbu city.
In the afternoon, the exotic Pagatan Beach increasingly felt. Seconds ahead of sunset at the opposite horizon is one of those special moments that can be enjoyed by tourists here. The moment may be perceived by the tourists while relaxing on the beach, shelter, or from the tourist huts.
When you get bored at the beach, travelers can visit the fishing village located not too far from shore. Besides watching the daily life of fishermen, travelers also can see that cultivated fish in the ponds and cages. There lso sell fish chips (amplang) as gifts to family or colleagues. As for you who want to see the typical rituals descent Bugis fishermen around Pagatan Beach region.
Administratively, Pagatan Beach included in Pagatan area, Kusan Hilir district, Tanah Bumbu regency, South Kalimantan Province, Indonesia. Batulicin city, the capital of Tanah Bumbu city, located east of Banjarmasin, the capital of South Kalimantan Province. Barjamasin to Batulicin has a distance about 315 kilometers with a travel time of about 10 hours by bus. While the distance Batulicin to Pagatan Beach about 38 kilometers which can be accessed approximately one hour use tourist bus. Location of Pagatan Beach located on the edge of the highway Batulicin.
In the area of Pagatan Beach there are markets, shops, and stalls that provide various needs of souvenir, food, drinks, refill pulse, and fishing equipment. For tourists who want to stay, can rent a guesthouse, hotel, and home stay located in the area around this beach. In the region are also available a vast camping ground, so it can be used by tourists who want to camp. Various other facilities, such as prayer house, shelter, coast guard, as well as rental boats and trains cattle, are also available here.

Latest News
  Gedambaan beach is known as Sarang Tiung beach, it located 14km from downtown of Kotabaru. Along the path to the beach, there will be exotic sightseeing like mountains view at the right side and ocean, beach and fisherman village at the left side. There are Bugis and Mandar Village community that coming from south Sulawesi as the immigrant. Gedambaan beach is the right choice for those who want to enjoy white sandy beach. This beach is administratively located in Gedambaan village, Pulau Laut Utara sub-district. There are restaurants, cottage…
---
Borneo Eco Trekking is the leading tour operator in Borneo of Indonesia. It is home for highly motivated people of Borneo in adventure and concerning for potential attractions of the nature and culture of the mighty island. However, they are great adventurers with zero accident experience. They have been boating their Borneo rivers, rafting their Borneo rapids, diving Borneo sea-beds, caving Borneo caves, trekking the Borneo jungles, hiking the Borneo hills, climbing Borneo mountains, and wandering Borneo wilderness tremendously. They dig further into the interior and interacting with the inlanders…
---
Bajuin Waterfall Bajuin waterfall is located in the Meratus mountain slopes. Not far from the waterfall, there is marble cave or Goa Marmer, it approximately ± 30 min by walking. This cave is unique because there are many cave wall marble that usually used for home tiles and form the cave like a dome of the mosque; in the cave, there are also lived by the nocturnal life of bats. This waterfall is located in Sei village, Bakar river, Pelainhari subdistrict, Tanah laut regency, South Kalimantan. www.Indonesia-Tourism.com
---
Radap Rahayu Dance Radap Rahayu traditional dance is the original dance from South Kalimantan. This dance is telling about the angels that falling from the sky and brought the wisdom of goodness for the people on Earth. Hence, this traditional dance is having purpose to be the thanksgiving and prayer, in order to make everything done well. Nowadays, this classic Banjar's dance is used to welcome the guest of honor that presented in wedding ceremony. The dancers are exclusively brought by women dancers. The numbers of the dancers are about…
---