Lambung Mangkurat Museum
---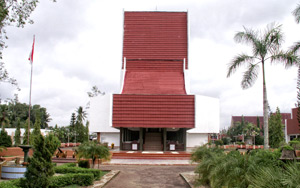 Lambung Mangkurat Museum is a museum of South Kalimantan that located at Jl. A. Yani Km. 35.5. Banjarbaru, South Kalimantan. This museum occupies an area of 1.5 ha which was inaugurated by Education Minister DR. Daoed Yoesoef on January 10, 1979.
Lambung Mangkurat Museum is the Museum's general government, before the era of regional autonomy under their management in the Directorate of Museum MOEC Jakarta, and since January 2001 under the Department of Culture and Tourism of South Kalimantan.
This museum exhibition consists of several buildings. The main building houses a museum-style High ridge and architecture combined with modern technology. In another building form adopted from the shape typical traditional house banjo tribe which is the main tribe in South Kalimantan Province. The most prominent is the visible roof elongated oval. While the yellow becomes dominant color of the whole building which covers approximately 2 times size of the football field.
The main building is designed to be two floors of museum exhibits that holds the 11,965 permanent collection pieces. These collections can be classified into 10 types, namely, Geology / Geography, Biology, Ethnographic, Archaeology, Historic, Numismatic / Heraldic, Philology, Arts, and Technology. On the front door downstairs, greeted with a whale skeleton along four meters. Ground floor exhibition space there is archaeological and historical space, while the upper floor there Geology, Biology, Numismatic, Technology, Philology and ethnography indicate cultures in Borneo.
If interested to learn the culture contained in Kalimantan (whether ethnic, traditional house, language) can be studied directly by visiting the Museum Lambung Mangkurat.

Latest News
  Gedambaan beach is known as Sarang Tiung beach, it located 14km from downtown of Kotabaru. Along the path to the beach, there will be exotic sightseeing like mountains view at the right side and ocean, beach and fisherman village at the left side. There are Bugis and Mandar Village community that coming from south Sulawesi as the immigrant. Gedambaan beach is the right choice for those who want to enjoy white sandy beach. This beach is administratively located in Gedambaan village, Pulau Laut Utara sub-district. There are restaurants, cottage…
---
Borneo Eco Trekking is the leading tour operator in Borneo of Indonesia. It is home for highly motivated people of Borneo in adventure and concerning for potential attractions of the nature and culture of the mighty island. However, they are great adventurers with zero accident experience. They have been boating their Borneo rivers, rafting their Borneo rapids, diving Borneo sea-beds, caving Borneo caves, trekking the Borneo jungles, hiking the Borneo hills, climbing Borneo mountains, and wandering Borneo wilderness tremendously. They dig further into the interior and interacting with the inlanders…
---
Bajuin Waterfall Bajuin waterfall is located in the Meratus mountain slopes. Not far from the waterfall, there is marble cave or Goa Marmer, it approximately ± 30 min by walking. This cave is unique because there are many cave wall marble that usually used for home tiles and form the cave like a dome of the mosque; in the cave, there are also lived by the nocturnal life of bats. This waterfall is located in Sei village, Bakar river, Pelainhari subdistrict, Tanah laut regency, South Kalimantan. www.Indonesia-Tourism.com
---
Radap Rahayu Dance Radap Rahayu traditional dance is the original dance from South Kalimantan. This dance is telling about the angels that falling from the sky and brought the wisdom of goodness for the people on Earth. Hence, this traditional dance is having purpose to be the thanksgiving and prayer, in order to make everything done well. Nowadays, this classic Banjar's dance is used to welcome the guest of honor that presented in wedding ceremony. The dancers are exclusively brought by women dancers. The numbers of the dancers are about…
---