Hotels In South Kalimantan
---
Roditha Hotel Banjarbaru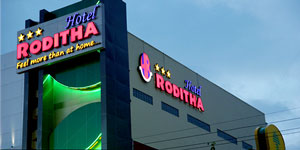 A 3 stars hotel with minimalist concept. We are located at Jl. Jend Ahmad Yani km. 36 Banjarbaru. Our location is near the administrative office of our city mayor as well as Syamsudin Noor airport. As the name implies, Roditha Hotel Banjarbaru was established in Banjarbaru and our business has been running since 9 January 2013 when our mayor announced our operation officially. As the branch hotel of Roditha Hotel Banjarmasin, our service also reflects Banjarmasin's with some improvement added.
Jl. Jend Ahmad Yani km 36 Banjarbaru
Banjar Baru, South Kalimantan 70714
Indonesia
Phone: +62 511 477 2345
Web: rodithahotel.com/banjarbaru
Banjarmasin International Hotel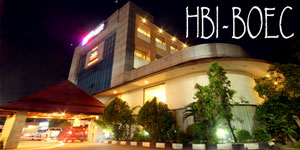 The Best Onestop, Hotel Banjarmasin International present on exclusive entertainment club which design and manage by our professional stuffs. The best prestigious place both for staying and rendezvous. HBI-BOEC is the right choice for you, your colegue and your family as well. We have 120 luxurious guest rooms and suites completed with a new separate building with the easy access to the many kinds of favorites entertainment and recreation. Therefore we are the perfect place for you, your business partner and your family as well to feel at ease.
Jl. Jendral A. Yani Km 4.5
Banjarmasin, South Kalimantan 70234
Phone: +62 511 3251008
Web: hbi-boec.com
Aria Barito Hotel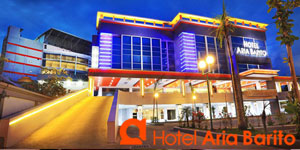 In a modern building, 13 minutes' walk from the Sabilal Muhtadin mosque, this polished hotel is 4 km from the cultural exhibits at the Museum WASAKA and 12 km from the Lok Baintan Floating Market. The understated rooms have a modern vibe, and offer flat-screen TVs, free Wi-Fi, and tea and coffeemaking facilities. Upgraded rooms and suites add separate sitting areas. Family rooms have extra beds. Room service is available. Breakfast is complimentary.
Jl. Haryono MT No.16
Banjarmasin, South Kalimantan 70111
Indonesia
Phone: +62 511 336 5001
Web: ariabaritohotel.com
Amaris Hotel Banjar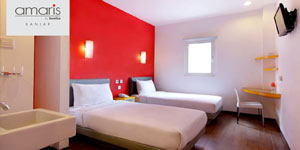 Like other Kalimantan cities, Banjarmasin is a base for many international and national businesses, and Amaris Hotel Banjarmasin is the perfect choice for young urban professionals traveling on business and looking for a combination of affordable accommodation and cool design. The hotel's casual, multi-purpose lobby is the perfect environment for guests to work, socialize, and relax
Jl. Ahmad Yani KM 7
Banjarmasin, South Kalimantan 70654
Indonesia
Phone: +62-511 428 2818
Web: amarishotel.com/amaris-banjar

Latest News
  Gedambaan beach is known as Sarang Tiung beach, it located 14km from downtown of Kotabaru. Along the path to the beach, there will be exotic sightseeing like mountains view at the right side and ocean, beach and fisherman village at the left side. There are Bugis and Mandar Village community that coming from south Sulawesi as the immigrant. Gedambaan beach is the right choice for those who want to enjoy white sandy beach. This beach is administratively located in Gedambaan village, Pulau Laut Utara sub-district. There are restaurants, cottage…
---
Borneo Eco Trekking is the leading tour operator in Borneo of Indonesia. It is home for highly motivated people of Borneo in adventure and concerning for potential attractions of the nature and culture of the mighty island. However, they are great adventurers with zero accident experience. They have been boating their Borneo rivers, rafting their Borneo rapids, diving Borneo sea-beds, caving Borneo caves, trekking the Borneo jungles, hiking the Borneo hills, climbing Borneo mountains, and wandering Borneo wilderness tremendously. They dig further into the interior and interacting with the inlanders…
---
Bajuin Waterfall Bajuin waterfall is located in the Meratus mountain slopes. Not far from the waterfall, there is marble cave or Goa Marmer, it approximately ± 30 min by walking. This cave is unique because there are many cave wall marble that usually used for home tiles and form the cave like a dome of the mosque; in the cave, there are also lived by the nocturnal life of bats. This waterfall is located in Sei village, Bakar river, Pelainhari subdistrict, Tanah laut regency, South Kalimantan. www.Indonesia-Tourism.com
---
Radap Rahayu Dance Radap Rahayu traditional dance is the original dance from South Kalimantan. This dance is telling about the angels that falling from the sky and brought the wisdom of goodness for the people on Earth. Hence, this traditional dance is having purpose to be the thanksgiving and prayer, in order to make everything done well. Nowadays, this classic Banjar's dance is used to welcome the guest of honor that presented in wedding ceremony. The dancers are exclusively brought by women dancers. The numbers of the dancers are about…
---