Angsana Beach
---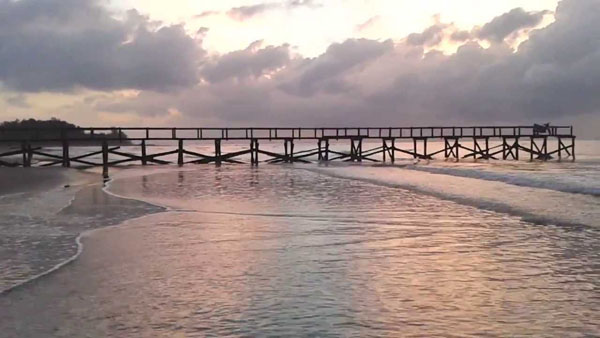 Angsana Beach is tourist attraction located in South Kalimantan stores beauty marine life to be enjoyed. Angsana Becah has a very clear sea water and white sandy beach with calm waves as a destination worth visiting in South Kalimantan. But, the beach is not popular even though for the citizens of South Kalimantan.
Angsana Beach has a gently sloping and length sand. The waves are very beautiful. On the waterfront there are many lush trees which were relatively clean and organized. For visitors who want to stay overnight, there now stands a medium-sized hotel with cost about 400,000 IDR/ night. Here are also available a rental complete snorkeling equipment. To get to spot the reef that is 3.5 km from the beach, visitors can rent a boat which can be loaded with 10 people.
The main attraction at Angsana Beach is wealth of marine life. Including coral reefs in its various forms. The best spot for snorkeling and diving named spot Batu Anjir, Sungai Dua Laut and Karang Rima. Especially for spot Batu Anjir and Karang Kima, the location was about 30 minutes to the sea. Batu Anjir itself name once when first discovered, this reef snagged by a fishing boat. The fishermen gave a sign Anjir (wood/ bamboo) used to fishermen to drive the boat into the sea so not to run on the reefs. Therefore, up to now this reef is called by the name Karang Batu Anjir.
How to get there:
From Kilometer 6 terminal of Banjarmasin use public transportation route Pagatan (75,000 IDR), stop at the gateway go along use motorcycles to the beach (20,000 IDR). Or you can also rent a car (800,000 IDR/ day) including a car, driver and fuel.

Latest News
  Gedambaan beach is known as Sarang Tiung beach, it located 14km from downtown of Kotabaru. Along the path to the beach, there will be exotic sightseeing like mountains view at the right side and ocean, beach and fisherman village at the left side. There are Bugis and Mandar Village community that coming from south Sulawesi as the immigrant. Gedambaan beach is the right choice for those who want to enjoy white sandy beach. This beach is administratively located in Gedambaan village, Pulau Laut Utara sub-district. There are restaurants, cottage…
---
Borneo Eco Trekking is the leading tour operator in Borneo of Indonesia. It is home for highly motivated people of Borneo in adventure and concerning for potential attractions of the nature and culture of the mighty island. However, they are great adventurers with zero accident experience. They have been boating their Borneo rivers, rafting their Borneo rapids, diving Borneo sea-beds, caving Borneo caves, trekking the Borneo jungles, hiking the Borneo hills, climbing Borneo mountains, and wandering Borneo wilderness tremendously. They dig further into the interior and interacting with the inlanders…
---
Bajuin Waterfall Bajuin waterfall is located in the Meratus mountain slopes. Not far from the waterfall, there is marble cave or Goa Marmer, it approximately ± 30 min by walking. This cave is unique because there are many cave wall marble that usually used for home tiles and form the cave like a dome of the mosque; in the cave, there are also lived by the nocturnal life of bats. This waterfall is located in Sei village, Bakar river, Pelainhari subdistrict, Tanah laut regency, South Kalimantan. www.Indonesia-Tourism.com
---
Radap Rahayu Dance Radap Rahayu traditional dance is the original dance from South Kalimantan. This dance is telling about the angels that falling from the sky and brought the wisdom of goodness for the people on Earth. Hence, this traditional dance is having purpose to be the thanksgiving and prayer, in order to make everything done well. Nowadays, this classic Banjar's dance is used to welcome the guest of honor that presented in wedding ceremony. The dancers are exclusively brought by women dancers. The numbers of the dancers are about…
---