Hulu Sungai Utara - Agung Amuntai Temple
---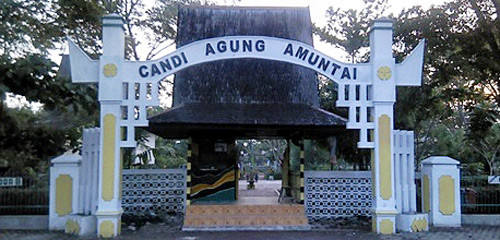 Agung Amuntai Temple is a Hindu temple site of relics of kingdom Nagaradhipa (Nagara Dipa). Agung Amuntai Temple situated in Sungai Malang, Amuntai Tengah District, Hulu Sungai Utara of South Kalimantan.
Agung Temple was built by Ampu Jatmaka (Ampu Jatmika) of 14th century. According to the Hikayat Banjar, Ampu Jatmika derived from Keling. He arrived in the land of Banjar together Prabayaksa fleet, circa 1355. Veerbek found Keling, which included a vassal kingdom of Majapahit, located in the southwest Kediri, instead of Kalinga in India. Paul Michel Munos in the kingdoms of the Home Islands of Indonesia and Senanjung Malaysia (401 and 435), writes that Ampu Jatmika founded Nagaradhipa in 1387 and is derived from the Majapahit. Jatmaka Ampu allegedly served as a paramedic in Nagaradhipa sakai, not as a king Nagaradhipa. This occurs, as mentioned above, because Ampu Jatmika not highborn nor Kuripan royal (royal before the era Nagaradhipa). By doing so, Ampu Jatmaka estimated just as Acting King or Stakeholder kingdom.
According to the story, the Hindu Kingdom Nagara Dhipa stood at 1438 at the intersection of three streams: Tabalong, Balangan, and Nagara. Forerunners of Banjar Kingdom was ruled by Prince Suryanata and Princess Junjung Buih with heads of government Mangkubumi (duke) Lambung Mangkurat. Negaradhipa later evolved into Amuntai City.
Agung Temple is estimated to have been 740 years old. Materials of Agung Temple is dominated by stone and wood. Conditions are still very sturdy. In this temple also found some historical relics that date back some 200 years BC. The stone used to build this temple is still found there. The rock glance very similar to the red brick. However, there is a difference when touched, heavier and more powerful than ordinary red brick.
Many visitors who come to Agung Amuntai Temple for mere recreation. Many were aimed pilgrimage. Understandably in the temple area there are ancient tombs. If you are in Amuntai City, take the time to see this temple. Although different from the temples in Java, but its presence clearly provide information about the existence of the temple in Kalimantan.

Latest News
  Gedambaan beach is known as Sarang Tiung beach, it located 14km from downtown of Kotabaru. Along the path to the beach, there will be exotic sightseeing like mountains view at the right side and ocean, beach and fisherman village at the left side. There are Bugis and Mandar Village community that coming from south Sulawesi as the immigrant. Gedambaan beach is the right choice for those who want to enjoy white sandy beach. This beach is administratively located in Gedambaan village, Pulau Laut Utara sub-district. There are restaurants, cottage…
---
Borneo Eco Trekking is the leading tour operator in Borneo of Indonesia. It is home for highly motivated people of Borneo in adventure and concerning for potential attractions of the nature and culture of the mighty island. However, they are great adventurers with zero accident experience. They have been boating their Borneo rivers, rafting their Borneo rapids, diving Borneo sea-beds, caving Borneo caves, trekking the Borneo jungles, hiking the Borneo hills, climbing Borneo mountains, and wandering Borneo wilderness tremendously. They dig further into the interior and interacting with the inlanders…
---
Bajuin Waterfall Bajuin waterfall is located in the Meratus mountain slopes. Not far from the waterfall, there is marble cave or Goa Marmer, it approximately ± 30 min by walking. This cave is unique because there are many cave wall marble that usually used for home tiles and form the cave like a dome of the mosque; in the cave, there are also lived by the nocturnal life of bats. This waterfall is located in Sei village, Bakar river, Pelainhari subdistrict, Tanah laut regency, South Kalimantan. www.Indonesia-Tourism.com
---
Radap Rahayu Dance Radap Rahayu traditional dance is the original dance from South Kalimantan. This dance is telling about the angels that falling from the sky and brought the wisdom of goodness for the people on Earth. Hence, this traditional dance is having purpose to be the thanksgiving and prayer, in order to make everything done well. Nowadays, this classic Banjar's dance is used to welcome the guest of honor that presented in wedding ceremony. The dancers are exclusively brought by women dancers. The numbers of the dancers are about…
---