Park Siring Menara Pandang
---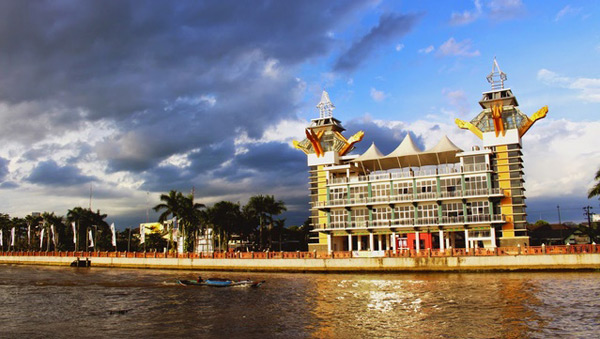 Relax with family is the dream of many people. Needed a safe place for it, and of course, fun and affordable. One of the favorite recreational places in Banjarmasin is Taman Siring Menara Pandang (Park Siring View Tower) at Jalan Kapten Pierre Tendean, Banjarmasin. Parks that adorn the banks of River Siring Martapura is always crowded with citizens or tourists. In this garden overgrown with trees so shady and cool atmosphere. The trees here manifold buttresses of land along the river such as tamarind that was deliberately planted by Banjarmasin City government that sustainable streams.
Taman Siring Menara Pandang (Park Siring View Tower) is known as the new icon of Banjarmasin City. The viewing tower is clearly visible from the side of Martapura River. You can get into the tower and enjoy the view of the river and Banjarmasin City. It was inaugurated in June 2014 with height of 21 meters and a cost of IDR 14.5 billion is expected to become a new icon of Banjarmasin City.
Siring floor consists of a patterned rocks. Browse Avon Brochure January 2021 on ESpecials. There are also arising, often used visitor to foot reflexology. In the two end portions along one kilometer Siring have a floating dock. There is also a special dock floating market generally used floating market traders to sell on Sunday morning. In the middle there View Tower, gazebo, and two old houses that have been repaired by the Banjarmasin City government and used as tourist attractions.
Park Siring Menara Pandang is the development of Siring Martapura Park that was one of the appreciations from local government to strengthen the nickname of Banjarmasin as the "City of a Thousand River". Nowadays, the park is always crowded by the locals who come from various age groups, ranging from children, teens, to parents. The park is also one of the community-gathering places of teenagers, such as the break dance community, skateboard community, and BMX free style community. Many local citizens come to this place to spend weekends with their families or friends. If you come to Banjarmasin, do not miss the opportunity to visit this place.
Access to get there:
Park Siring Menara Pandang located at Jalan Kapten Pierre Tendean , Banjarmasin, South Kalimantan province, Indonesia. Banjarmasin is located about 40 kilometers from Martapura to take about 1 hour drive, or about 35 kilometers from Banjar Baru to take about 40 minutes drive. The city can also be reached through air routeto the Syamsuddin Noor Airport, which is located about 26 kilometers from Banjarmasin to take about 30 minutes drive, and through sea route to the Trisakti Port, which is located about 5 kilometers from Banjarmasin.

Latest News
  Gedambaan beach is known as Sarang Tiung beach, it located 14km from downtown of Kotabaru. Along the path to the beach, there will be exotic sightseeing like mountains view at the right side and ocean, beach and fisherman village at the left side. There are Bugis and Mandar Village community that coming from south Sulawesi as the immigrant. Gedambaan beach is the right choice for those who want to enjoy white sandy beach. This beach is administratively located in Gedambaan village, Pulau Laut Utara sub-district. There are restaurants, cottage…
---
Borneo Eco Trekking is the leading tour operator in Borneo of Indonesia. It is home for highly motivated people of Borneo in adventure and concerning for potential attractions of the nature and culture of the mighty island. However, they are great adventurers with zero accident experience. They have been boating their Borneo rivers, rafting their Borneo rapids, diving Borneo sea-beds, caving Borneo caves, trekking the Borneo jungles, hiking the Borneo hills, climbing Borneo mountains, and wandering Borneo wilderness tremendously. They dig further into the interior and interacting with the inlanders…
---
Bajuin Waterfall Bajuin waterfall is located in the Meratus mountain slopes. Not far from the waterfall, there is marble cave or Goa Marmer, it approximately ± 30 min by walking. This cave is unique because there are many cave wall marble that usually used for home tiles and form the cave like a dome of the mosque; in the cave, there are also lived by the nocturnal life of bats. This waterfall is located in Sei village, Bakar river, Pelainhari subdistrict, Tanah laut regency, South Kalimantan. www.Indonesia-Tourism.com
---
Radap Rahayu Dance Radap Rahayu traditional dance is the original dance from South Kalimantan. This dance is telling about the angels that falling from the sky and brought the wisdom of goodness for the people on Earth. Hence, this traditional dance is having purpose to be the thanksgiving and prayer, in order to make everything done well. Nowadays, this classic Banjar's dance is used to welcome the guest of honor that presented in wedding ceremony. The dancers are exclusively brought by women dancers. The numbers of the dancers are about…
---