Muara Kuin Floating Market
---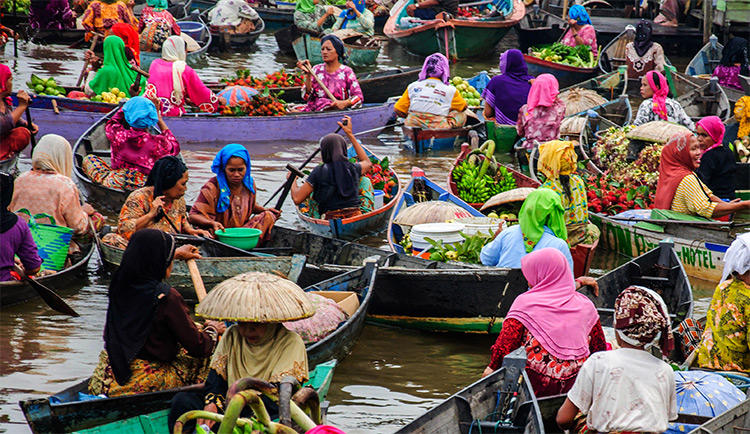 We don't need go to Thailand or Vietnam, in Indonesia also there is a unique floating market. We called "Pasar Terapung" in Indonesian. The floating market is located in Banjarmasin, exactly at the junction of Barito and Kuin River. Floating market in Banjarmasin is a reflection of Banjar culture that has been going on long time ago.
Banjarmasin City is well-known as the thousands of river that become the important transportation route until now, like this unique floating market of Muara Kuin Banjarmasin. The Martapura River divides the city and provides for water transportation, trade and tourism. Banjarmasin is nicknamed Kota Air or Water City since it lies a few centimeters below sea level. Similar to the more famous floating market in Bangkok, Thailand, the existence of "Pasar Terapung" is very much part of the city's history. In 1526 Sultan Suriansyah built a kingdom on the edge of Kuin and Barito Rivers that later became Banjarmasin city. A traditional trade center gradually developed along these rivers and Banjarmasin then became home into two: the pasar terapung in Muara Kuin and the other in Lok Baintan on the Martapura River — the latter being less popular due its far location from the city.
Muara Kuin Floating Market is a typical traditional market in the outfall of Barito River. It offers a fascinating panorama for many local and foreign visitors where one can witness both sellers and buyers in intense negotiations on jukung or traditional boats. If you want to be part of the market, you must be there before sunrise. Since most of the sellers are Moslems, they will begin their trading activities after they perform morning prayers (Shubuh) and by 7 am they will be done. It is a beautiful scene to catch the sunrise between the jukung while sellers offer fresh vegetables from the surrounding agricultural areas along the Barito River and its watercourses. Many visitors enjoy seeing other commodities on display here such as various fresh fruit, fish and household items.
The atmosphere at Floating Market is unique and visitors can see big and small jukungs jostle each other looking for buyers while the waves come and go. Floating Market has no organization like traditional markets on land, so there is no record of the number of sellers or buyers. Barter is also an old tradition that continues here, a form of acceptable trade between sellers or locals that is termed bapanduk. The next time a visit to Banjarmasin is in the cards, a side trip to Floating Market is not to be missed.

Latest News
  Gedambaan beach is known as Sarang Tiung beach, it located 14km from downtown of Kotabaru. Along the path to the beach, there will be exotic sightseeing like mountains view at the right side and ocean, beach and fisherman village at the left side. There are Bugis and Mandar Village community that coming from south Sulawesi as the immigrant. Gedambaan beach is the right choice for those who want to enjoy white sandy beach. This beach is administratively located in Gedambaan village, Pulau Laut Utara sub-district. There are restaurants, cottage…
---
Borneo Eco Trekking is the leading tour operator in Borneo of Indonesia. It is home for highly motivated people of Borneo in adventure and concerning for potential attractions of the nature and culture of the mighty island. However, they are great adventurers with zero accident experience. They have been boating their Borneo rivers, rafting their Borneo rapids, diving Borneo sea-beds, caving Borneo caves, trekking the Borneo jungles, hiking the Borneo hills, climbing Borneo mountains, and wandering Borneo wilderness tremendously. They dig further into the interior and interacting with the inlanders…
---
Bajuin Waterfall Bajuin waterfall is located in the Meratus mountain slopes. Not far from the waterfall, there is marble cave or Goa Marmer, it approximately ± 30 min by walking. This cave is unique because there are many cave wall marble that usually used for home tiles and form the cave like a dome of the mosque; in the cave, there are also lived by the nocturnal life of bats. This waterfall is located in Sei village, Bakar river, Pelainhari subdistrict, Tanah laut regency, South Kalimantan. www.Indonesia-Tourism.com
---
Radap Rahayu Dance Radap Rahayu traditional dance is the original dance from South Kalimantan. This dance is telling about the angels that falling from the sky and brought the wisdom of goodness for the people on Earth. Hence, this traditional dance is having purpose to be the thanksgiving and prayer, in order to make everything done well. Nowadays, this classic Banjar's dance is used to welcome the guest of honor that presented in wedding ceremony. The dancers are exclusively brought by women dancers. The numbers of the dancers are about…
---