Bubungan Tinggi House
---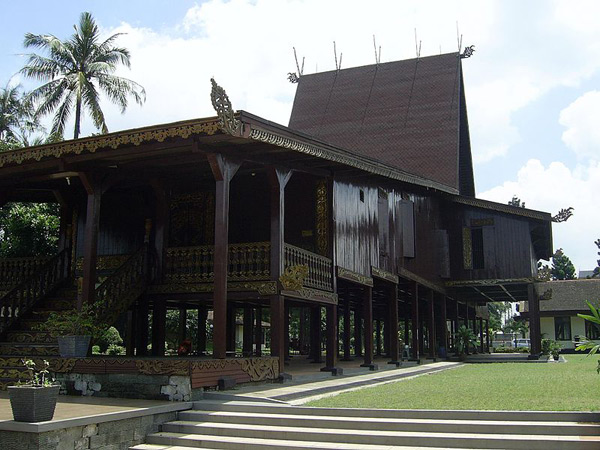 Rumah Bubungan Tinggi (Bubungan Tinggi House) is one of Baanjung house is traditional house of Banjar Tribe in South Kalimantan. The Banjar society also called Rumah Bubungan Tinggi or Rumah Banjar or Rumah Ba-anjung.
In the past, this typical house was only resided by the King and his family, which made this type of house considered as the highest level of all other types of traditional house. Its name Bubungan Tinggi refers to the steep roof measuring of 45 degrees towering upwards. It was popularly known since the 16th century, when the Banjar area was led by Sultan Suriansyah who entitled Panembahan Batu Habang (1596-1620).
In further development, Bubungan Tinggi House was no longer considered as the King's house because many similar houses were built along the region, either in court or in other areas. These similar houses were originally confined to the nobles and wealthy merchants, later on were followed by the Banjar society in general. Nowadays, Rumah Bangunan Tinggi has become the characteristic of the South Kalimantan house, especially the Banjar society.
According to the Banjar society, a house does not serve as a shelter only, but also a culture, a belief, as well as a hope. These expressions are realized starting from the procedure of building, the shape, until to the ornaments. The cultural expression can be seen in determining the length and width of the house using the length of a husband's hand or about six feet (about 1.8 meters), hoping the residents will have a harmony life in the future. In addition, the good and bad size of a house is also determined by eight symbols of animals, including the dragon, asap, lion, dog, cow, donkey, elephant, and crow. Meanwhile, the ideal length of a house is symbolized with dragon, while the ideal width is symbolized with elephant.
In addition, the ornaments of the Rumah Bubungan Tinggi are also influenced by Dayak culture and Islamic religion. These ornaments generally use flora and fauna motifs, such as mangosteen, star fruit, mengkudu (Morinda citrifolia), and pineapple, whereas the plant-motifs are generally from useful plants, including water spinach, mushroom, clove, bamboo shoots, betel, etc. There are also some plant-motifs used in traditional ceremonies, such as champaca, Cananga odorata, fern, rose, and etc. Meanwhile, the elements of Islamic culture can be seen in Arabic calligraphy that is attached to the house, such as certain verses of Qur'an.
The location of Rumah Bubungan Tinggi can be found in Tibung Raya hamlet and Gambah village, Kandangan, Hulu Sungai Selatan, South Kalimantan province, Indonesia.

Latest News
  Gedambaan beach is known as Sarang Tiung beach, it located 14km from downtown of Kotabaru. Along the path to the beach, there will be exotic sightseeing like mountains view at the right side and ocean, beach and fisherman village at the left side. There are Bugis and Mandar Village community that coming from south Sulawesi as the immigrant. Gedambaan beach is the right choice for those who want to enjoy white sandy beach. This beach is administratively located in Gedambaan village, Pulau Laut Utara sub-district. There are restaurants, cottage…
---
Borneo Eco Trekking is the leading tour operator in Borneo of Indonesia. It is home for highly motivated people of Borneo in adventure and concerning for potential attractions of the nature and culture of the mighty island. However, they are great adventurers with zero accident experience. They have been boating their Borneo rivers, rafting their Borneo rapids, diving Borneo sea-beds, caving Borneo caves, trekking the Borneo jungles, hiking the Borneo hills, climbing Borneo mountains, and wandering Borneo wilderness tremendously. They dig further into the interior and interacting with the inlanders…
---
Bajuin Waterfall Bajuin waterfall is located in the Meratus mountain slopes. Not far from the waterfall, there is marble cave or Goa Marmer, it approximately ± 30 min by walking. This cave is unique because there are many cave wall marble that usually used for home tiles and form the cave like a dome of the mosque; in the cave, there are also lived by the nocturnal life of bats. This waterfall is located in Sei village, Bakar river, Pelainhari subdistrict, Tanah laut regency, South Kalimantan. www.Indonesia-Tourism.com
---
Radap Rahayu Dance Radap Rahayu traditional dance is the original dance from South Kalimantan. This dance is telling about the angels that falling from the sky and brought the wisdom of goodness for the people on Earth. Hence, this traditional dance is having purpose to be the thanksgiving and prayer, in order to make everything done well. Nowadays, this classic Banjar's dance is used to welcome the guest of honor that presented in wedding ceremony. The dancers are exclusively brought by women dancers. The numbers of the dancers are about…
---