Kaget Island
---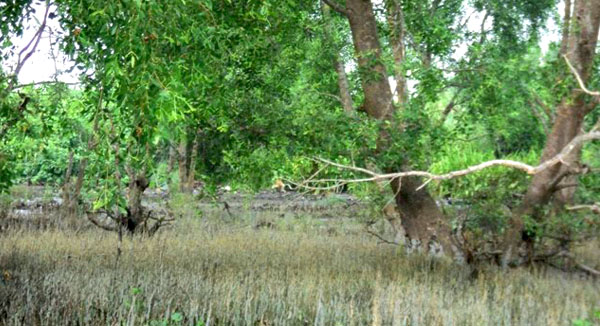 Kaget Island is a delta lies on the middle of the Barito river included in Kuala Barito city. The island is inhabited by kinds of monkey with long nose which are known by the people as the Dutch Monkeys/Bekantan (Nasalis Larvatus). They are known for having long noses, red faces, and big bellies. There are also a number of different types of birds in this area. This area which is 85 Ha wide is established as a nature preserve in 1976 due to the decree of Agricultural Minister No. 788/Kptsum11/1976.
The local government of South Kalimantan enacted the Bekantans as the mascot of the province in 1990 according to the decree of the Governor. The I Provincial Chief Executive of South Kalimantan No. 29, dated on January 16th,1990 and was agreed upon by (Provincial House of Representative) DPRD I South Kalimantan which is written on the decree of DPRD No. 162/112/DPRD, dated on March 28th, 1990.
The enacting of Bekantans as the mascot of the province results in strategic benefits for the area both as its symbol and as a tourism destination. As a habitation of preserved beasts, the nature preserve of Kaget Island becomes one of a well-known tourism sites for domestic and foreign tourists.
Unfortunately, the existence of illegal lodging and environmental pollution drag the island into critical situation. Rambai Padi (Sonneratia Caseolaris), the main food of Bekantans, is one of the trees which are mostly threatened. It puts the beasts in danger as their numbers are decreasing.
The visitors will see various preserved animals around the destination, Bekantan. The preservation of the beasts is written in the law: The law of prevention to cruelty animals No. 2666 year 1931, the law No. 5 year 1990, the decree of Forestry minister no. 301/Kpts-II/1991, the decree of Forestry Minister No. 882/Kpts-II/1992, and the Government Regulation No. 7 year 1999. These beasts are internationally categorized as vulnerable in IUCN (International Union for conservation of Nature and Natural Resources) Red Data Book and is enclosed in Appendix I of the CITES (Convention on International Trade in Endangered Species of Wild Flora and Fauna).
Those who visit this place for the first time will be surprised or will spontaneously drag a friends hand when suddenly hear a sound from the leafy trees, which is actually the sound of hundreds of monkeys. The sound of Bekantan will always stuck on the visitor's head. They also will be amazed to witness the beasts which are known to be shy and only be found in Kalimantan, energetically hanging around from one tree to another.
Kaget Island is located in the district of Tabunganen, Barito Kuala, South Kalimantan Province. The visitors can reach Kaget Island using speed boat from Banjarmasin which takes around 15 minutes or around 1, 5 hours use Klotok boat (the traditional boat typical from Kalimantans).

Latest News
  Gedambaan beach is known as Sarang Tiung beach, it located 14km from downtown of Kotabaru. Along the path to the beach, there will be exotic sightseeing like mountains view at the right side and ocean, beach and fisherman village at the left side. There are Bugis and Mandar Village community that coming from south Sulawesi as the immigrant. Gedambaan beach is the right choice for those who want to enjoy white sandy beach. This beach is administratively located in Gedambaan village, Pulau Laut Utara sub-district. There are restaurants, cottage…
---
Borneo Eco Trekking is the leading tour operator in Borneo of Indonesia. It is home for highly motivated people of Borneo in adventure and concerning for potential attractions of the nature and culture of the mighty island. However, they are great adventurers with zero accident experience. They have been boating their Borneo rivers, rafting their Borneo rapids, diving Borneo sea-beds, caving Borneo caves, trekking the Borneo jungles, hiking the Borneo hills, climbing Borneo mountains, and wandering Borneo wilderness tremendously. They dig further into the interior and interacting with the inlanders…
---
Bajuin Waterfall Bajuin waterfall is located in the Meratus mountain slopes. Not far from the waterfall, there is marble cave or Goa Marmer, it approximately ± 30 min by walking. This cave is unique because there are many cave wall marble that usually used for home tiles and form the cave like a dome of the mosque; in the cave, there are also lived by the nocturnal life of bats. This waterfall is located in Sei village, Bakar river, Pelainhari subdistrict, Tanah laut regency, South Kalimantan. www.Indonesia-Tourism.com
---
Radap Rahayu Dance Radap Rahayu traditional dance is the original dance from South Kalimantan. This dance is telling about the angels that falling from the sky and brought the wisdom of goodness for the people on Earth. Hence, this traditional dance is having purpose to be the thanksgiving and prayer, in order to make everything done well. Nowadays, this classic Banjar's dance is used to welcome the guest of honor that presented in wedding ceremony. The dancers are exclusively brought by women dancers. The numbers of the dancers are about…
---