Banjarmasin
---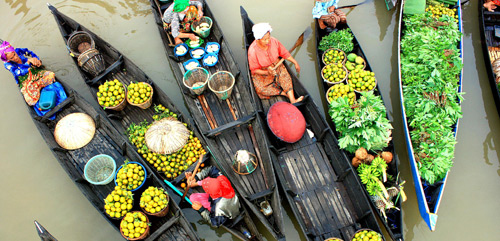 FLOATING MARKET
The uniquely of this floating market, is caused of transaction of sales that done on the boat. The merchants bring land product such as; fruits, vegetables, food and it handicrafts. This activity takes place from 05.00 to 09.00 mornings. Its location resides in Barito River.
TRADITIONAL KAMPONG
Countrified is original resident with the individuality that is a real depending on the river. Its location reside in Kuin, Sei Bilu, Sei Jingah
LANTING HOUSE FLOATING
Above wood houses is a kind of raft, which spread over and creeps along Sei Martapura and Barito. Its location is stay at Banjarmasin.
NATURE ASYLUM AREA AND ASYLUM MARGASATWA KAGET ISLAND
In this area can be met length nose monkey Bekantan which is unique, scarce and there's only in kalimantan. They are free-living in tree Rambai forest. Located in the estuary Barito River. Can be reached with Klotok boat from Banjarmasin downtown about 1,5 hours or 1 hour with speedboat.
SULTAN ADAM GREAT FOREST GARDEN
Located in Karang Intan and Aranio district, 62 km from town Banjarmasin. This garden opened by president Soeharto on 8 Decembers 1989, broadly about 106.400 ha. In this Adam Sultan Great Forest there is many kinds of birch, various crops and various orchid types. Also various animal types like pig, deer, snake deer and various bird types. Not far from this garden, there is a lake / accumulating basin PLTA Ir. Prince Moch. Noor, which used as power electrical plant.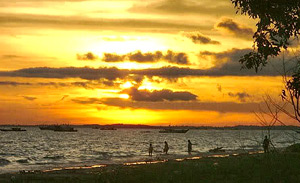 PAGATAN
Pagatan is a small town / village, about 240 km from Banjarmasin. The countryside is a real sloping coast area and is fisherman countryside. The beach in Pagatan is enough length with white sand. This beach has not visited yet by the tourist, so that it condition is cleanness. Every year along the beach is performed a sea party called 'MAPPARENTASI', which done by the fisherman who remaining this beach that mostly come from South Sulawesi Province.
SOGUNG CAVE
In this area we can meet a cave which still originally and around of wilderness. From within the cave we can see the stalagmite and beautiful stalactite that is allusion the wall cave and we also admit to meet the other caves around area with the number is 20 caves. Its situation is 75-north direction km of Pagatan and keeps handy by public vehicle.
BASISILAAN
It is the sale area of Banjar food typical that placed in the center market Sudimampir shop and eat 'Lesehan', so that visitor can enjoy dish and enjoy the beautiful of town Banjarmasin from the top.