Tidore
---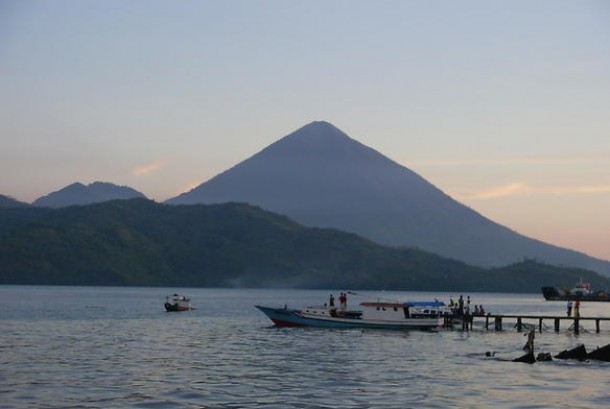 Tidore is a city and archipelago in North Maluku,west of the larger island of Halmahera. This archipelago is famous since the colonialism era for its best cloves and nutmeg.
Before Islam came to the archipelago, Tidore was known by the name of Duko Kie, which means the mountainous island. The word of Tidore comes from the combination of two series of words and language, Tidore language and Arabic in Iraqi dialect. In Tidore, To Ado re, has meaning, 'I have arrived' and Arabic Iraqi dialect, Anta thadore which means 'you come'.
Tidore Kingdom established since 1108 AD and stands as an independent kingdom until the late 18th century AD. After that, the kingdom of Tidore was in Dutch colonial rule. After the independence of Indonesia, Tidore become part of the Unitary Republic of Indonesia (NKRI).
The first Europeans who came in Tidore is sailor from Spain who came to Tidore at year 1512. Before the Spanish withdrawal from Tidore and Ternate in 1663, the Tidore sultanate established itself as one of the strongest and most independent states in the region. After the Spanish withdrawal it continued to resist direct control by the Dutch East India Company (the VOC). The local inhabitants who live in Tidore are Tidore People. Tidore people also live in maitara, Mare dan Moti, and along in west coast of Halmahera. They use Bahasa Tidore for daily speaking which belong to the non-Austronesian family.
The lineage system on Tidore People is based on the principle of patrilineal. One of important kinship group is patrilineal clan, which they call soa. Marriage is the ideal according to their customary marriage between first cousins (kufu). Tidore tribes generally are Muslims. Tidore once become an empire in the past. Tidore Sultanate is one of the center of the development and spread of Islam in Maluku.
Tidore people do farming, fishing, trading, and become the civilian officer. In their land, they produce rice, maize, sweet potato, cassava, peanuts and green beans, also coffee, cinnamon, mango, durian and citrus.
Some tourist attraction in this town is Ake Sahu beach, Maitara Island, cape tongowai), the Tidore imperial museum Sonyine Malige, Cobo beach, fort Tahua, the landing monument of "Sebastiano De Elaco" which was the sailor from Spain.

Latest News
Gurabunga village is one of tourism village in Tidore Island that interesting to be visited. The name of Gurabunga means flower garden. In fact, this place is being filled with flower that been planted in every corner of the people house. This village has chilling nuance and refreshing air, because it located in 800 meter above sea level. The inhabitants houses are settled in a fertile area at the slope of Kie Matubu Mountain that has 1730 meter above sea level. Kie Matubu is famous in North Maluku as Tidore…
---
Since early of the last millennium, the small islands of Ternate and Tidore in the Moluccas were the only source for cloves in the world. Indian, Arab, Chinese and Javanese merchants used to call on these islands to carry home this precious cargo which sold at exorbitant prices in Europe and the Orient. Cloves, together with nutmeg and mace from the Banda islands were used to flavor and preserve food, as medicines and even as aphrodisiacs. But after the Crusades, the trade route to the Far East was blocked for…
---
Gamalama Mountain is located in Ternate, North Maluku Province, Indonesia. Gamalama is one of the volcanoes in North Maluku Province. In addition to this mountain, there's Mount Gamkonora in West Halmahera District, Mount Ibu and Mount Dakona residing in North Halmahera District, and Mount Kiebesi in South Halmahera. Gamalama itself is located on the island of Ternate and has a height of about 1715 m ASL (above sea level). Gamalama Mountain, which is also often referred to as the peak of Ternate, is a stratovolkano, the volcano high and conical,…
---
In Tobelo, North Maluku, there is a beautiful island which totally promoted by the government; Tagalaya island. The island of Tagalaya is giving cleaning water as glass and natural view like paintings. The beauty of Eastern Indonesia is never get enough to be discuss. We all agree that Maluku have dozen islands and hundred of wonderful beaches. The beach and island in Ambon, Ternate, Halmahera and the others surely can interest thousand tourists to visit and enjoy the natural charming. An island in Tobelo will totally teasing you. Its sea…
---