Places of interest
---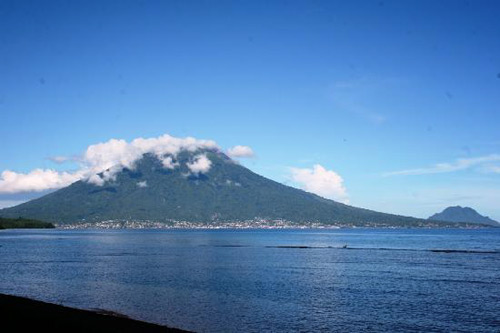 The old sultan's palace in Ternate town is now a museum. In the vicinity are the ruins of Old Portuguese, Spanish and Dutch forts. The remnants of the Dutch Fort Orange are right in town. About five kilometers west of the town, on the slope of a 1,715-meter tall volcano in the middle of the island, is Afo, with its giant clove tree, said to be more than 350 years old.
HALMAHERA ISLAND
This island lies to the east of Ternate, separated only by a narrow strait. It is a mountainous island, still largely covered with forests. The coastlines are white sand and coral reefs are found in its waters. Offering a beautiful spectacle, Mount Mamuya (930 m) spews burning lava from time to time, adding to the allure of this island. Pearl oyster breeding farms on Mangaliho Island can be reach by motorboat.
North Halmahera
Geographically, North Halmahera regency is stay at 10,57'-20, 0' north latitude and 1280,17'-1280, 18' east longitude. North Halmahera regency declared on 31 May 2003 with its capital is Tobelo. It also has new districts and villages. Nine districts were developed to 22 districts and 174 villages become 260 villages. The wide this regency is 24.983,32 km2 that contains of 19.536,02 km2 (78%) sea area and 5.447,30 km2 (22%) land area. There are 76 islands, 19 islands have no named. Almost, every island has its beautiful panorama. The small islands with its white sand beach, the beautiful sea garden with its various fishes, various flora and fauna and its culture, can also find the historical sites in World War II in this region.
The number of North Halmahera regency in 2003 is 169.440 of men, 75 % is farmer and fisherman. North Halmahera is one of agarics with its nature potency that contains of field sector, gardening, plantation, fish, maritime, breeding, mining, small industry, and tourism.

Latest News
Gurabunga village is one of tourism village in Tidore Island that interesting to be visited. The name of Gurabunga means flower garden. In fact, this place is being filled with flower that been planted in every corner of the people house. This village has chilling nuance and refreshing air, because it located in 800 meter above sea level. The inhabitants houses are settled in a fertile area at the slope of Kie Matubu Mountain that has 1730 meter above sea level. Kie Matubu is famous in North Maluku as Tidore…
---
Since early of the last millennium, the small islands of Ternate and Tidore in the Moluccas were the only source for cloves in the world. Indian, Arab, Chinese and Javanese merchants used to call on these islands to carry home this precious cargo which sold at exorbitant prices in Europe and the Orient. Cloves, together with nutmeg and mace from the Banda islands were used to flavor and preserve food, as medicines and even as aphrodisiacs. But after the Crusades, the trade route to the Far East was blocked for…
---
Gamalama Mountain is located in Ternate, North Maluku Province, Indonesia. Gamalama is one of the volcanoes in North Maluku Province. In addition to this mountain, there's Mount Gamkonora in West Halmahera District, Mount Ibu and Mount Dakona residing in North Halmahera District, and Mount Kiebesi in South Halmahera. Gamalama itself is located on the island of Ternate and has a height of about 1715 m ASL (above sea level). Gamalama Mountain, which is also often referred to as the peak of Ternate, is a stratovolkano, the volcano high and conical,…
---
In Tobelo, North Maluku, there is a beautiful island which totally promoted by the government; Tagalaya island. The island of Tagalaya is giving cleaning water as glass and natural view like paintings. The beauty of Eastern Indonesia is never get enough to be discuss. We all agree that Maluku have dozen islands and hundred of wonderful beaches. The beach and island in Ambon, Ternate, Halmahera and the others surely can interest thousand tourists to visit and enjoy the natural charming. An island in Tobelo will totally teasing you. Its sea…
---