Nusa Ra Beach
---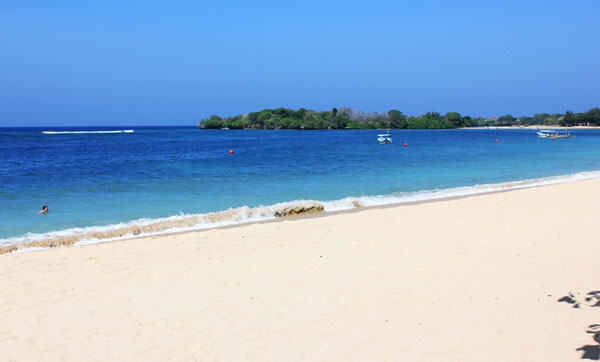 Nusa Ra is a small beach in Nusa Ra island, and this is one of small islands around Bacan Island. Anyway, the word Nusa in local language means land and Ra mean big. This place is always visited by tourist that want have some times to do snorkeling. We can rent speedboat to reach this location from Labuha port, and it takes 15 minutes drive.
Administratively, Nusa Ra is settled in south Halmahera. This beach is stunning by the lining up of coconut trees and small waves and breezy air. Having fun at this beach will bring great experience, while enjoy it with best friends and family. We can play at the super fine white sandy beach while playing around catching the waves and enjoy the tropical wind. Because it located in south Halmahera, we can find calm waves that perfect for doing snorkeling, canoeing and swimming.
Moreover, the rich coral reefs along the shore will also give dramatic nuance and uniqueness over the bluish atmosphere from bright sky and clear sea water. The gigantic coconut trees adding some beautiful panorama and refreshing the sights.

Latest News
Gurabunga village is one of tourism village in Tidore Island that interesting to be visited. The name of Gurabunga means flower garden. In fact, this place is being filled with flower that been planted in every corner of the people house. This village has chilling nuance and refreshing air, because it located in 800 meter above sea level. The inhabitants houses are settled in a fertile area at the slope of Kie Matubu Mountain that has 1730 meter above sea level. Kie Matubu is famous in North Maluku as Tidore…
---
Since early of the last millennium, the small islands of Ternate and Tidore in the Moluccas were the only source for cloves in the world. Indian, Arab, Chinese and Javanese merchants used to call on these islands to carry home this precious cargo which sold at exorbitant prices in Europe and the Orient. Cloves, together with nutmeg and mace from the Banda islands were used to flavor and preserve food, as medicines and even as aphrodisiacs. But after the Crusades, the trade route to the Far East was blocked for…
---
Gamalama Mountain is located in Ternate, North Maluku Province, Indonesia. Gamalama is one of the volcanoes in North Maluku Province. In addition to this mountain, there's Mount Gamkonora in West Halmahera District, Mount Ibu and Mount Dakona residing in North Halmahera District, and Mount Kiebesi in South Halmahera. Gamalama itself is located on the island of Ternate and has a height of about 1715 m ASL (above sea level). Gamalama Mountain, which is also often referred to as the peak of Ternate, is a stratovolkano, the volcano high and conical,…
---
In Tobelo, North Maluku, there is a beautiful island which totally promoted by the government; Tagalaya island. The island of Tagalaya is giving cleaning water as glass and natural view like paintings. The beauty of Eastern Indonesia is never get enough to be discuss. We all agree that Maluku have dozen islands and hundred of wonderful beaches. The beach and island in Ambon, Ternate, Halmahera and the others surely can interest thousand tourists to visit and enjoy the natural charming. An island in Tobelo will totally teasing you. Its sea…
---