Hotels In North Maluku
---
Villa Ma'Rasai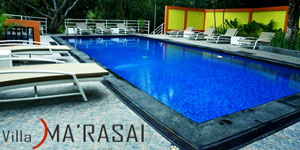 Situated between cloves and muscat trees, Villa Ma'Rasai is a new boutique hotel located 7km from the southwest of Ternate town on Ternate Island, North Mollucas. (North Mullacan Islands). Villa Ma'Rasai has eleven beautiful and comfortable rooms. Every room has large glass windows with beautiful views to the islands of Maitara, Tidore, Mare, Moti and Makian. It lies in 10.000m2 of garden (clove trees, muscat trees, palm trees and flowers). All rooms are equipped with a clean bathroom and shower, hot water and air-condition.
Jl. Kampus II UNKHAIR Gambesi
Ternate, Maluku Utara
Indonesia
Phone: +62 813 9288 9475
Web: vilamarasai.com
Grand Dafam Bela Ternate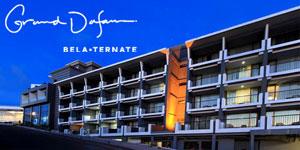 DHM is the abbreviation of Dafam Hotel Management; an Indonesian hospitality management company under Dafam Group that was founded in 2010 by young talented entrepreneur Billy Dahlan collaborating with hospitality expert Andhy Irawan. Our core business is hotel management service that inspired by Indonesian hospitality culture. The first hotel was open in Semarang City and since then we've been developing our service quality and representing Indonesian heritage as our signature service. Our head office is located at Semarang City in Central Java while our sales office available at Jakarta City.
Jl. Raya Jati No. 500
Ternate, North Maluku
Indonesia
Phone: +62 921 3121800
Web: dafamhotels.com
Muara Hotel & Mall Ternate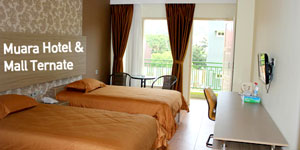 Muara Hotel, invites visitors to Iceland and its guests toenjoy the comfortable atmosphere and delightful experience of the hotel. We wish to provide a smooth and welcoming overall visitor experience. Our guests and their needs are our first priority. All our guests are welcome to use the hotel saunas and hot tubs, located in the hotel garden.
Jl. Merdeka No 19
Ternate, North Maluku
Indonesia
Phone: +62 9213125553
Web: muarahotels.com
The Batik Hotel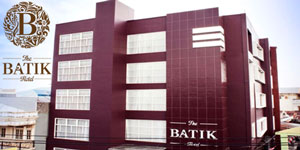 Providing free WiFi throughout the property, The Batik is situated in Ternate. Featuring a 24-hour front desk, this property also provides guests with a restaurant. The accommodation provides airport transfers, while a car rental service is also available. Located in North Maluku, The Batik Hotel offers comfortable hospitality and best view from each rooms.
Jl. Kapitan Pattimura Kalumpang Ternate-Maluku Utara
Ternate, North Maluku
Indonesia
Phone: +62811 4343 343
Web: thebatikhotel.com

Latest News
Gurabunga village is one of tourism village in Tidore Island that interesting to be visited. The name of Gurabunga means flower garden. In fact, this place is being filled with flower that been planted in every corner of the people house. This village has chilling nuance and refreshing air, because it located in 800 meter above sea level. The inhabitants houses are settled in a fertile area at the slope of Kie Matubu Mountain that has 1730 meter above sea level. Kie Matubu is famous in North Maluku as Tidore…
---
Since early of the last millennium, the small islands of Ternate and Tidore in the Moluccas were the only source for cloves in the world. Indian, Arab, Chinese and Javanese merchants used to call on these islands to carry home this precious cargo which sold at exorbitant prices in Europe and the Orient. Cloves, together with nutmeg and mace from the Banda islands were used to flavor and preserve food, as medicines and even as aphrodisiacs. But after the Crusades, the trade route to the Far East was blocked for…
---
Gamalama Mountain is located in Ternate, North Maluku Province, Indonesia. Gamalama is one of the volcanoes in North Maluku Province. In addition to this mountain, there's Mount Gamkonora in West Halmahera District, Mount Ibu and Mount Dakona residing in North Halmahera District, and Mount Kiebesi in South Halmahera. Gamalama itself is located on the island of Ternate and has a height of about 1715 m ASL (above sea level). Gamalama Mountain, which is also often referred to as the peak of Ternate, is a stratovolkano, the volcano high and conical,…
---
In Tobelo, North Maluku, there is a beautiful island which totally promoted by the government; Tagalaya island. The island of Tagalaya is giving cleaning water as glass and natural view like paintings. The beauty of Eastern Indonesia is never get enough to be discuss. We all agree that Maluku have dozen islands and hundred of wonderful beaches. The beach and island in Ambon, Ternate, Halmahera and the others surely can interest thousand tourists to visit and enjoy the natural charming. An island in Tobelo will totally teasing you. Its sea…
---