Kalamata Fortress
---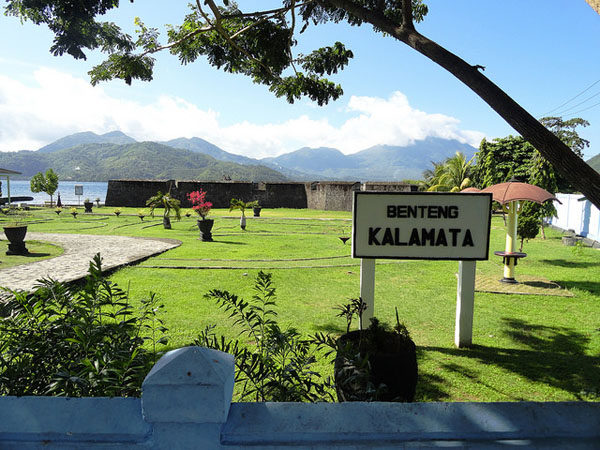 As an island rich in spices, Ternate and Tidore island and also the small islands surrounding, has always been a bone of contention in Western countries. They were trying to conquer these lands as one of the highest trading price at the time, for cloves and nutmeg. That said, the price of those spices were more expensive than gold.
Portuguese were the first European countries to master the island of Ternate, also the spice trade. For the sake of maintaining power and block attacks from other countries, the Portuguese were built many forts in Ternate. The island was even dubbed the The Thousand Island Fortress.
In Ternate, we can find many Portuguese forts (and also Dutch). One of the fortress as a heritage from Portuguese is Kalamata Fortress that located in the Redwoods, South Ternate. Compared with Dutch heritage castles, forts Kalamata has relatively small size. The fort has a wall thickness of 60 cm and a height of 3 m. The fort was built on the waterfront overlooking the island of Tidore which was controlled by Spain. The development of this castle was to repel attacks from Tidore Island.
Fort Kalamata has four fortifications in the four cardinal directions. In each of these fortifications there is such a hole to shoot targets. On top of this fort we can see the splendor of Mount Gamalama as well as other islands that are settled around Ternate, including the island of Tidore.
Kalamata fort was built in 1540. Its purpose is to protect the island of Ternate from being taken over by other nations that was ruled by Spain at that time. Regarding the one who built this fortress, there are two versions that been said. Some said that this fort was built by Francisco Serao. Other said that this fortress was built by Antonio Pigaveta. We have no idea which one is the right one but this fort today is becomes one of the proud destinations to be visited in Ternate, North Maluku.
Initially, this fort named Santa Lucia. But later the name was changed to Kalamata as a form of tribute to the Prince of Kalamata who was one of Ternate princes who died in Makassar.

Latest News
Gurabunga village is one of tourism village in Tidore Island that interesting to be visited. The name of Gurabunga means flower garden. In fact, this place is being filled with flower that been planted in every corner of the people house. This village has chilling nuance and refreshing air, because it located in 800 meter above sea level. The inhabitants houses are settled in a fertile area at the slope of Kie Matubu Mountain that has 1730 meter above sea level. Kie Matubu is famous in North Maluku as Tidore…
---
Since early of the last millennium, the small islands of Ternate and Tidore in the Moluccas were the only source for cloves in the world. Indian, Arab, Chinese and Javanese merchants used to call on these islands to carry home this precious cargo which sold at exorbitant prices in Europe and the Orient. Cloves, together with nutmeg and mace from the Banda islands were used to flavor and preserve food, as medicines and even as aphrodisiacs. But after the Crusades, the trade route to the Far East was blocked for…
---
Gamalama Mountain is located in Ternate, North Maluku Province, Indonesia. Gamalama is one of the volcanoes in North Maluku Province. In addition to this mountain, there's Mount Gamkonora in West Halmahera District, Mount Ibu and Mount Dakona residing in North Halmahera District, and Mount Kiebesi in South Halmahera. Gamalama itself is located on the island of Ternate and has a height of about 1715 m ASL (above sea level). Gamalama Mountain, which is also often referred to as the peak of Ternate, is a stratovolkano, the volcano high and conical,…
---
In Tobelo, North Maluku, there is a beautiful island which totally promoted by the government; Tagalaya island. The island of Tagalaya is giving cleaning water as glass and natural view like paintings. The beauty of Eastern Indonesia is never get enough to be discuss. We all agree that Maluku have dozen islands and hundred of wonderful beaches. The beach and island in Ambon, Ternate, Halmahera and the others surely can interest thousand tourists to visit and enjoy the natural charming. An island in Tobelo will totally teasing you. Its sea…
---