Air Mata Belanda
---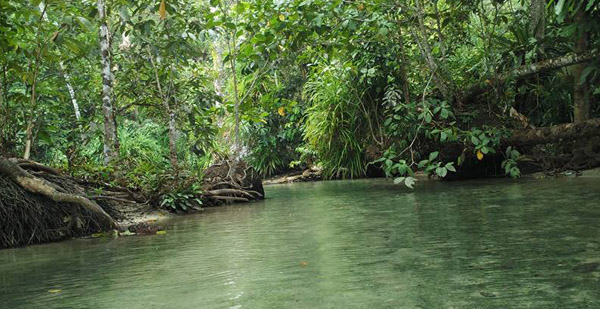 Labuha is the capital of Halmahera Selatan District, North Maluku Province, it has a variety of interesting attractions, and one of those is located at Bacan Island, which is Air Mata Belanda (Tear of Netherlands).
The name of this attraction is sound pretty unique. According to the story, the name was taken from a legend that ever existed in this place. Previously there was a Dutch family who were traveling around the river that located near the place. At the moment, there was an eating utensil that fallen into the river. They intended to pick it up but the river washed it away and then they cried mightily.
This Air Mata Belanda tourist attraction is a river that has a semi vertical rapid. The river water is very clean, clear and cool. Moreover, this place somewhat is settled in remote area so that the environment is still very genuinely beautiful and natural. Playing down the river is a fun activity that you can do here. The cool, calm and natural attraction at this place can be an ideal place to unwind your tiredness and get away from the noise of the city for a while.
You can rent a private vehicle from Labuha city center or use chartered public transportation to get to the Air Mata Belanda. After we are arriving at the location, we actually have to do trekking through tropical forests and grasslands as far as one kilometer and then head up the river. The starting point of this trekking is behind Halmahera Selatan District's office, near from Labuha city center.
Note: There is one thing you should keep in mind during the trekking, do not pick fruits from trees with red or yellow ribbon that tied on the trees, because according to local people, if anyone dare to take the fruit, he/she will be exposed to witchcraft. In fact, we better to keep honor the nature by not doing something harm.

Latest News
Gurabunga village is one of tourism village in Tidore Island that interesting to be visited. The name of Gurabunga means flower garden. In fact, this place is being filled with flower that been planted in every corner of the people house. This village has chilling nuance and refreshing air, because it located in 800 meter above sea level. The inhabitants houses are settled in a fertile area at the slope of Kie Matubu Mountain that has 1730 meter above sea level. Kie Matubu is famous in North Maluku as Tidore…
---
Since early of the last millennium, the small islands of Ternate and Tidore in the Moluccas were the only source for cloves in the world. Indian, Arab, Chinese and Javanese merchants used to call on these islands to carry home this precious cargo which sold at exorbitant prices in Europe and the Orient. Cloves, together with nutmeg and mace from the Banda islands were used to flavor and preserve food, as medicines and even as aphrodisiacs. But after the Crusades, the trade route to the Far East was blocked for…
---
Gamalama Mountain is located in Ternate, North Maluku Province, Indonesia. Gamalama is one of the volcanoes in North Maluku Province. In addition to this mountain, there's Mount Gamkonora in West Halmahera District, Mount Ibu and Mount Dakona residing in North Halmahera District, and Mount Kiebesi in South Halmahera. Gamalama itself is located on the island of Ternate and has a height of about 1715 m ASL (above sea level). Gamalama Mountain, which is also often referred to as the peak of Ternate, is a stratovolkano, the volcano high and conical,…
---
In Tobelo, North Maluku, there is a beautiful island which totally promoted by the government; Tagalaya island. The island of Tagalaya is giving cleaning water as glass and natural view like paintings. The beauty of Eastern Indonesia is never get enough to be discuss. We all agree that Maluku have dozen islands and hundred of wonderful beaches. The beach and island in Ambon, Ternate, Halmahera and the others surely can interest thousand tourists to visit and enjoy the natural charming. An island in Tobelo will totally teasing you. Its sea…
---