Benteng Kota Janji
---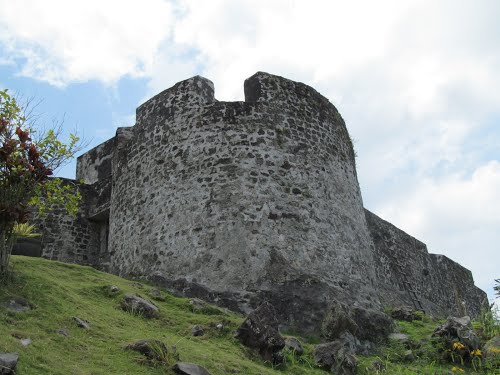 Benteng Kota Janji or the city of promise fortress is one of historical fort that was become a witness place that being used for a peace treaty between Sultan Khairun with the Portuguese governor at the time. Historically, the fortress was built in 1532 by the Portuguese and being named as San Jao Fort. However, due to the murder of Sultan Khairun of Ternate, the Portuguese were expelled from Ternate by Ternate Sultanate, who was led by Sultan Babullah in 1575. The fort was then occupied by Spanish troops that led by Governor Don Pedro de Acuna from Manila in 1606 who wanted to master Ternate Island.
This fort is located in Ngade street, Laguna Hamlet,Fitu Village, South Ternate district. This fort is settled at the edge of the main street that heading to Ternate city from the south.
In 1610, this fort was strengthened by Spanish by placing 27 soldiers and 20 soldiers from Philippines, complete with 6 canons and its ammunition. The name of this fort then became Santo Pedro Y Paulo for honor Pedro Governor. At that time, the function of this fort was used as monitoring Ternate and Tidore waters, and also as a military base. When the tide is low, the Spanish armada that been cruished to Philippines can settled at south shore in this fort.
This fort has trapezium for 20 x 20 and it stand along the land of 2.147,25 m2 and lies in 50 m above sea level. This fort was once a huge fort and today we just can see the pieces of it. The only part of the fort that can be found today is the outer wall that been made by andesite, coral and mixing of sand and lime. Meanwhile, the inner part is buried by soil.
Today this fort is famous as Benteng Kota Janji bacause of the agreement that been made between Sultan Khairun and Portuguese Governor, Diego Lopes de Muspito. Unfortunately, the portuguese broke the agreement and had murder the Sultan at Kartela Fort, that not far from the location.
In 2004, this fort had rehabilitation, but only to save some area that become cultiural heritage to preetify the area for tourims destination. Some of fences are built around the fort and garden, while the origin shape of the fort is no longer seen.

Latest News
Gurabunga village is one of tourism village in Tidore Island that interesting to be visited. The name of Gurabunga means flower garden. In fact, this place is being filled with flower that been planted in every corner of the people house. This village has chilling nuance and refreshing air, because it located in 800 meter above sea level. The inhabitants houses are settled in a fertile area at the slope of Kie Matubu Mountain that has 1730 meter above sea level. Kie Matubu is famous in North Maluku as Tidore…
---
Since early of the last millennium, the small islands of Ternate and Tidore in the Moluccas were the only source for cloves in the world. Indian, Arab, Chinese and Javanese merchants used to call on these islands to carry home this precious cargo which sold at exorbitant prices in Europe and the Orient. Cloves, together with nutmeg and mace from the Banda islands were used to flavor and preserve food, as medicines and even as aphrodisiacs. But after the Crusades, the trade route to the Far East was blocked for…
---
Gamalama Mountain is located in Ternate, North Maluku Province, Indonesia. Gamalama is one of the volcanoes in North Maluku Province. In addition to this mountain, there's Mount Gamkonora in West Halmahera District, Mount Ibu and Mount Dakona residing in North Halmahera District, and Mount Kiebesi in South Halmahera. Gamalama itself is located on the island of Ternate and has a height of about 1715 m ASL (above sea level). Gamalama Mountain, which is also often referred to as the peak of Ternate, is a stratovolkano, the volcano high and conical,…
---
In Tobelo, North Maluku, there is a beautiful island which totally promoted by the government; Tagalaya island. The island of Tagalaya is giving cleaning water as glass and natural view like paintings. The beauty of Eastern Indonesia is never get enough to be discuss. We all agree that Maluku have dozen islands and hundred of wonderful beaches. The beach and island in Ambon, Ternate, Halmahera and the others surely can interest thousand tourists to visit and enjoy the natural charming. An island in Tobelo will totally teasing you. Its sea…
---