Kastela Fortress
---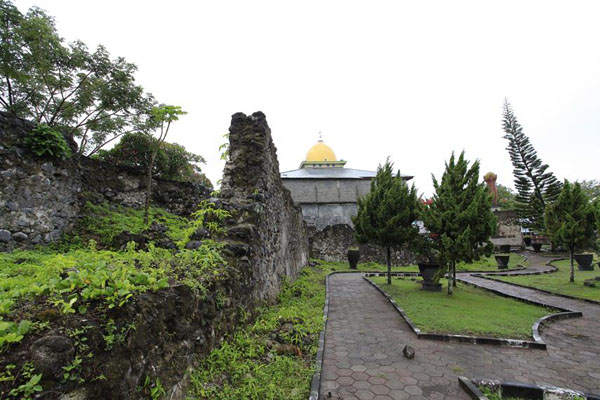 Kastela Fortress is one of Portuguese heritage fortress that located on fortress Kastela Santo Paulo Highway, Kastela village, Pulau Ternate district, Ternate city. The location of this fort is in the north. Kastela Fortress is also commonly called Gam Lamo Fortress, which is the designation of Mount Gamalama. The fortress was built by Antonio de Brito in 1521 under the name of Nostra Senora del Rosario. It was built in stages followed by Garcia Henriques in 1525 and it continued by Gonzalo Periera until finally resolved by Jorge de Gastro in 1540. When entered into the castle, we will welcomed by a monument as a welcome greeting with a huge cloves statue. Looking further into the place there is a relief that describing the killing of Sultan Khaerun.
According to the record history, after Malaka defeated by Portuguese in 1511, Admiral Alfonso d'Alburquerque was sending Antonio de Abreu and Fransico Serrao to Maluku with three ships battalion in December 1511. During January 1512, they arrived at Banda. Fransisco Serrao was the first Portuguese functionaries that succeed to negotiate the rights of monopoly from his country to the spices trading and exclusive rights from the development of this Portuguese fort in Gamlamo.
This fort was built on stages within 20 years. Until 1569, Gamlamo fort was the only one fort that standing still at outside Malaka, after that year there are other forts in Ambon, Jailolo, Moro, Banda and Makassar. On February 27, 1570 there was tragic murdered of Sultan Khairun Jamil at this place by Antonio Pimental for the order of Diego Lopez de Mesquita, the 18th Portuguese Governor. After the death of the Sultan, the Prince gave an order to sue Diego Lopez de Mesquita for the murder but the Portuguese denied the sue. That denied made war from Ternate People and they lock up the fort for 4 years (1574-1578) and gave ultimatum for Portuguese to step away from Ternate. Right after that tragedy, there was huge evacuation of Portuguese from Ternate that moved away to Tidore and Goa.

Latest News
Gurabunga village is one of tourism village in Tidore Island that interesting to be visited. The name of Gurabunga means flower garden. In fact, this place is being filled with flower that been planted in every corner of the people house. This village has chilling nuance and refreshing air, because it located in 800 meter above sea level. The inhabitants houses are settled in a fertile area at the slope of Kie Matubu Mountain that has 1730 meter above sea level. Kie Matubu is famous in North Maluku as Tidore…
---
Since early of the last millennium, the small islands of Ternate and Tidore in the Moluccas were the only source for cloves in the world. Indian, Arab, Chinese and Javanese merchants used to call on these islands to carry home this precious cargo which sold at exorbitant prices in Europe and the Orient. Cloves, together with nutmeg and mace from the Banda islands were used to flavor and preserve food, as medicines and even as aphrodisiacs. But after the Crusades, the trade route to the Far East was blocked for…
---
Gamalama Mountain is located in Ternate, North Maluku Province, Indonesia. Gamalama is one of the volcanoes in North Maluku Province. In addition to this mountain, there's Mount Gamkonora in West Halmahera District, Mount Ibu and Mount Dakona residing in North Halmahera District, and Mount Kiebesi in South Halmahera. Gamalama itself is located on the island of Ternate and has a height of about 1715 m ASL (above sea level). Gamalama Mountain, which is also often referred to as the peak of Ternate, is a stratovolkano, the volcano high and conical,…
---
In Tobelo, North Maluku, there is a beautiful island which totally promoted by the government; Tagalaya island. The island of Tagalaya is giving cleaning water as glass and natural view like paintings. The beauty of Eastern Indonesia is never get enough to be discuss. We all agree that Maluku have dozen islands and hundred of wonderful beaches. The beach and island in Ambon, Ternate, Halmahera and the others surely can interest thousand tourists to visit and enjoy the natural charming. An island in Tobelo will totally teasing you. Its sea…
---