Ternate Sultanate Palace
---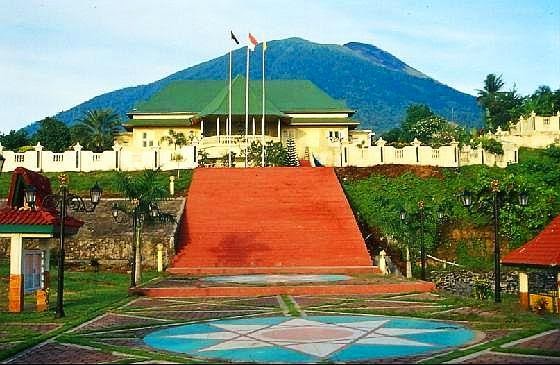 Kedaton Sultanate of Ternate is one of historical sites in Ternate. Inside the palace there are many historical relics that are deliberately displayed to resemble the rooms in the museum. Those historical goods that been displayed, among other things are the cloak gift from the King of Saudi Arabia, the twin palm as a tribute from Raja Sangir to the Sultan of Ternate in 1750, and others. The palace is also store the crown of Sultan. It said that the hair on the crown is continued to grow, although it is not being used. In every morning, on the front page of the palace there will be ceremony to raise three flags, while it decreases at dawn. The procession of raisings and declining the flags is always right to do at 6 am and 6 pm, both during the time of heat or storms.
This palace was built on November 24, 1813 by Sultan Muhammad Ali on the hill Limau Santosa with an area of 44.560 m2. It has ctagonal with two stairs, especially on the left and right front. This building depicts a sitting lion.
Kedaton Region is the first choice of mapping location, the first historical place that been globalized in the past. This region contains not only kedaton building, there are also several important sites, such as empire mosque, Ngara Lamo (a meeting place for tribal councils), Fort Naka, Sunyie Lamo (the main square), Air Sentosa (sacred water). Not only the tangible one (teraga); the important values, important rituals, as well as customary laws are also being targeted mapping.
In the insight of North Maluku community, Ternate Kedaton is an expression of the natural and cultural richness from Maluku Kie Raha in the form of local wisdom, traditions, habits and customs. Those diversities, uniqueness and beauty is not only a cultural asset of North Maluku people but also the people of Indonesia that should be preserved for future heirloom.

Latest News
Gurabunga village is one of tourism village in Tidore Island that interesting to be visited. The name of Gurabunga means flower garden. In fact, this place is being filled with flower that been planted in every corner of the people house. This village has chilling nuance and refreshing air, because it located in 800 meter above sea level. The inhabitants houses are settled in a fertile area at the slope of Kie Matubu Mountain that has 1730 meter above sea level. Kie Matubu is famous in North Maluku as Tidore…
---
Since early of the last millennium, the small islands of Ternate and Tidore in the Moluccas were the only source for cloves in the world. Indian, Arab, Chinese and Javanese merchants used to call on these islands to carry home this precious cargo which sold at exorbitant prices in Europe and the Orient. Cloves, together with nutmeg and mace from the Banda islands were used to flavor and preserve food, as medicines and even as aphrodisiacs. But after the Crusades, the trade route to the Far East was blocked for…
---
Gamalama Mountain is located in Ternate, North Maluku Province, Indonesia. Gamalama is one of the volcanoes in North Maluku Province. In addition to this mountain, there's Mount Gamkonora in West Halmahera District, Mount Ibu and Mount Dakona residing in North Halmahera District, and Mount Kiebesi in South Halmahera. Gamalama itself is located on the island of Ternate and has a height of about 1715 m ASL (above sea level). Gamalama Mountain, which is also often referred to as the peak of Ternate, is a stratovolkano, the volcano high and conical,…
---
In Tobelo, North Maluku, there is a beautiful island which totally promoted by the government; Tagalaya island. The island of Tagalaya is giving cleaning water as glass and natural view like paintings. The beauty of Eastern Indonesia is never get enough to be discuss. We all agree that Maluku have dozen islands and hundred of wonderful beaches. The beach and island in Ambon, Ternate, Halmahera and the others surely can interest thousand tourists to visit and enjoy the natural charming. An island in Tobelo will totally teasing you. Its sea…
---