Dodola Island
---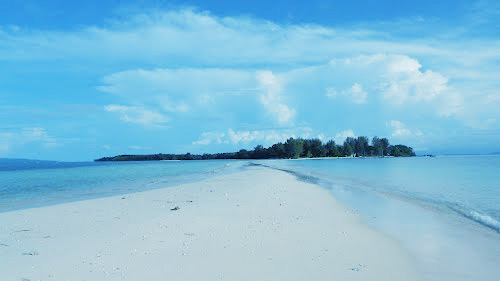 As an archipelagic country, Indonesia has tourism potential, some of which are hidden, especially in the tourist area of Eastern Indonesia. One of the tourism potential that can be found in eastern Indonesia is Dodola Island located in the District of Morotai Island, North Maluku Province. Not many people know and understand the beauty of the island stored. The island is very easy to reach from the city Tobelo, the gateway leading to Morotai Islands by sea.
The island is basically divided into two, namely Dodola Besar and Dodola Kecil Island. Interestingly, these two islands will appear separately when the sea level on high tide and will look connected when sea levels receded. The white sand also has two different types that are coarse and fine white sand. But basically the atmosphere in the two islands is quite relaxing and fun, combined with the beautiful scenery that surrounds this island. In addition, there are many exciting activities you can do in this place, such as swimming, diving, fishing and speed boating. Various local tradition events are also commonly held in this place, like the tradition of Buka Panen Wangongira held every June each year and Tradisi Gelaran Timba Laor, a local tradition that is held after every full moon.
On this island there are no fancy facilities like other famous places. No ATM can be found in this location. You should really provide cash to pay a visit to this place. But do not worry as this island still does have a cell phone signal. If you want to spend the night, there are inns available built by the local government.
To visit Dodola Island you can take the flight to Tobelo. From Tobelo city you can go to Port Tobelo to proceed to Port MS Lastori in Daruba town, Morotai using ferry or speedboat. Arriving in Port M.S. Lastori, you can rent katinting boat or speedboat to go directly to the island.

Latest News
Gurabunga village is one of tourism village in Tidore Island that interesting to be visited. The name of Gurabunga means flower garden. In fact, this place is being filled with flower that been planted in every corner of the people house. This village has chilling nuance and refreshing air, because it located in 800 meter above sea level. The inhabitants houses are settled in a fertile area at the slope of Kie Matubu Mountain that has 1730 meter above sea level. Kie Matubu is famous in North Maluku as Tidore…
---
Since early of the last millennium, the small islands of Ternate and Tidore in the Moluccas were the only source for cloves in the world. Indian, Arab, Chinese and Javanese merchants used to call on these islands to carry home this precious cargo which sold at exorbitant prices in Europe and the Orient. Cloves, together with nutmeg and mace from the Banda islands were used to flavor and preserve food, as medicines and even as aphrodisiacs. But after the Crusades, the trade route to the Far East was blocked for…
---
Gamalama Mountain is located in Ternate, North Maluku Province, Indonesia. Gamalama is one of the volcanoes in North Maluku Province. In addition to this mountain, there's Mount Gamkonora in West Halmahera District, Mount Ibu and Mount Dakona residing in North Halmahera District, and Mount Kiebesi in South Halmahera. Gamalama itself is located on the island of Ternate and has a height of about 1715 m ASL (above sea level). Gamalama Mountain, which is also often referred to as the peak of Ternate, is a stratovolkano, the volcano high and conical,…
---
In Tobelo, North Maluku, there is a beautiful island which totally promoted by the government; Tagalaya island. The island of Tagalaya is giving cleaning water as glass and natural view like paintings. The beauty of Eastern Indonesia is never get enough to be discuss. We all agree that Maluku have dozen islands and hundred of wonderful beaches. The beach and island in Ambon, Ternate, Halmahera and the others surely can interest thousand tourists to visit and enjoy the natural charming. An island in Tobelo will totally teasing you. Its sea…
---