North Maluku
---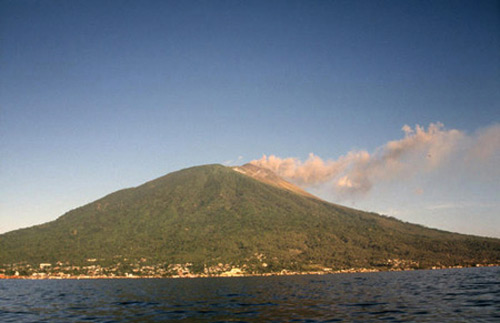 North Moluccas is a part of Maluku Island which a province of northeastern Indonesia. The temporary capital is on Ternate. After the government infrastructure and other facilities is built, the government activities will be moved from Ternate to Sofifi. Sofifi is is a village in North Oba district, which is the definitive capital of North Maluku province.
At early begin, before the invasion North Maluku was the biggest four Islamic kingdom on Eastern Nusantara which called as Four Mountain Sultanate in Maluku. Those four are: Bacan, Jailolo, Tidore and Ternate Sultanate. The tourism sector is mostly coming from Halmahera Island which consit of mountainous area.
The regional economics are mainly coming from the people daily life which based on agriculture, fisheries, and other types of sea products. Other economic commodities which have tendency as export products are wood processing, banana plantation, gold mining and Nickel Mining.
The island of North Maluku is geographically formed as volcanic origin. It has shown from Dukono Mountain on Halmahera, Gamalama mount on Ternate that still active and the whole of Tidore consisting of a large strato-volcano. The rain forests of Halmahera, Morotai, the Obi Islands, the Bacan islands and other islands of North Maluku have been described by the World Wildlife Fund as the Halmahera rain forests eco-region.
Moreover, North Maluku is famous as the home of a number of unique plant and animal species unique to the islands, the endemic mammals found here include the Obi Mosaic-tailed Rat (Melomys obiensis), Masked Flying Fox (Pteropus personatus), and three cuscus marsupials, Ornate Cuscus (Phalanger ornatus), the vulnerable Rothschild's Cuscus (Phalanger rothschildi), and Gebe Cuscus.
The islands are also home to the largest bee in the world Wallace's giant bee (Megachile pluto) and over two hundreds different type of bird is in North Maluku forest. The fauna itself is containing of Anisoptera thurifera, Hopea gregaria, Hopea iriana, Shorea assamica, Shorea montigena, Shorea selanica, and Vatica rassak.

Latest News
Gurabunga village is one of tourism village in Tidore Island that interesting to be visited. The name of Gurabunga means flower garden. In fact, this place is being filled with flower that been planted in every corner of the people house. This village has chilling nuance and refreshing air, because it located in 800 meter above sea level. The inhabitants houses are settled in a fertile area at the slope of Kie Matubu Mountain that has 1730 meter above sea level. Kie Matubu is famous in North Maluku as Tidore…
---
Since early of the last millennium, the small islands of Ternate and Tidore in the Moluccas were the only source for cloves in the world. Indian, Arab, Chinese and Javanese merchants used to call on these islands to carry home this precious cargo which sold at exorbitant prices in Europe and the Orient. Cloves, together with nutmeg and mace from the Banda islands were used to flavor and preserve food, as medicines and even as aphrodisiacs. But after the Crusades, the trade route to the Far East was blocked for…
---
Gamalama Mountain is located in Ternate, North Maluku Province, Indonesia. Gamalama is one of the volcanoes in North Maluku Province. In addition to this mountain, there's Mount Gamkonora in West Halmahera District, Mount Ibu and Mount Dakona residing in North Halmahera District, and Mount Kiebesi in South Halmahera. Gamalama itself is located on the island of Ternate and has a height of about 1715 m ASL (above sea level). Gamalama Mountain, which is also often referred to as the peak of Ternate, is a stratovolkano, the volcano high and conical,…
---
In Tobelo, North Maluku, there is a beautiful island which totally promoted by the government; Tagalaya island. The island of Tagalaya is giving cleaning water as glass and natural view like paintings. The beauty of Eastern Indonesia is never get enough to be discuss. We all agree that Maluku have dozen islands and hundred of wonderful beaches. The beach and island in Ambon, Ternate, Halmahera and the others surely can interest thousand tourists to visit and enjoy the natural charming. An island in Tobelo will totally teasing you. Its sea…
---