Torosiaje Tourism Site
---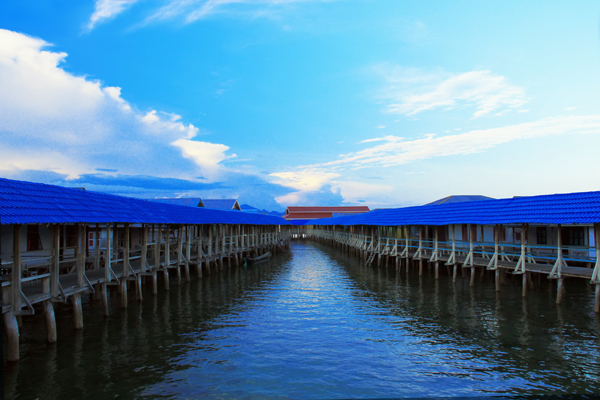 Torosiaje Tourism site is located in District Popayato, Pohuwatu regency. From the city of Gorontalo, the distance is only about 270 km to the crossing of the Trans Sulawesi.
After arrival at Popayato, followed by a boat trip for Torosiaje is above the sea or about 600 meters from the beach.
During fifteen minutes of sailing, you are instantly greeted by the stilt houses that stand on the water with a height of up to 2 to 3 meters that belong to Bajo people. All houses in Bajo village have U-shaped ornaments were very simple and overlooking the bay of Tomini. Torosiaje is the number one tourist village in Gorontalo and it opens to anyone who comes.
If we take the night travel to reach Torosiaje is just like the firefly that went into the lights over the dark night sky. We can use Leppa or a small boat that belongs to Bajo people and it can contain only 8 people. All boats that come to Torosiaje are considered coming from the backyard.
Bajo people always assume the vast ocean is the main terrace of life. To get to the 'square' in the middle Torosiaje, each boat will down into the alley between the houses to pass under the bridge that decorated with a small board written "Welcome to Bajo".

Latest News
Sulawesi Island always has something interesting for tourists. For example, in Gorontalo Province, there is the famous Limboto Lake, which is suitable for numerous activities like fishing, boat riding, photography, sightseeing, and much more! As the name suggests, the lake resides in Limboto Sub-District and has become one of the prime tourist sites in that region. The lake has some unique features, as well. For instance, it connects directly to the sea! Not to mention it becomes the habitat of numerous birds and fishes. According to the locals, the lake…
---
Saronde is a small Island that located near to the Gulf Kwandang, North Gorontalo District. Although this tiny, the charm of the Island is internationally well-known. There are many foreign tourists that come to this Island during peak season. Seronde Island is still very natural, clean, and away from air pollution. The nature is very soothing and ready to indulge you. Here, you can swim, surf, dive, snorkel or water ski as much as you want. Just do not hesitate yourself to jump and swim, because the water is fine…
---
Pulau Cinta or love Island is become more popular today in Gorontalo, since it been promoted in Festival Sail Tomini Boalemo few years ago. Are you a newlywed and want to have perfect escape with your spouse? Then, celebrating your love together at this Island will be your best experience. Looking at the name that indicated the Love, the form of the Island is also unique, with a heart shape characterizing Love sign. Cinta Island is located in Boalemo district, Gorontalo, approximately 2 hours drive from the city of Gorontalo.…
---
Better known as Gorontalo's hidden paradise, Olele marine park is one of magnificent tourism objects in Gorontalo. It located in Olele village, Kabila Bone sub-district, Gorontalo. There are just so many things that make Gorontalo perfect for holiday, the beauty of its nature, the culture and not forget to mention, the friendly people. Mountains, hills, shore line are the main characteristic of Gorontalo and it makes the island perfect for marine tourism. To reach Olele, it only takes 20 km from downtown Gorontalo. We can take 40-50 minute driving to…
---