Hotels In Gorontalo
---
Pulocinta Ecoresort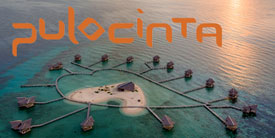 Pulocinta Ecoresort offers accommodation in Batumoito. The resort has a sun terrace and a private beach area, and guests can enjoy a meal at the restaurant. Every room has a flat-screen TV. Some units feature a seating area where you can relax. Rooms are fitted with a private bathroom fitted with a shower. For your comfort, you will find bathrobes and free toiletries. Pulocinta Ecoresort features free WiFi throughout the property. There is a 24-hour front desk at the property. You can engage in various activities, such as snorkelling and diving.
Desa Patoameme, Boalemo, Batumoito
Boalemo, Gorontalo 96264
Indonesia
Phone: +62 853 6726 9262
Web: pulocinta.com
Amaris Hotel Gorontalo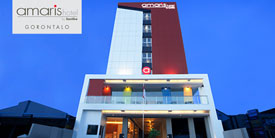 Located right in front of Mall Gorontalo Shopping Centre, Amaris Hotel Gorontalo offers modern accommdoation with free WiFi access and free on-site private parking for guests who drive. It takes a 1-hour drive from the property to the diving spot around Saronde Beach, and getting to Jalaluddin Airport will also take about 1 hour by car. Each room here will provide you with a TV, air conditioning and cable channels. Featuring a shower, private bathroom also comes with free toiletries and slippers. Extras include a desk, a safety deposit box and bed linen. At Amaris Hotel Gorontalo you will find a 24-hour front desk. Other facilities offered at the property include luggage storage.
Jl. Sultan Botutihe No. 37
Gorontalo, Gorontalo 96114
Indonesia
Phone: +62 435 830 988
Web: amarishotel.com/amaris-gorontalo
Maqna Hotel by Prasanthi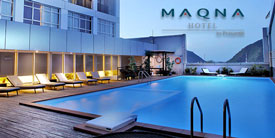 A new hotel with 176 rooms is the largest hotel in Gorontalo. Its location is very strategic in the central business district will facilitate your activities while in Gorontalo. 7-storey high hotel stands one area to the largest shopping center in Gorontalo, with modern architectural design combined with local cultural wisdom, Maqna Hotel provides the warmth and special experience to you. Maqna Hotel is the right choice for business people and tourists while in Gorontalo.
Jl. Sultan Botutihe No. 88
Gorontalo, Gorontalo 90114
Indonesia
Phone: +62 435 859 2676
Web: maqnahotel.com
Hotel Grand Q Gorontalo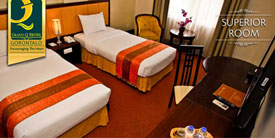 Located in the heart of Gorontalo City, the new developing province in North Sulawesi. It is a 45 minutes drive from Djalaludin Airport and walking distance to mall, banking centers, government centers, business districts and mansions. With its comfortable and cozy atmosphere, this 3 star hotel offers great view of the city surrounded by the green of the hills. It is a home away from home, as you will be served at our best to have a memorable stay.
Jl. Nani Wartabone (Ex. Jl. A. Yani) No. 25
Gorontalo, Gorontalo 96115
Indonesia
Phone: +62 435 822 222
Web: grandqhotelgorontalo.com

Latest News
Sulawesi Island always has something interesting for tourists. For example, in Gorontalo Province, there is the famous Limboto Lake, which is suitable for numerous activities like fishing, boat riding, photography, sightseeing, and much more! As the name suggests, the lake resides in Limboto Sub-District and has become one of the prime tourist sites in that region. The lake has some unique features, as well. For instance, it connects directly to the sea! Not to mention it becomes the habitat of numerous birds and fishes. According to the locals, the lake…
---
Saronde is a small Island that located near to the Gulf Kwandang, North Gorontalo District. Although this tiny, the charm of the Island is internationally well-known. There are many foreign tourists that come to this Island during peak season. Seronde Island is still very natural, clean, and away from air pollution. The nature is very soothing and ready to indulge you. Here, you can swim, surf, dive, snorkel or water ski as much as you want. Just do not hesitate yourself to jump and swim, because the water is fine…
---
Pulau Cinta or love Island is become more popular today in Gorontalo, since it been promoted in Festival Sail Tomini Boalemo few years ago. Are you a newlywed and want to have perfect escape with your spouse? Then, celebrating your love together at this Island will be your best experience. Looking at the name that indicated the Love, the form of the Island is also unique, with a heart shape characterizing Love sign. Cinta Island is located in Boalemo district, Gorontalo, approximately 2 hours drive from the city of Gorontalo.…
---
Better known as Gorontalo's hidden paradise, Olele marine park is one of magnificent tourism objects in Gorontalo. It located in Olele village, Kabila Bone sub-district, Gorontalo. There are just so many things that make Gorontalo perfect for holiday, the beauty of its nature, the culture and not forget to mention, the friendly people. Mountains, hills, shore line are the main characteristic of Gorontalo and it makes the island perfect for marine tourism. To reach Olele, it only takes 20 km from downtown Gorontalo. We can take 40-50 minute driving to…
---