Dulohupa Custom House
---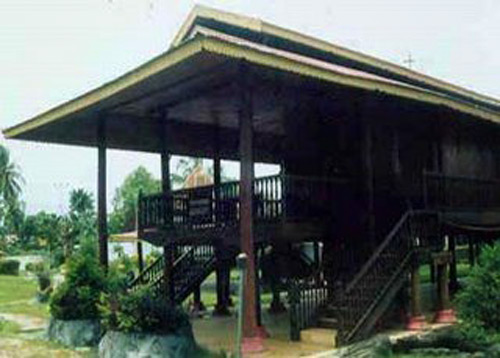 Dulohupa custom house is located in the Village Limba, Kota Selatan District, Gorontalo. Among the residents of Gorontalo the house is also called Yiladia Dulohupa Lo Ulipu Hulondhalo. This traditional house has stage-shaped with body that made of boards and the roof structure nuanced as Gorontalo area. Besides, the traditional house Dulohupa is also features wooden pillars as a decoration and a symbol of the traditional house. It also has two staircases that located to the left and right of the house and become the symbol of traditional ladder or it been called as tolitihu.
Dulohupa custom house in Gorontalo is built on the principles and beliefs. The roof from this Dulohupa traditional house is made of best straw and shaped like a saddle that is a triangular roof duplex depicting the the Shari'a and the custom of indigenous people of Gorontalo. The roof top illustrates the trust of Gorontalo people to the Almighty God and religion, which is the primary importance upon the other. Meanwhile, the bottom roof of this house is describing the customs and culture. On the first peak of the roof there are two crossed sticks mounted on roof tops or called Talapua. Gorontalo residents believe that Talapua can ward off spirits - demons, but as the development of Islamic belief, now Talapua is not installed again.
On the front wall of the house there is Tange lo bu'ulu that hanging beside the entrance of Dulohupa traditional house. Tange lo bu'ulu illustrates gorontalo population welfare. While the inside of the traditional house style Dulohupa open because there is not a lot of insulation. Also in the house there is a pavilion devoted customary as of the king and the royal family.
Dulohupa custom home has a lot of wooden pillars. Besides as an advocate for the shape of a house on stilts, the pillars also have meaning. In the traditional house Dulohupa there are several types of pillars, namely, the main pillar or wolihi amounted to 2 pieces, front pillars amounted to 6 pieces, and the basic pillars or Potu totaling 32 pieces.

Latest News
Sulawesi Island always has something interesting for tourists. For example, in Gorontalo Province, there is the famous Limboto Lake, which is suitable for numerous activities like fishing, boat riding, photography, sightseeing, and much more! As the name suggests, the lake resides in Limboto Sub-District and has become one of the prime tourist sites in that region. The lake has some unique features, as well. For instance, it connects directly to the sea! Not to mention it becomes the habitat of numerous birds and fishes. According to the locals, the lake…
---
Saronde is a small Island that located near to the Gulf Kwandang, North Gorontalo District. Although this tiny, the charm of the Island is internationally well-known. There are many foreign tourists that come to this Island during peak season. Seronde Island is still very natural, clean, and away from air pollution. The nature is very soothing and ready to indulge you. Here, you can swim, surf, dive, snorkel or water ski as much as you want. Just do not hesitate yourself to jump and swim, because the water is fine…
---
Pulau Cinta or love Island is become more popular today in Gorontalo, since it been promoted in Festival Sail Tomini Boalemo few years ago. Are you a newlywed and want to have perfect escape with your spouse? Then, celebrating your love together at this Island will be your best experience. Looking at the name that indicated the Love, the form of the Island is also unique, with a heart shape characterizing Love sign. Cinta Island is located in Boalemo district, Gorontalo, approximately 2 hours drive from the city of Gorontalo.…
---
Better known as Gorontalo's hidden paradise, Olele marine park is one of magnificent tourism objects in Gorontalo. It located in Olele village, Kabila Bone sub-district, Gorontalo. There are just so many things that make Gorontalo perfect for holiday, the beauty of its nature, the culture and not forget to mention, the friendly people. Mountains, hills, shore line are the main characteristic of Gorontalo and it makes the island perfect for marine tourism. To reach Olele, it only takes 20 km from downtown Gorontalo. We can take 40-50 minute driving to…
---