Tomini Bay & Olele Beach
---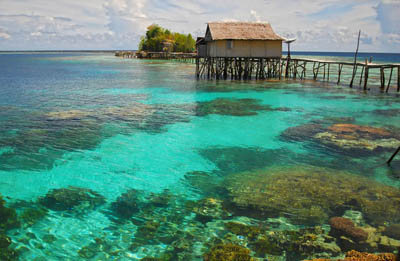 There are so many things that make Gorontalo perfect for holiday, the beauty of its nature, the culture and not forget to mention, the friendly people. Mountains, hills, shore line are the main characteristic of Gorontalo and it makes the island perfect for marine tourism.
Most of diving site take you just a few minute from town, diving in Gorontalo means diving within the richness of biodiversity, health and unique coral and reef. Meanwhile, one perfect destination that characterizing the beauty of marine life is Tomini Bay.
Tomini Bay is famous for under water habitat and undefined creatures. There is several number of unsettled small islands here and this place is just like heaven for divers, because the geographic position of Tomini Bay itself, which is crossed by the equator line, has naturally presented various kinds of sea creature inside. Tomini Bay is said to be the hidden Paradise on the Equator. There are more than 8 dive sites spread along the West and East coast of Olele beach such as shadow land, sentinel, honeycomb, traffic circle, traffic jam, jinn caves, helicopter bay and silver tip ground. Olele is also known as Gorontalo waterpark.
Olele Beach that located in Olele Village is a gate to the underwater paradise of Tominy Bay. The amazing beauty of underwater life on this area has been recognized by many of the divers in the world. It is proofed by the enthusiasm of the divers who come to this area.
In Tomini Bay and Olele Beach, you can find dolphin (torsiops trancatus), Giant Reef (Petrosia Sp.), School of Gobi Fish (Bryaninops erythrops), Salvador Dali reef (Petrosia lignose), Acanthogorgia Sp., Anemon Koralimorf (Discosoma Sp.), plectorhinchus chaetodonoides, Blenni (Escenius Caeruliventris), Cardinal Fish, damsel, platax pinnatus, scorpaenopsis, oxycephala, goropa fish, butterfly fish, pusillus, cockatoo fish, Randal fish, parapterois hetururus, Bothus Sp " half face fish, frog fish, Nudibrancia, Seahorse and pigmy seahorse.
How to get there :
Jallaludin airport is the entrance for the visitors who use the airplane service. It located approximately 15 km from the town of Gorontalo. From Jakarta Sukarno Hatta Air Port, there are flights that served every day. For visitors who use sea service, Gorontalo has 3 harbors, Anggrek Harbor, Kwandang Harbor and Crossing Harbor

Latest News
Sulawesi Island always has something interesting for tourists. For example, in Gorontalo Province, there is the famous Limboto Lake, which is suitable for numerous activities like fishing, boat riding, photography, sightseeing, and much more! As the name suggests, the lake resides in Limboto Sub-District and has become one of the prime tourist sites in that region. The lake has some unique features, as well. For instance, it connects directly to the sea! Not to mention it becomes the habitat of numerous birds and fishes. According to the locals, the lake…
---
Saronde is a small Island that located near to the Gulf Kwandang, North Gorontalo District. Although this tiny, the charm of the Island is internationally well-known. There are many foreign tourists that come to this Island during peak season. Seronde Island is still very natural, clean, and away from air pollution. The nature is very soothing and ready to indulge you. Here, you can swim, surf, dive, snorkel or water ski as much as you want. Just do not hesitate yourself to jump and swim, because the water is fine…
---
Pulau Cinta or love Island is become more popular today in Gorontalo, since it been promoted in Festival Sail Tomini Boalemo few years ago. Are you a newlywed and want to have perfect escape with your spouse? Then, celebrating your love together at this Island will be your best experience. Looking at the name that indicated the Love, the form of the Island is also unique, with a heart shape characterizing Love sign. Cinta Island is located in Boalemo district, Gorontalo, approximately 2 hours drive from the city of Gorontalo.…
---
Better known as Gorontalo's hidden paradise, Olele marine park is one of magnificent tourism objects in Gorontalo. It located in Olele village, Kabila Bone sub-district, Gorontalo. There are just so many things that make Gorontalo perfect for holiday, the beauty of its nature, the culture and not forget to mention, the friendly people. Mountains, hills, shore line are the main characteristic of Gorontalo and it makes the island perfect for marine tourism. To reach Olele, it only takes 20 km from downtown Gorontalo. We can take 40-50 minute driving to…
---