Tanggulangin Center of Bag, Case and Shoe Handicraft.
---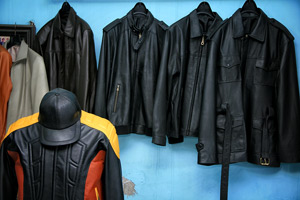 Tanggulangin is one of Sidoarjo icon as the center area of leather craft industry. Tanggulangin is one of districts in Sidoarjo where most of the population is a small leather craft industry. The leather craft center in Tanggulangin is located on Jl. Kludan Raya Tanggulangin. Various kinds of leather-based needs are produced in this place ranging from sandals, shoes, bags, wallets, luggage, jackets and other leather-based goods.
This area is crowded by many visitors. The most crowd of visitors occurs before the school holidays / national holidays, visitors arrive from various regions in the country, even from foreign countries.
It's easy to reach this one of the leading shopping destination in East Java, because it is located on the Malang-Sidoarjo highway and a few meters from the Malang-Surabaya highway (via the toll road). It is about 20 km if from Juanda International Airport.
Especially if you want to see Lapindo Mud in Porong, then you will regret if you don't stop at Tanggulangin Leather Craft Center, because it is located only about 100 meters from Lapindo mud tour.
When you come to the small industrial area of Tanggulangin, you will welcomed by many shophouses that neatly lined up on the right or left side of the road. Fashion hunters, this area also full of shops with fashionable designs, of course, with many updated patterns that you can usually see in their display.
The range of products offered has competitive prices in each stores and mostly inexpensive. Even though the price is cheap, but for the quality not to be underestimated, the products of Tanggulangin leather craftsmen have been known for their good quality and durability products.
If you are a visitor from outside Sidoarjo City who wants to visit the Tanggulangin Leather Craft Shopping Center, you don't need to worry if you want to stay a few days in this 'Shrimp City'. Some hotels in Sidoarjo offer services at very affordable prices.

Latest News
Tanggulangin Leather Industry Tanggulangin leather industry, is an industrial for bags, luggage and products related and become an icon for Tanggulangin district. This industrial was begin in 1939, when some craftsmen started making bags and suitcase stuffs. And in 1976 it was established the Bags and Luggage Cooperative Industrial (Intako), which was initially consisted of only 27 people. The venture capital is obtained from members' savings. On its way, the cooperative continued to grow and the members has reached 354 crafters of Small and Medium Enteprises with the assets about…
---
Tanggulangin Leather Industry Tanggulangin leather industry, is an industrial for bags, luggage and products related and become an icon for Tanggulangin district. This industrial was begin in 1939, when some craftsmen started making bags and suitcase stuffs. And in 1976 it was established the Bags and Luggage Cooperative Industrial (Intako), which was initially consisted of only 27 people. The venture capital is obtained from members' savings. On its way, the cooperative continued to grow and the members has reached 354 crafters of Small and Medium Enteprises with the assets about…
---
Delta Fishing Sidoarjo Delta fishing is the appropriate place to be the venue of birthday party, reunion, gathering, garden party, games, meeting or out bound and some occasions. Delta Fishing have some facilities to complete the enjoyment like free wi-fi Internet, swimming pool, stall, playground : water cycle, rowing boat, trampoline, out bound and many more. Those who are fishing at the ponds can ask the waiter to cook the fishes, there are optional menus like roasted fish, fried fish, sweet and sour or spices. There are some ponds with…
---
Mushroom Cultivation Oyster mushroom business is promising. Beside the raw mushrooms and the seeds, mushrooms processed food sales are also promising. Mushroom is known for it delicious and can be processed into various dishes. At first glance, the meat tastes like chicken. Mushrooms are very popular vegetarian because it considered as the substitute of meat. Mushrooms, is an easy-to-cook material that can be added into some foods. Moreover, there are various kind of foods that can be produce by using mushroom like, dodol or kind of sweet sticky cake, mushroom…
---