Kupang Lontong
---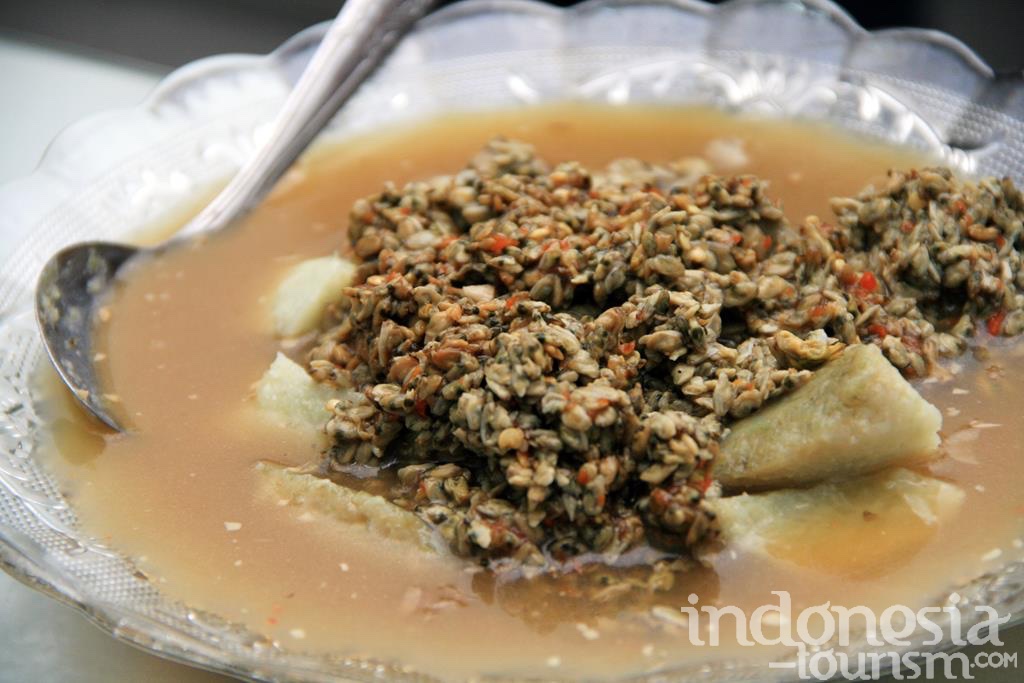 Kupang lontong, is another traditional food from East Java, particularly from Sidoarjo or Surabaya. This food is typically a coastal food. Kupang lontong is consist of kupang-Kupang is kind of oyster or small shellfish-, lontong or rice cake and completed by the shrimp paste sauce. Similar with Lontong balap, kupang lontong is also has lento or fried cassava and scallop satai, as topping.
For those of you who don't know what Kupang is, it will certainly feel strange when you see it. Because it looks not interesting to enjoyed. Kupang is a type of very small sea shell. Kupang usually has white body color. This little animal can be found on the beach or in salt water mud.
Enjoy Kupang lontong always in package with young coconut ice. Young coconut ice can neutralizing the fishy scent in the mussels dish. In addition, young coconut ice can also prevent seafood allergies.
Kupang lontong is hot and spicy with swinging flavor between sweet and salty flavor. The ingredient of Kupang lontong actually simple; garlic, shrimp paste and chilli. Shrimp paste is playing an important role to dish up Kupang lontong, to get special taste and add the deliciousness. Those ingredients are mixed well then pour the kupang, lontong and dressing up with lentho. And last, added lime.
This special dish from Sidoarjo is not only a delicious dish, but it also contains good nutrients for the human body. Kupang and satay shells that accompany these dish contain good protein for the body. White Kupang has 17 amino acids. The 17 amino acids contained 10 kinds of essential amino acids that the body needs. Kupang contains micronutrients of iron and zinc which are beneficial for health. Iron is needed by the body for the formation of red blood cells. While zinc becomes an important component of several enzymes that are useful for the body's metabolic processes. In addition, mussels contain fatty acids needed by the human body. White Kupang which is usually used for Kupang Lontong contains 12.31% LNA (linoleic acid), 6.52% EPA, and 6.61 DHA. Thus, the Kupang Lontong dish has two compelling reasons to make it as the culinary choice when visiting East Java. In addition to its delicious and special taste, this dish also contains many nutrients needed by the human body.
When you visit Sidoarjo, you must try this food. You can easily find Kupang lontong outlets there. Kupang Lontong and young coconut ice become a suitable mix for East Java culinary connoisseurs. Besides in Sidoarjo, Kupang Lontong can also be found in Surabaya and Pasuruan. When visiting East Java, it's a shame to miss this culinary.

Latest News
Tanggulangin Leather Industry Tanggulangin leather industry, is an industrial for bags, luggage and products related and become an icon for Tanggulangin district. This industrial was begin in 1939, when some craftsmen started making bags and suitcase stuffs. And in 1976 it was established the Bags and Luggage Cooperative Industrial (Intako), which was initially consisted of only 27 people. The venture capital is obtained from members' savings. On its way, the cooperative continued to grow and the members has reached 354 crafters of Small and Medium Enteprises with the assets about…
---
Tanggulangin Leather Industry Tanggulangin leather industry, is an industrial for bags, luggage and products related and become an icon for Tanggulangin district. This industrial was begin in 1939, when some craftsmen started making bags and suitcase stuffs. And in 1976 it was established the Bags and Luggage Cooperative Industrial (Intako), which was initially consisted of only 27 people. The venture capital is obtained from members' savings. On its way, the cooperative continued to grow and the members has reached 354 crafters of Small and Medium Enteprises with the assets about…
---
Delta Fishing Sidoarjo Delta fishing is the appropriate place to be the venue of birthday party, reunion, gathering, garden party, games, meeting or out bound and some occasions. Delta Fishing have some facilities to complete the enjoyment like free wi-fi Internet, swimming pool, stall, playground : water cycle, rowing boat, trampoline, out bound and many more. Those who are fishing at the ponds can ask the waiter to cook the fishes, there are optional menus like roasted fish, fried fish, sweet and sour or spices. There are some ponds with…
---
Mushroom Cultivation Oyster mushroom business is promising. Beside the raw mushrooms and the seeds, mushrooms processed food sales are also promising. Mushroom is known for it delicious and can be processed into various dishes. At first glance, the meat tastes like chicken. Mushrooms are very popular vegetarian because it considered as the substitute of meat. Mushrooms, is an easy-to-cook material that can be added into some foods. Moreover, there are various kind of foods that can be produce by using mushroom like, dodol or kind of sweet sticky cake, mushroom…
---