About Sidoarjo Regency
---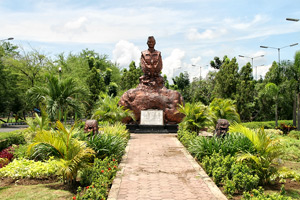 Since 1851, Sidoarjo was known as Sidokare. It was one of Surabaya's area and led by a regent named R. NG. Djoyohardjo. In 1859, Sidokare had separated with Surabaya and become separate regency. Then in couple month, Sidokare had change become Sidoarjo.
Sidoarjo is famous by some fisheries products like milkfish, prawn, crab, oyster, mussel, etc. From those raw materials, Sidoarjo become popular by the hand-gift products like smoked milk fish, presto milk fish, shrimp crackers, and many more. Those hand-gift can be found along Mojopahit street, city of Sidoarjo. Moreover, In Sidoarjo we can find particular traditional foor which is genuinely made in Sidoarjo like, "otak-otak", "lontong kupang".
Beside the food products, Sidoarjo also famous by particular Sidoarjo Batik. Some village in Sidoarjo produce handwriting Batik, such as in Jetis village, Sekardangan village, and Kenongo village. The patterns and the motifs from Sidoarjo Batik are captivating on the market. Usually, it sell in retail or grocery, to enable to get the products easily.
This district is bordered by the city of Surabaya and Gresik regency to the north, the Strait of Madura in the east, south of Pasuruan and Mojokerto district in the west. Sidoarjo is known as a buffer main city of Surabaya,
Sidoarjo located in the lowlands. Sidoarjo known as the City of Delta, because it is located between two large pieces of Brantas River, which is Mas River and Porong River. Sidoarjo city located in the south of Surabaya and geographically seems united.
Sidoarjo is divided into 18 districts, divided again over a number of villages and wards. Some of large cities in Sidoarjo including Taman, Krian, Temple, Porong and Waru.
The industrial sector in Sidoarjo developed rapidly because of the location is near to the Surabaya business central, near to Tanjung Perak Seaport and Juanda Airport, it is also have productive human resources. Moreover the socio-political and security conditions are relatively stable to attract investors to invest in Sidoarjo, and the mall industrial sector is also growing quite well.
GEOGRAPHICALY
Sidoarjo regency was born in 31th Januar 1859 in 112,5 BT 112,9 and 7,3 LS 7,5 LS and the heritory is:
- North side: Surabaya city and Gresik regency
- South side: Pasurua regency
- West side: Mojokerto regency
- East side: Madura strait
TOPOGRAPHY
- 0 - 3 m is coastal area and salty dam, present at 27,011,250Ha or 29,99%.
- 3 - 10 m in the middle of road that is tasteless dam about 25,889 Ha or 36,24%.
- 10 - 25 m in the west area is about 18,524 Ha or 25,94%.
CLIMATOLOGY
The air temperature is about 20 - 35 Celsius and has high rain level.
WIDE AREA
This regency has fertile soil (in the midle of Surabaya river and Porong river) and as the smallest area in East Java province about 71,424 Ha.
DEMOGRAPHY
According to BPS survey the numbers of people in Sidoarjo in 2005 is 1.787.769 (914.310 of men and 873.459 of women) and the number of resident is 2503 of men / km2. (This residents increasing is not caused of the number of born, but its caused by the urbanization case as the effect of the industry sector and real estate as a support area for Surabaya).
GOVERNMENT ADMINISTRATION AREA
The devision of government administration area of Sidoarjo regency is devided into:
18 district, 322 villages, and 31 subdistrict.

Latest News
Tanggulangin Leather Industry Tanggulangin leather industry, is an industrial for bags, luggage and products related and become an icon for Tanggulangin district. This industrial was begin in 1939, when some craftsmen started making bags and suitcase stuffs. And in 1976 it was established the Bags and Luggage Cooperative Industrial (Intako), which was initially consisted of only 27 people. The venture capital is obtained from members' savings. On its way, the cooperative continued to grow and the members has reached 354 crafters of Small and Medium Enteprises with the assets about…
---
Tanggulangin Leather Industry Tanggulangin leather industry, is an industrial for bags, luggage and products related and become an icon for Tanggulangin district. This industrial was begin in 1939, when some craftsmen started making bags and suitcase stuffs. And in 1976 it was established the Bags and Luggage Cooperative Industrial (Intako), which was initially consisted of only 27 people. The venture capital is obtained from members' savings. On its way, the cooperative continued to grow and the members has reached 354 crafters of Small and Medium Enteprises with the assets about…
---
Delta Fishing Sidoarjo Delta fishing is the appropriate place to be the venue of birthday party, reunion, gathering, garden party, games, meeting or out bound and some occasions. Delta Fishing have some facilities to complete the enjoyment like free wi-fi Internet, swimming pool, stall, playground : water cycle, rowing boat, trampoline, out bound and many more. Those who are fishing at the ponds can ask the waiter to cook the fishes, there are optional menus like roasted fish, fried fish, sweet and sour or spices. There are some ponds with…
---
Mushroom Cultivation Oyster mushroom business is promising. Beside the raw mushrooms and the seeds, mushrooms processed food sales are also promising. Mushroom is known for it delicious and can be processed into various dishes. At first glance, the meat tastes like chicken. Mushrooms are very popular vegetarian because it considered as the substitute of meat. Mushrooms, is an easy-to-cook material that can be added into some foods. Moreover, there are various kind of foods that can be produce by using mushroom like, dodol or kind of sweet sticky cake, mushroom…
---