Jetis Batik Village
---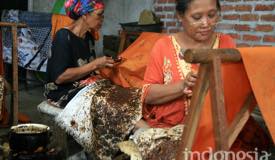 For Indonesian, batik cloth is not something new. Almost every region has its own batik style, as the evidence of Indonesia's culture rich. Likewise in Sidoarjo, batik cloth, especially traditional written batik, is still well maintained, as a pilot village is Jetis written batik village, Sidoarjo. Named kampoeng batik, because most of the residents of Jetis Village Sidoarjo District are batik craftsmen. They also sell their work directly in their homes. Therefore, this area was confirmed as Kampoeng Batik Tulis Jetis, Sidoarjo.
Jetis village, starting from the front gate until the road is almost filled with batik cloth shops. Even now, not only batik cloth produced, some also sell Muslim clothing. The visitors of batik village mostly like to buy those authentic Jetis Batik because those have good quality as hand-written batik. While the visitors come from several big cities such as, Jakarta and others came from China. Surely they really like handmade products, especially in affordable prices. The price for a piece of batik cloth offered IDR 150 thousand to millions of rupiah.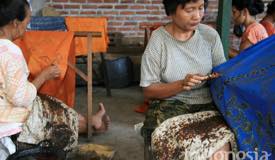 In addition to selling batik cloth, in this Jetis Kampoeng Batik area also give batik training exercise service. The process of making batik, from the beginning until made it, can be followed by anyone. But to practice the process of making batik cloth is not always in times, it depend on demand.
Jetis handmade batik cloths are rich in motifs including redish and greenish (Madura style), Kutah rice motifs, krubutan motif (mixed), there also peacocks motifs, and other motifs. Jetis batik motif is dominated by flora and fauna typical of Sidoarjo which has bright colors, red, green, yellow, and black. The superiority of Jetis batik is precisely its striking color.
Sidoarjo traditional batik itself is mainly centered in Jetis since 1675. Its location is in front of Jamek Mosque or now called Al Abror Mosque. From the Sidoarjo square, Batik Village is on the South side, about 10 minutes away by car.

Latest News
Tanggulangin Leather Industry Tanggulangin leather industry, is an industrial for bags, luggage and products related and become an icon for Tanggulangin district. This industrial was begin in 1939, when some craftsmen started making bags and suitcase stuffs. And in 1976 it was established the Bags and Luggage Cooperative Industrial (Intako), which was initially consisted of only 27 people. The venture capital is obtained from members' savings. On its way, the cooperative continued to grow and the members has reached 354 crafters of Small and Medium Enteprises with the assets about…
---
Tanggulangin Leather Industry Tanggulangin leather industry, is an industrial for bags, luggage and products related and become an icon for Tanggulangin district. This industrial was begin in 1939, when some craftsmen started making bags and suitcase stuffs. And in 1976 it was established the Bags and Luggage Cooperative Industrial (Intako), which was initially consisted of only 27 people. The venture capital is obtained from members' savings. On its way, the cooperative continued to grow and the members has reached 354 crafters of Small and Medium Enteprises with the assets about…
---
Delta Fishing Sidoarjo Delta fishing is the appropriate place to be the venue of birthday party, reunion, gathering, garden party, games, meeting or out bound and some occasions. Delta Fishing have some facilities to complete the enjoyment like free wi-fi Internet, swimming pool, stall, playground : water cycle, rowing boat, trampoline, out bound and many more. Those who are fishing at the ponds can ask the waiter to cook the fishes, there are optional menus like roasted fish, fried fish, sweet and sour or spices. There are some ponds with…
---
Mushroom Cultivation Oyster mushroom business is promising. Beside the raw mushrooms and the seeds, mushrooms processed food sales are also promising. Mushroom is known for it delicious and can be processed into various dishes. At first glance, the meat tastes like chicken. Mushrooms are very popular vegetarian because it considered as the substitute of meat. Mushrooms, is an easy-to-cook material that can be added into some foods. Moreover, there are various kind of foods that can be produce by using mushroom like, dodol or kind of sweet sticky cake, mushroom…
---