Zambrud National Park
---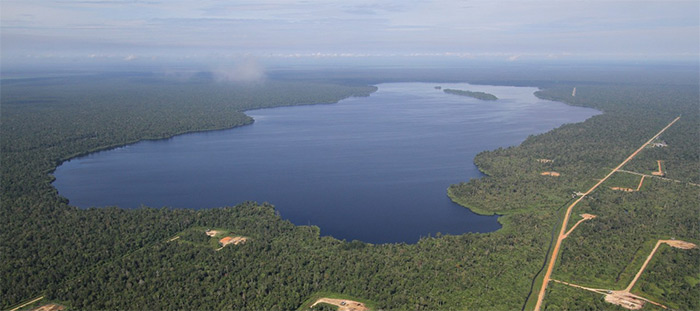 Located in the Zambrud Village, Siak Indrapura District, Siak, Riau Province, the Zambrud National Park is presenting beauty of the emeralds which taken from the same name. The lake and the swamp at this forest is so beautiful and natural despite it has clear black water. This national park is still virgin and naturally majestic.
The black water around the swamp forest will enchanting you it will be turn into dark green colored like emerald during the twilight when the sun is setting down.
Zambrud National Park is an area where there are two adjoining lakes, which is  Pulau Besar Lake (2,416 ha) and the Bawah Lakes (360 ha). Both lakes have black water and being the home of rare fauna and flora.
There are four islands around this lake; they are Pulau Besar (10 hectares), Pulau Tengah (1 hectare), Pulau Bungsu (1 hectare) and Pulau Beruk (2 hectares). Since 25 November 1980, an area of 28237.95 hectares was designated as a wildlife reserve area (KSM). While since August 2007 this presidential Wildlife Refuge was established as Emerald National Park with more than 30 129 hectares area. This area is in the form of primary swamp forest on peat with a height of 100-200 meters above sea level. A layer of the soil is in the form of giant basin where the water comes from the surrounding area and it will be accommodated in this lake.
The fauna that are protected in this region is the Sumatran tiger (Panthera tigris sumatrensis), tiger limb (Neofelis nebulosa), bears (Helarctos malayanus), and Napu (Tragulus Napu). The protected primates including the long-tailed macaque (Macaca fascicularis), monkey (Macaca nemestrina), and kokah (Presbytis melalophos). There is also a protected reptiles such as crocodiles sinyulong (Tomistoma schlegelii) and estuarine crocodile (Crocodylus porosus).
In this area is also live 38 species of birds, that 12 of which are protected, including white storks, hornbills trough, hornbills sulky, two colors hornbills and black tail hornbills. There are also Serindit birds (Loriculus galgulus) which becomes an icon of Riau Province.
At this lake, there are 14 species of fish where eight of it have important economic value for local fishermen are sipimping, selais, kayangan, Tapah, baung, tomang, balido, gabus, catfish,  buju, and gelang.
The area of Zambrud Lake is dominated by marsh plants such as bengku, varnish and pisang-pisangan. There is also a rare vegetation of red areca nut plants with brighter color than common red areca plants, and it is endemic.

Latest News
Luxurious and quiet. Perhaps this is one of the appropriate nicknames for the calm and spacious beauty of Zamrud Lake. The lake which located in conservation area is located in Siak Sri Indrapura Regency, Riau province. Besides having a large surface, this lake also has islands. There are large and small islands. Uniquely, these islands can move. This island is marshland floating above the lake. Big and deep, of course. You can not imagine how deep this lake is. Not only that. On this big island also live thousands of…
---
This wildlife reserve forest is spread in an area of ??1,332,169 ha and it inhabited by many species of flora and fauna that typical of lowland forest. Its area of mangrove trees decorated corridor through the Kampar River, that made ??it so special among other forests which spread across the island of Sumatra. Kerumutan reserve forest is a conservation area that located in Kerumutan sub-district and spreading across two districts namely Pelalawan and Indragiri Hulu, Riau Province. The forest boundary is the River of Indragiri, Kampar River, the East Coast…
---
Rimbo Terantang tourism forest is located in Padang Lawas village. This tourism is having marvelous nature tourism between the genuine forest and it has exotic flora. This tourism object is officially becomes the research area for nature phenomenon for both flora and fauna. This type of tourism for this forest is adventurous tourism; the visitors who come to this place are those who seek for adventure need while enjoy the fresh atmosphere, chilling situation and great sightseeing. www.indonesia-tourism.com
---
Merbau Island Merbau is an Island and a district in the Meranti Islands regency, Riau, Indonesia. The city district is Renak Rungun. Meranti Islands Regency is a result of the expansion area Merbau District, formed on January 26, 2011. Where the Pulau Merbau District is covering the entire island of Pulau Merbau, while Merbau subdictrict covers the entire island of Padang. The island has bordered with Malaka strait in north, west Tebing Tinggi sub district in south, Merbau sub district in west, west Rangsang in east.     www.indonesia-tourism.com
---