Solop Beach
---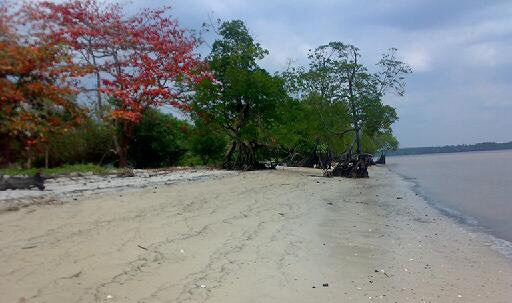 Solop Beach is one of potential tourism destinations in Indragiri District, Riau Province. The number of visitors comes to the beach mostly on weekend and holidays like Idul Fitri and Idul Adha. There are many visitors come from local or international tourist and they visit this beautiful beach with friends or their families. Now the beach becomes the main tourism destination of Dondang Tanak.
The beach is the main water lane for ferries that sailing over the Strait of Malacca separating Batam Island and Indragiri District. Besides, the beach is also connects Jambi Province with Kuala Tungkal via Kuala Enok.
Solop Beach offers you the unique scenery that is hard to find in other places. Feel free to play above the white sand, shells and marine plant. Likewise, you can enjoy the most picturesque mangrove plantation in Indonesia. Small islands around the beach, likewise, are other attractions for the visitors visiting the beach. Watching beautiful sunset will be unforgettable moment for those visiting the beach.
The location of Solop Beach can be found in Cawan Island, Mandah Sub-district, Indragiri Hilir District, Riau Province, Indonesia. The beach is situated in strategic location on the sea lane of Tembilahan and Batam Island.
If you plan to come here, you can take access to reach the destination, you can take any public transportation that takes approximately 90 minutes from Tembilahan City, or 20 minutes from Mandah Sub-district.

Latest News
Luxurious and quiet. Perhaps this is one of the appropriate nicknames for the calm and spacious beauty of Zamrud Lake. The lake which located in conservation area is located in Siak Sri Indrapura Regency, Riau province. Besides having a large surface, this lake also has islands. There are large and small islands. Uniquely, these islands can move. This island is marshland floating above the lake. Big and deep, of course. You can not imagine how deep this lake is. Not only that. On this big island also live thousands of…
---
This wildlife reserve forest is spread in an area of ??1,332,169 ha and it inhabited by many species of flora and fauna that typical of lowland forest. Its area of mangrove trees decorated corridor through the Kampar River, that made ??it so special among other forests which spread across the island of Sumatra. Kerumutan reserve forest is a conservation area that located in Kerumutan sub-district and spreading across two districts namely Pelalawan and Indragiri Hulu, Riau Province. The forest boundary is the River of Indragiri, Kampar River, the East Coast…
---
Rimbo Terantang tourism forest is located in Padang Lawas village. This tourism is having marvelous nature tourism between the genuine forest and it has exotic flora. This tourism object is officially becomes the research area for nature phenomenon for both flora and fauna. This type of tourism for this forest is adventurous tourism; the visitors who come to this place are those who seek for adventure need while enjoy the fresh atmosphere, chilling situation and great sightseeing. www.indonesia-tourism.com
---
Merbau Island Merbau is an Island and a district in the Meranti Islands regency, Riau, Indonesia. The city district is Renak Rungun. Meranti Islands Regency is a result of the expansion area Merbau District, formed on January 26, 2011. Where the Pulau Merbau District is covering the entire island of Pulau Merbau, while Merbau subdictrict covers the entire island of Padang. The island has bordered with Malaka strait in north, west Tebing Tinggi sub district in south, Merbau sub district in west, west Rangsang in east.     www.indonesia-tourism.com
---