Taluk Kuantan
---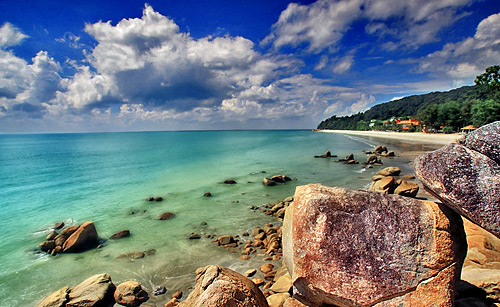 From Pekanbaru about 170 km south to Taluk Kuantan, crossing the equator just after Lipat Kain. Before reaching Taluk Kuantan, the road crosses Logas region, once a gold mining area. During the Second World War, the Japanese established here a camp where many Dutch people were imprisoned and exploited by forcing them to work in the mines.
Taluk Kuantan lies at the upstream part (Hilir) of Indragiri River. In the early years, this river was used to carry the gold, which was mined in West Sumatra, to the east coast of Sumatra.
Taluk Kuantan is the centre of Pacu Jalur, a traditional boat race held every year in remembrance Indonesia's independence day on the 17th of August. More than 100 teams from all over Riau province join the race. Each team rows their line, a long and slender boat that carries 50 to 60 people, along a track setout on Indragiri River. The races start on Wednesday in the third or fourth week of August. The boats gather upstream and race to each other two by two. The winner makes the next round. The final is held on Sunday.
Pacu Jalur is full with mystic and tradition, which already starts with picking out a tree with a circumference of 4 to 5 meters for the Jalur, up to the moment, the Jalur is launched into the water.

Latest News
Luxurious and quiet. Perhaps this is one of the appropriate nicknames for the calm and spacious beauty of Zamrud Lake. The lake which located in conservation area is located in Siak Sri Indrapura Regency, Riau province. Besides having a large surface, this lake also has islands. There are large and small islands. Uniquely, these islands can move. This island is marshland floating above the lake. Big and deep, of course. You can not imagine how deep this lake is. Not only that. On this big island also live thousands of…
---
This wildlife reserve forest is spread in an area of ??1,332,169 ha and it inhabited by many species of flora and fauna that typical of lowland forest. Its area of mangrove trees decorated corridor through the Kampar River, that made ??it so special among other forests which spread across the island of Sumatra. Kerumutan reserve forest is a conservation area that located in Kerumutan sub-district and spreading across two districts namely Pelalawan and Indragiri Hulu, Riau Province. The forest boundary is the River of Indragiri, Kampar River, the East Coast…
---
Rimbo Terantang tourism forest is located in Padang Lawas village. This tourism is having marvelous nature tourism between the genuine forest and it has exotic flora. This tourism object is officially becomes the research area for nature phenomenon for both flora and fauna. This type of tourism for this forest is adventurous tourism; the visitors who come to this place are those who seek for adventure need while enjoy the fresh atmosphere, chilling situation and great sightseeing. www.indonesia-tourism.com
---
Merbau Island Merbau is an Island and a district in the Meranti Islands regency, Riau, Indonesia. The city district is Renak Rungun. Meranti Islands Regency is a result of the expansion area Merbau District, formed on January 26, 2011. Where the Pulau Merbau District is covering the entire island of Pulau Merbau, while Merbau subdictrict covers the entire island of Padang. The island has bordered with Malaka strait in north, west Tebing Tinggi sub district in south, Merbau sub district in west, west Rangsang in east.     www.indonesia-tourism.com
---